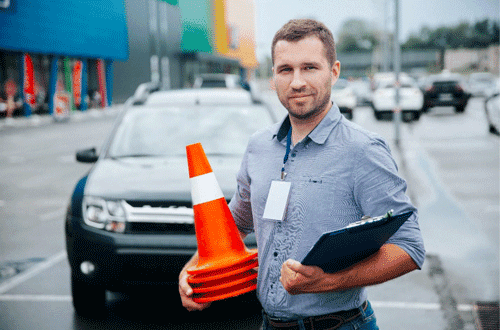 If you've ever taught someone anything, such as sport, a school subject, a craft, or a recipe, you know just how fulfilling it can be. Sharing knowledge with someone who does not have the same amount of knowledge doesn't just have to be a good deed or a hobby. Teaching someone a skill could also be a career. Becoming a professional driving instructor will give you the joy of helping others learn how to drive and pass their driving test, and you are paid for it!
However, there are a few things you would need to do to become a professional licensed driving instructor in Ontario.
Professional Licensed Driving Instructor – Requirements:
If you want to become a professional licensed driving instructor and teach others to get their driver's license in Ontario, there is a process you would need to follow, including:
Having a valid Ontario driver's license other than a G1 license, G2 license, M1 license, M2 license, or M(L).
Be a minimum of 20 years of age and have a minimum of 4 years of driving experience.
Having a clean driving record with zero demerit points.
Meet the Ministry of Transportation (MTO) vision requirements.
Pass a G1 knowledge test.
Pass a G Class road test.
Have a clean Criminal Record and Judicial Matters Check (CRJMC).
Complete an MTO-approved driving instructor training course such as Trubicars in-car driving instructor course.
Once you begin the process of becoming a licensed driving instructor in Ontario, you will have up to one full year to complete all of the requirements. Leaving any steps incomplete during this process means you will need to begin the process again, including paying each of the fees.
There is more detail we should review, just so you know how to achieve your goal of becoming a professional licensed driving instructor in Ontario, so let's get to it!
Apply at a DriveTest Centre.
To become a licensed driving instructor in Ontario, you begin this journey at a DriveTest Centre. After entering DriveTest, you will be asked to present a valid Ontario driver's license and complete the Application for Ontario Driving Instructor Licence form. Staff at DriveTest will check your driving record to ensure you are eligible to become an Ontario driving instructor.
They will check that you have zero demerit points and have not had your driver's license suspended within the previous two years. If everything looks good, you will be required to pay the current fee for the driving instructor license application. This fee will cover the cost of the written test and one attempt at the G test, which includes the freeway.
1. Yes, You have to Pass the Tests.
After completing the application, you will need to complete two tests, a vision test, and a written knowledge test. The vision test is pretty simple, but if you need glasses or contact lenses to drive with, ensure you have them with you.
The written knowledge test has questions involving 20 signs and 20 rules of the road that you must correctly answer. You don't need a perfect score, but if you commit more than four errors on each test, you will have to retake that written test. Studying for this test is critical to your success because if you do not pass the written knowledge test for a second time, you will have to wait one year before attempting this again. Check out Trubicars' free G1 practice tests to test your knowledge. The same goes for the G Class road test as well. The G Class test does include driving on the freeway, so ensure you're comfortable with this task before attempting the G road test.
2. Complete a Criminal Record and Judicial Matters Check (CRJMC).
Anyone applying to become a licensed professional driving instructor in Ontario must have a CRJMC completed. The CRJMC is used to determine if you can interact with adults, children, the elderly, and any persons with disabilities. As a driving instructor applicant, you can visit your local police station to start this process.
Depending on the jurisdiction that you live in, these checks can often take several days or even weeks to complete. For this reason, you may want to begin this process before completing your G Class road test. That could speed up the process of getting your driving instructor license.
Once your CRJMC has been cleared and shows no violations, you should take the results to a local DriveTest Centre. The staff there will forward the information to the MTO for their review. If your CRJMC has not come back as cleared or requires more reviewing, you will receive a letter from the MTO Driver Improvement Office notifying you of this. If it takes a long time to be cleared by the MTO, contact the MTO Driver Improvement Office to enquire.
3. G Class Road Test.
With all the years of driving, you may have the confidence to pass your G Class road test again. This is the same road test your students will take to get their full G Class license, but you may still feel nervous. Taking a few lessons in-car can help change the driving habits that may have weakened over the years.
During the G Class road test, the driving examiner can assess your driving skills as driving skills can change over the years and the MTO have to ensure you can drive safely and follow the laws. It would be wise to come prepared for the road test after having a few in-car lessons. As stated previously, you only have two attempts of this road test before having to wait one year before starting over.
4. MTO-Approved Driving Instructor Course.
Learning to put your thoughts into words and actions is a part of becoming a professional driving instructor. You will learn how to develop this skill by taking a Driving instructor training course. These courses may take several weeks or months to complete, so it would be to your advantage to meet all of the licensing requirements early on during the process.
The driving instructor training courses will include in-class and in-vehicle topics, including defensive driving, avoiding and managing collisions, the Ontario Highway Traffic Act, and a first aid component. Practicing and preparing for each day is the key to success while taking this course, so it would be wise to focus while on the driving instructor training course. Being able to drive well and teach what you do so the novice driver can understand and perform each step safely and legally. Click on the following links to learn more about in-car and classroom instructor courses.
Trubicars in-car driving instructor course
Trubicars classroom driving instructor course
5. The Final Steps.
After completing the driving instructor training course, passing the written test and the G Class road test, and the CRJMC cleared by the MTO, you would need the reverse side of the instructor application form completed by the driving instructor course instructor, including their signature. Completing all requirements prior to attending the driving instructor course will help you finish each step before the one-year is up.
After completing these steps, return to a DriveTest Centre for processing. Once they confirm you have completed all steps, you will be required to pay a small fee. Once paid, they will provide you with a temporary driving instructor license. You will receive the permanent license in the mail a few weeks later. If you do not receive the permanent one before the expiry date on the temporary one, you should go to any Service Ontario office and enquire. They may issue you another temporary driving instructor license.
The Benefits and Challenges.
As you improve your skills as a licensed driving instructor and want a challenge, you can also work with licensed drivers to help upgrade their skills as a driver. Driver training is more than just novice drivers, it can involve drivers of many age groups and is always interesting and challenging!
Becoming a driving instructor can be exciting most days and typically not boring at all. You can set your hours and days to work for the most part, depending on the guidelines of the driving school that employs you. Since most people learning to drive are high school age, evenings and weekends are pretty busy in a driving instructor's schedule. This would also mean you could have free time during the day to do things that would typically be tough to do after workdays, such as grocery shopping, going to the gym, or running errands.
One of the big plusses of being a professional driving instructor is seeing how people progress as a driver in order to drive safely and smoothly, especially when someone begins with very little knowledge or skill, and you get to build them into a confident driver can be a thrill for many!
Beginning a New Career
Now that you are a licensed driving instructor in the province of Ontario, you can help grow the family of safe drivers. Building your skills takes experience and practice. Finding a quality driving school and teaching their curriculum is the next step.
Bring your driving instructor license and certificate from the organization that did your training when you are looking for a qualified driving school. You want to ensure the driving school is following an approved Beginner Driver Education (BDE) curriculum. They'll be able to offer you the most from a driving school.
Having an interaction with each student can be so much fun as well. They seem to appreciate you for all the effort you show them. Watching them get excited after passing a driving test you prepared them for is an amazing feeling. What are you waiting for? Get started, and then join the Trubicars family!
G License Rules
Car Training
Driving instructors in London Ontario
MTO-Approved Driving Schools in London Ontario
London Ontario Driving Lessons
Drivers Licences Motorcycles
G2 Road Test