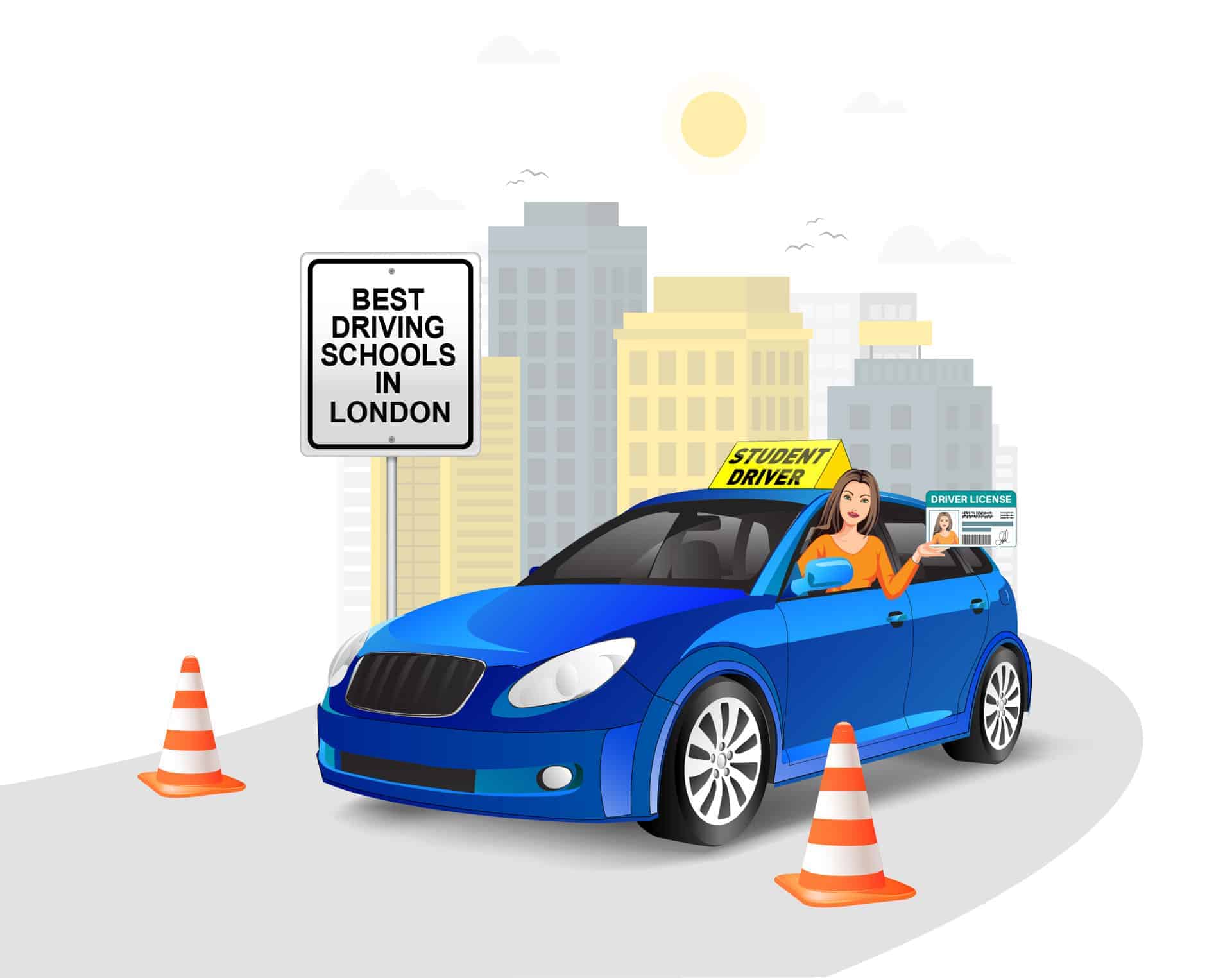 Best Driving Schools in London, Ontario
1

The 7 Best Driving Schools in London, Ontario

Are you looking for Driving Schools in London, Ontario? Look no further! We (Trubicars) have put together a list of the best driving schools in London, Ontario for you.
All the driving schools shown here are MTO-approved. We are going to help you pick the Best Driving Schools in London, Ontario according to your requirements. You will learn about their rates, reviews, and much more.
Are you excited? So, we are! Let's get started.
2

The Cost of London, Ontario Driving schools

Before we talk about the Best Driving Schools in London, Ontario, let's talk about how much driving lessons cost in London, Ontario.
Fortunately, Driving lessons in London, Ontario are not very expensive. Let's look at the table below for the average cost of driving lessons in London, Ontario.
INDIVIDUAL LESSON / PACKAGE
AVERAGE COST
G2 Lesson
$45 per hour
G Lesson
$45 per hour
Basic Beginner Driver Education (BDE) Package.
⦁ This includes 30 hours of MTO-approved online
driving course and 10 hours of in-car driving lessons.
$649 plus tax
3

The Best Driving Schools in London, Ontario

According to Trubicars, these are the best MTO-approved Driving Schools in London, Ontario.
3.1
Fanshawe Driving School            
DRIVING SCHOOL ADDRESS
279 Wharncliffe Road N
Unit 018, London, On N6H 2C2
IN-VEHICLE DRIVING INSTRUCTIONS
 
INSTRUCTORS
 
LANGUAGES
 
Fanshawe Driving School offers an in-depth Ministry-approved driving theory course by one of their qualified instructors. They offer 30 hours of online courses that will pave the road to success for you to begin the in-car driving training course & the road test. After the ministry mandatory course, you can pick from one of three packages for the in-car part of the course. Their courses come in four distinct packages.
Why Fanshawe Driving School is one of the Best Driving Schools in London, Ontario?
According to their website, Fanshawe Driving School was Established with unique, distinguishable beliefs between driving and understanding driving, by creating the ART of Driving. Many driving techniques could be delivered in the form of ART. To deliver a better understanding of Driving Education, research has been conducted on driving throughout history. History emphasizes three major points Awareness, Responsibility, and Technique.
So, Fanshawe Driving School came up with a solution to "why not teach the Art of Driving" to deliver their message uniquely for New Drivers and generations to come. The results were phenomenal and their graduate students are constantly proving so with a 99% passing rate. Fanshawe Driving Schools in London, Ontario understand the difficulty of choosing between investing in the safety of your livelihood and staying within your budget, which is why their prices are affordable and student-approved.
Fanshawe Driving Schools in London, Ontario is enriched with diversity, including students from all over the world. They have picked & chosen the best Instructors in Ontario committed and dedicated to professional teaching. Their instructors come from all different backgrounds and are fluent in many languages to full the students' needs and contribute to the ART of driving. Some of the languages their instructors speak include Farsi, Hindi, Urdu, Dari, Arabic, Kurdish, English, Punjabi, and many more. ART Stands for Awareness, Responsibility, and Technique and that's what Fanshawe Driving School Represents.
Customer Reviews
Let's look at some of the customer reviews to learn why Fanshawe Driving School is one of the Best Driving Schools in London, Ontario.

"I had a very good experience going to Fanshawe Driving School. The teachers and instructors are very nice and patient with you as a student. The in-class lessons are extremely useful and teach in a way that is fun and helps you remember the rules of the road. The classes are not too big and overwhelming so it gives you a very comfortable environment to learn. You may think you know everything you need to know but being taught by a professional has definitely made me more confident in my driving. As for the instructors, they couldn't be nicer. This was the part I was most nervous about because I was scared they would be hard on me and judge me. But they are so patient and will go over something as many times as you need without hesitation. They teach you everything in steps that are easy to remember. I definitely recommend going to this school for the best learning experience especially if you are nervous like I was."
"I had Ahmed Dawood as my driving instructor and he was the best! I started with no experience at all and he taught me everything I needed to drive safely and more. He was very patient and encouraged me a lot during the lessons. I passed my G2 test on my first try because of him, I recommend him to anyone who wants to learn."
"I was able to pass my G road test after taking lessons from my instructor, Waleed! He was very nice and patient and always considered what time worked best for me as a student when scheduling lessons. He took the time to explain every bit of detail and used a whiteboard when necessary to give even clearer instructions. Overall, I would recommend this to anyone as their instructors are effective teachers and care about your success."
"I was able to pass my g2 road test after completing the duration of driver's ed through this company. I had a great experience and would like to especially recognize my instructor Mr. Nasman. Since I had only begun driving this year and didn't have much experience, Mr. Nasman was able to break down the significance of safe and practical driving with efficiency. Overall, the school is great, they are very consistent with contacting them, and they have a great set of driving instructors that will surely help you succeed in your road test."
"I would 10/10 recommend it! I purchased a package with an online course and 10 hours of in-car lessons. My instructor, Sahar, was an absolutely amazing teacher that really helped me to feel comfortable driving! I passed my G2 test on my first attempt and I was well prepared by Sahar to take it. Anyone that has the opportunity to have her as an instructor is very lucky!!!"
3.2
Western Driving Academy
| | |
| --- | --- |
| DRIVING SCHOOL ADDRESS | 785 Wonderland Road South London, ON N6K 1M6 |
| IN-VEHICLE DRIVING INSTRUCTIONS |   |
| INSTRUCTORS |   |
| LANGUAGES |   |
Western Driving Academy in London, is committed to providing excellent service to its customers and exceeding students' expectations. They differ from most schools in that they do not merely teach the Ministry's requirements; they focus on key elements of the driving experience that will help new drivers like you avoid collisions.
Their job is not only to assist you in obtaining a driver's license; they want to make sure that your new freedom remains safely yours for life.
Wester Driving Academy certified instructors help you develop safe driving skills, teach you the rules of the road, and train you to anticipate dangers most people see too late. Due to their superlative educational process, you are less likely to experience:
At Western Driving Academy, you can expect:
⦁ Warm, courteous service
⦁ Fully trained, dedicated, and bilingual instructors
⦁ Seal of Excellence winner, and top-ranked academy
⦁ Environmentally friendly vehicles
⦁ University and Southwest class locations and online eLearning course
Western Driving Academy has served more than 25,000 clients. They have 12 cars ready to go and 3 locations in London, Ontario.
Customer Reviews
Let's look at some of the customer reviews to learn why Western Driving Academy is one of the Best Driving Schools in London, Ontario.
"Ray, my instructor, made sure I felt safe, comfortable, and confident on the road. My driving skills improved significantly throughout my lessons! Ray is a great teacher and I recommend him! Overall the process was extremely easy and there were always people willing to help out to give me the smoothest driver's ed experience possible."

From what I have experienced at Western Driving Academy is more than stellar. From the in-class lessons to the in-car sessions, all the time spent to obtain my G1 and now my G2 was worth every penny."
"I would like to mention one person in particular who has made my time practicing to get my G2 an even better experience and that's Ray. With the very accommodating driving schedule, to the very informative driving lessons, it is safe to say that any person who gets Ray as their driving instructor is in good hands. I will definitely be going back to Ray in the future to help get my full G license."
"My experience with the Western Driving School was amazing. My instructor Abdula was great to me. He helped me learn everything there is to know to pass my driving test. He was very respectful and patient and I highly recommend going with Abdula at Western Driving School."
3.3
Wards New Drivers
| | |
| --- | --- |
| DRIVING SCHOOL ADDRESS | 882 Apricot Dr, London, ON, N6K 5A9 |
| IN-VEHICLE DRIVING INSTRUCTIONS |   |
| INSTRUCTORS |   |
| LANGUAGES |   |
Wards New Drivers Driving School in London, Ontario has been proud to provide excellence and expertise in driver's education in London, Ontario, and the area for over 60 years. Established in 1950, Wards New Drivers has set the standard for excellence in driver's education with in-class and private driving lessons. Their team of qualified instructors is committed to teaching defensive driving and road safety excellence; with over 20,000 students served, they are dedicated to creating a generation of safe drivers.
⦁ As a company standard, they ensure all employees are safe, defensive and responsible drivers
⦁ Experts in coaching and training new drivers in preparation for G1 and G2 exit road tests
⦁ Provide respectful, private senior driving assistance to update and fine-tune driving skills
⦁ In working with high schools in London, Ontario, and the surrounding area, their emphasis is on road safety and awareness
⦁ Trusted by the Board of Education to teach courses at various London, Ontario secondary schools
Customer Reviews
Let's look at some of the customer reviews to learn why Wards New Drivers Driving School is one of the Best Driving Schools in London, Ontario.
"My experience with Wards Driving school was great. Puneet was a great teacher and he made my in-class lessons entertaining and informative. I learned lots of new things that have enhanced my acknowledgment of what they do in different situations. The atmosphere of the classroom was very friendly and welcoming."
Kan was my in-car instructor. I was nervous when I first started my in-car lessons. Kan made it fun and relaxing while also being stern about the rules of the road. After my in-car, I became more confident in my driving skills and felt better being behind the wheel in heavy traffic. My overall experience with Wards was awesome in many ways and helped me become a better driver. Thank you Wards and thank you for helping me pass my G2 test!"
"Ward's was very accommodating during the pandemic. Their instructor, Arun, is an extremely professional and talented instructor. In 7 hours he gave me the confidence and tools to pass my G2 on my first attempt and have the confidence to drive independently. I highly recommend Arun!"
"I took my drivers ed at Wards a bit ago in high school and had a great experience! I had my G2 exit test coming up so I contacted Puneet about booking a lesson for my G test as I was a little nervous about parallel parking, backing in etc. He made sure to fit me last minute and calmed my nerves about my driving test. Leading me to succeed and pass my G2 exit test! Would highly recommend Wards New Drivers to anyone looking for drivers ed as they are great!!"
3.4
DriverZed.com Driving School
| | |
| --- | --- |
| DRIVING SCHOOL ADDRESS | Citi Plaza Unit 131A 355 Wellington St London, Ontario N6A 3N7 |
| IN-VEHICLE DRIVING INSTRUCTIONS |   |
| INSTRUCTORS |   |
| LANGUAGES |   |
DriverZed.com Driving school in London, Ontario has been voted London's Best London, Ontario Driving School 11 years in a row!
Over the past 24 years, Driverzed.com has strived to provide Londoners with the best possible experience in Driver Education. The Results have been exceptional.
They offer MTO-Approved BDE courses, G2 and G test preparation lessons and senior refresher lessons. With MTO-approved online driving courses and one on one in-car training, we're sure they have something to suit everyone's needs
Whether you're a new Canadian starting a new life in this great nation, a senior struggling to retain your independence or a young Canadian trying to gain some mobility, DriverZed.com Driving school in London, Ontario is ready to help. Patience, positive reinforcement, and encouragement are how they produce confident, cooperative, defensive drivers who strive to avoid all collisions despite the road conditions and actions of others. 
Customer Reviews
Let's look at some of the customer reviews to learn why DriverZed.com Driving School is one of the Best Driving Schools in London, Ontario.
"Going into drivers-zed was a scary thought for me, but Sam made the virtual part of the course interesting and fun. He offered a lot of information perfect for a new driver in a fun and manageable way."
My in-car lessons were with Mohammad and he was amazing to work with. He was always calm while driving and provided me with more knowledge on driving than I could've ever imagined. I wrote my G2 license today and passed on my first round. I can successfully thank the teachers at Driverzed for all the knowledge I was granted, plus all the in-car tips and tricks to allow me to drive. Thank you to Sam and Mohammad for the constant support throughout this process!"
"I have had experiences with other instructors and I can confidently say that Moe was by the far the best. He was great at helping keep my nerves at ease as a new driver. He would give constructive feedback in a way that did not negatively impact your confidence and always follows it up with positive feedback and points out good things you did. He gives clear instructions calmly and helped me be well prepared for the road test which I passed on the first try. I definitely would recommend him for new or inexperienced drivers like me and have already done so with my friends."
"I couldn't have asked for a better driving program—Moe was simply fantastic. He was professional and provided calm and clear instructions on how to proceed and maneuvers. He couldn't have prepared me better for the road test, I knew exactly what to expect on the day of the test."
"Thanks to Moe's instruction I passed my test easily, but not only did he prepare me for the test, but he also gave me lots of driving skills and knowledge for me to use on a daily driving basis for the rest of my life. I'm so grateful for his instruction and teaching, it has prepared me well for driving in life but has also given me tremendous confidence in my driving abilities. Oliver"
3.5
Oxford Driving Academy of London
| | |
| --- | --- |
| DRIVING SCHOOL ADDRESS | 747 Hyde Park Road, Unit 215, across from the Superstore Shopping Centre, London, Ontario |
| IN-VEHICLE DRIVING INSTRUCTIONS |   |
| INSTRUCTORS |   |
| LANGUAGES |   |
Oxford Driving Academy of London, Driving School in London, Ontario is proud to offer driving instruction in London, Komoka, and the surrounding Ontario communities. These certification courses feature 30 hours of online training and 10 hours of in-car lessons.
They also provide vehicles for the students to road test with their inclusive package. Oxford Driving Academy offers both professional G1 training and private G2 and G lessons.
Oxford Driving Academy driving school has highly qualified instructors who focus on:
⦁ Strategic driving techniques
⦁ Defensive driving
⦁ Emergency driving preparedness
⦁ Parallel parking
⦁ Highway driving
⦁ And more!
Customer Reviews
Let's look at some of the customer reviews to learn why Oxford Driving Academy of London, is one of the Best Driving Schools in London, Ontario.
"I highly recommend Oxford Driving Academy. As someone who was taking lessons later in life, I very much appreciated the patience and care that my instructor Arman showed me. A first-rate experience altogether. Keep up the good work…and thanks."
"I can't tell you how caring and professional Amir was.
He is an excellent car driving instructor (the in-class instructor was great too) and went out of his way to help my boys with their driving and test-taking. I am blown away by his diligence and follow-up during COVID as well as providing advice on helping my boys book their MTO drive test times, which was very difficult due to MTO wait times and availability."
"I would absolutely recommend Oxford Driving Academy and Amir especially!!!! He is a thoughtful, kind person who is great at what he does and supper at interacting with teenagers learning to drive. When my boys took their road test…the driving examiner said, he could tell the boys went to a good driving school due to the technical nature of their driving."
"My experience with Oxford Driving Academy was better than any other driving school i tried! Learned more from Arman in three hours than i did with another driving school in 10. Arman is honest about everything, and makes sure his students are well prepared for their tests!"
3.6
Ontario Driving School
| | |
| --- | --- |
| DRIVING SCHOOL ADDRESS | 920 Commissioners Road East, #122, London, Ontario, N5Z 3J1 |
| IN-VEHICLE DRIVING INSTRUCTIONS |   |
| INSTRUCTORS |   |
| LANGUAGES |   |
Ontario Driving School strives to surpass your expectations
Ontario driving schools have instructors that specialize in every area of a student's personal needs. With extra attention paid to Nervous drivers.
Their class and car training times are flexible, Students who take their course often recommend Ontario driving school to their friends.
When you take The Ontario Driving School Course, You will graduate a better driver and you could qualify for a possible reduction in your insurance.
Customer Reviews
Let's look at the awesome stuff that students are saying about Ontario Driving School in London, Ontario.
"Ontario Driving School not only taught me to be a good driver I am now a confident driver and love my new found freedom. My family cannot believe that I am driving, they had written me off of ever driving! Thank you Ontario Driving School..I will recommend you to anyone."
"My family and I immigrated recently to Canada.  Ontario Driving School not only taught me the rules of driving in Canada, but also helped me get rid of my bad driving habits that I acquired during the past 20 years of driving."
"I wish to extend my sincere thanks to Ontario driving school and in particular my driving instructor, for helping correct those bad habits, in preparation for a driving test. My instructors teaching techniques are outstanding and his manner is highly praise worthy."
3.7
North London Driving School
| | |
| --- | --- |
| DRIVING SCHOOL ADDRESS | 1138 Baird Street, London, Ontario, N6H 0G5 |
| IN-VEHICLE DRIVING INSTRUCTIONS |   |
| INSTRUCTORS |   |
| LANGUAGES |   |
North London Driving School in London, Ontario teaches for life! There is no wait to schedule lessons with them. You can start as soon as you register.
The name of the Owner is Ray. He is very well known in North London and the Middlesex area and that's why he decided to name the driving school "North London Driving School". However, he does teach all over London, and Middlesex.
North London Driving School is open for all ages. Their ambition is to save lives by helping students of all ages with their driving skills, especially teenagers.
The driving school owner has been teaching for years and his students have encouraged him to open his driving school to help more and more students. Their students say the instructor is very patient, knowledgeable, friendly and flexible.
North London driving school is an expert in teaching students with anxiety, zero experience and seniors. Their students have an amazing 98% pass rate for G2 and G road tests.
Customer Reviews
Let's look at the awesome stuff that students are saying about North London Driving School in London, Ontario.
"It's my first time driving in Canada, and there is so much new stuff to learn while driving in a different country. I would have failed instantly if had not practiced with Ray before my exam. Thanks to Ray I passed the test effortlessly. It is very important to find a professional driving instructor like Ray before your exam, because he knows better what qualities the examiners are looking for in a road test. Anyways, thank you Ray. You are not only a good instructor but also a great friend. Good luck to all who are going to take a road test. Hope you can all find a great instructor and pass your tests."
Ray thoroughly prepared me for the g2 test that I passed first try. Thanks to Ray's insightful knowledge that he shared with me about driving! I recommend North London Driving School and Ray for professional, well-taught driving lessons!"
"Would definitely recommend Ray to everyone. You will get the best instructor plus the best friendship possible. I passed my G2 test today with just 4 days of training. He gives all the details needed for the test, takes you to the exact test route, plus trains you to be a good driver for life."
"I had full confidence and comfort to do my test today cause I was well prepared thanks to Ray's guidance. Something to highlight is I don't live in London, and Ray was really nice to cooperate with the pick-up locations. Plus we did celebrate my pass in the afternoon by going to the Scenic View Park and enjoying some Thai food together. So yeah, you would for sure get an extremely professional training experience and a good friend here"
4
FAQs about Driving Schools in London, Ontario
Turning 16 is an important milestone in life, with its promise of more freedom and independence. Getting a driver's license is a large part of that.
At age 16 in Ontario, you can write your G1 driving test and begin the process of earning a full driver's license. Preparing for the test involves learning the rules of the road and understanding the issues involved in operating a vehicle on the road in all kinds of conditions.
To obtain a driver's license in Ontario, you must be able to fulfill all three of these criteria, according to the Ontario.ca website:
⦁ be at least 16 years old
⦁ pass a vision test (with glasses or contact lenses if necessary)
⦁ pass the written test on rules of the road and traffic signs and signals
Applicants who are under 18 years old should be accompanied by a parent or guardian when going for the written G1 test.
Drivers need a wide array of knowledge to be able to handle the situations they encounter on the road. Here are some examples:
⦁ how to handle four-way stops
⦁ what to watch for in school zones
⦁ how to get out of a skid on an icy or wet road
⦁ how to handle fatigue on long trips
You can learn about the rules of the road and the challenges of driving through:
⦁ the official Ministry of Transportation Driver's Handbook is available at https://www.ontario.ca/document/official-mto-drivers-handbook.
⦁ an approved curriculum through an online driving school, such as Trubicars
Trubicars offers an interactive curriculum covering the different driving situations and scenarios that you are likely to encounter. Topics covered in this course include:
⦁ license classifications (G, M, etc.)
⦁ dashboard symbols and warning lights
⦁ signal lights, headlights, brakes and other controls
⦁ basic rules of the road, such as speed limits, right-of-way rules, etc.
⦁ issues such as driver fatigue, hazardous road conditions, the needs of different road users (such as cyclists or pedestrians), etc.
Once you feel that you know the material well enough, you can book a test at a Service Ontario Centre or DriveTest Centre.
Information on locations and booking an appointment is available at the Service Ontario Service Finder website: https://www.services.gov.on.ca/sf/?_ga=2.234152093.2040431062.1611594312-1433769550.1609993166#/oneServiceDetail/137/ip/sr/t.
Testing sites are located in many towns and cities around the province of Ontario. Scroll down the page on the Service Finder site to search for information on testing sites in different cities and towns in the province. You can search for sites in your town or check in a larger center nearby.
Before going for your appointment, be sure that you have prepared for the test. If you need glasses or contact lenses to see properly, be sure to have them with you.
Also be sure to have money to pay the test fee and anything else that you might need, such as allergy medication or wrist braces. You want to have as few barriers as possible to pass the test.
Before you go for your test, check the website for the list of valid documents to be sure that you have the correct identification before going to write your test. Also, remember to take the original documents with you as copies will not be accepted.
As the Service Ontario website explains, you will need identification giving:
⦁ your legal name
⦁ your date of birth
⦁ your signature
You are allowed to retake the G1 test if you fail the first time. However, retaking the G1 test involves time and money, besides delaying your freedom to drive yourself wherever you want to go. With the right material helping you along, you can pass the test the first time you write it.
With no interactive features, the handbook relies on a plain recital of the facts. Most people have trouble learning that way.
The Trubicars system is different. We include:
⦁ videos and other audiovisual segments to help engage students
⦁ questions and points for further consideration to encourage students to engage personally with the issues
⦁ material that appeals to the whole person, rather than just the intellect
⦁ a wide range of topics, from beginner concepts to advanced material
⦁ a more effective way to study for the G1, G2 and G tests and to gain a lifelong understanding of driving
⦁ easy-to-remember tips for safe driving
⦁ a step-by-step approach that gives insights into the whole process of driving, rather than just a part of it
Driving Schools in London, Ontario
We hope the above list of driving schools in London, Ontario has helped you make a good decision. If you have any questions, you can contact Trubicars.
Tags: Driving Schools in London, Ward's Driving School, Driving School London, Ontario Prices, Driving School London, Ontario, Government Approved Driving Schools, One Way Driving School, Cheapest Driving School London, Ontario
MANITOBA:
Manitoba Class 4 License
Class 5 Driving Test
ONTARIO:
G2 Road Test Booking
Car Training
G1 Licence
G Licence
Driving instructors in London, Ontario
London Ontario Driving Lessons
Drivers Licences Motorcycles