An Overview Of The Driver's Test Process!
Preparing for the government driver's test comes in three stages: the vision, the knowledge test, and the road test. Each test is at any DriveTest Centre across Ontario, not just the city/town where you live. Let's break down these tests to help you prepare to pass each stage.
There is no need to make an appointment for the vision or written test, but it would be wise to ensure you go early enough in case there is a line-up and you won't get a chance to do them before the office closes. Appointments for the road test portions are required. Road tests are booked at any DriveTest location, or a much easier way is to book it online. Tests can be in English or French, with results determined within minutes of completion.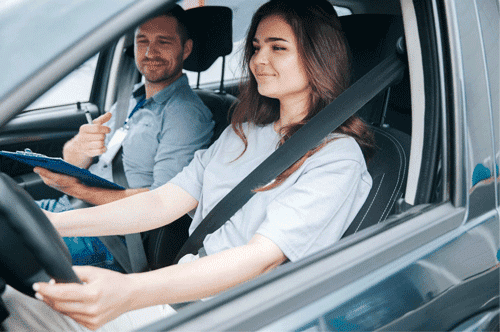 So, what happens if you're not successful on the written test? You can take the test as many times as you need to pass. A pass means you have made four or fewer errors on the 20 sign questions and four or fewer errors on the rules of the road questions. Since there are a few different written tests to take, studying Trubicars G1 Practice Tests is always a wise decision.
Vision Test
Vision tests determine if you have the minimum eyesight required to safely drive a vehicle, and evaluate your visual acuity (VA), which is the sharpness of vision, measured by the ability to distinguish letters and numbers at a certain distance, according to the fixed standard. It also measures your horizontal visual field, which is your peripheral vision. These vision tests only take a few minutes as you look into a device at the DriveTest Centre.
If the vision test is unsuccessful, you will be given a form to take to your optometrist or ophthalmologist to determine if corrective lenses are needed.
Written Test
The G1 knowledge test is a written test that determines if you know the rules of the road and traffic signs. Each written component consists of multiple-choice questions based on the official driver's handbook.
This type of test is monitored by a staff member at a DriveTest Centre to ensure the tests are being done honestly among the test takers. Anyone found cheating or disrupting any test takers will be asked to leave the DriveTest Centre, receive an unsuccessful mark on the written test, lose their test fee, and wait until the next day to rewrite the knowledge test.
Road Tests
Road tests for vehicles, including cars (G2 road test and G road test), vans, and small trucks, as well as motorcycles and commercial vehicles, are completed to assess your driving skills according to the Ministry of Transportation of Ontario (MTO) criteria. You will need to bring your vehicle for the road test. During the road test, you will be driving with a driver examiner as an observer. While they observe, driver examiners will use a set of predefined road test routes and a variety of driver tasks. They will use forms and scoresheets, sometimes on a tablet, to evaluate your ability to apply the rules of the road as needed while safely operating a vehicle and demonstrate your ability to drive safely.
After completing the road test, if you have any concerns regarding the outcome of a test, ask the driver examiner for clarification. Requesting a copy of the scoresheet is a good thing to do before the clarification. If you require further assistance, ask to speak to one of the supervisors at the DriveTest location where you had the road test. As for the written test, you can attempt the road test as often as it takes until you pass. Additional fees will apply for each attempt.
Understanding the driver licensing process can be overwhelming at times. Let Trubicars help to prepare you for that road test by ensuring you have the proper training to pass that test. Visit the Trubicars website and let us help you with your journey!
Car Training
G1 Licence
G2 Licence
G License
Driving Lessons in London Ontario
Driving Instructors in London Ontario