Get a Motorcycle Driving License
All those interested in driving a motorcycle, a scooter, a moped, or a motor tricycle, must apply for an M Class license. Motorcycle licensing is also part of graduated licensing, so participants must participate in that program.
M Class Licenses Types
Motorcycle licenses come in various types other than M Class. They include: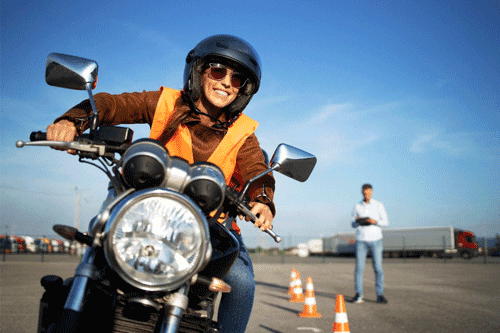 M1 Class: This is the first level of graduated licensing for motorcycles, which includes limited-speed motorcycles, commonly referred to as motor scooters, along with motor-assisted bicycles, commonly referred to as mopeds.
M2 Class: This is the second level of graduated licensing for motorcycles, including motorscooters and mopeds. M2 Class license holders may also drive a G Class vehicle. They must follow the conditions that apply to a G1 Class license holder.
M, M1, or M2 with condition L (LSM/moped): This would only apply to limited-speed motorcycles (LSM) or mopeds. The limited-speed motorcycles have a maximum speed of 70 km/hr. Provided they were manufactured after 1988, a label identifying that on the vehicle indicates it to be LSM/MVL.
M, M1, or M2 with condition 1 (motor tricycle): This license class is only for motor tricycles, which are three-wheeled motorcycles. These motorcycles travel on three wheels, have straddled seating, and use a handlebar for steering. The motor tricycle can carry up to 4 passengers and can have a total vehicle weight of up to 1,000 kg. However, according to Transport Canada, any vehicle with three wheels with the close spacing of its front wheels would be a two-wheeled open motorcycle. If you take a road test with this vehicle, you can receive a full M Class driver's license.
If you hold a full A, B, C, D, E, F, or G Class license, and successfully complete an MTO-approved accelerated three-wheeled motorcycle safety course, you can upgrade your license to an M Class license at any DriveTest Centre or Travel Point location. Doing that will waive all of the mandatory wait times. You are also not required to complete knowledge tests or road tests at a DriveTest Centre as you upgrade to an M Class license.
M Class Requirements for New Drivers
Driving is a privilege in Ontario and must be earned. Any applicant applying for an M Class license must:
Must be a minimum of 16 years of age at the time of application.
Must meet the minimum vision standards established by the (MTO).
Must pass a knowledge test of traffic signs, rules of the road, and knowledge of motorcycles.
Must pass two road tests to gain an M Class license.
Process for Obtaining a M1, M2, and M Class License
As a new motorcycle driver, following the graduated licensing program and gaining experience is important.
The Graduated licensing program for M Class licenses is slightly different from the graduated licensing for G Class licenses. An experienced driver who already holds a full Ontario license, such as for a G Class or commercial vehicle license , must still complete all of the graduated licensing steps associated with M Class. The graduated licensing program for M Class will take roughly 20 months to complete.
As a newcomer to Ontario, if you hold a driver's license from another province or country, you must apply for an Ontario driver's license within 60 days of moving to Ontario. Motorcycle license holders from other Canadian provinces, the United States, Switzerland, Australia, Northern Ireland, and Canadian Forces Europe who have a minimum of two years of driving experience in that jurisdiction may receive a full license in Ontario. License holders from these jurisdictions, who have less than two years of experience, may be allowed to start at the M2 level.
To obtain a new, full M Class license at a DriveTest Centre, The process, including the graduated licensing program, is listed below. However, some MTO-authorized motorcycle safety training schools offer driver-related tests. Therefore, some of the following steps may not be necessary if you decide to take an approved motorcycle course.
1. Study for the Knowledge Test.
You must study and practice in order to learn to ride a motorcycle carefully and safely. Ontario's Official MTO Driver's Handbook and Official MTO Motorcycle Handbook are great resources if used together. The MTO encourages all motorcycle and moped drivers, and those who want to improve their riding skills, to take an approved motorcycle safety course. Contact your local community college or view the list on the MTO website for more information.
2. Apply for an M Class Driver's License at a DriveTest Centre.
Visit the nearest DriveTest Centre and apply for the M Class license. You will be required to show an acceptable ID and complete several forms.
3. Take a Vision Test at the DriveTest Centre.
Vision tests will take just a few minutes and will be completed by a customer service agent when you apply. If you wear corrective lenses, bring them with you to the DriveTest Centre.
4. Pay the Applicable Fees.
License fees are determined by the MTO and can change at any time. You can pay the fees by cash, debit card, or credit card, including VISA, MasterCard, or American Express. You can also pay by certified business cheque, certified personal cheque, bank draft, money order, or traveler's cheque, with each payable to Serco Canada Inc. There will be additional charges with any retests and subsequent attempts.
5. Pass a Written Knowledge Test at DriveTest.
The knowledge test takes roughly 30 minutes to complete. Knowledge tests are available on a first-come-first-served basis, so no appointment is required. Arrive at least one hour or more before the office closes, especially on Saturdays and school holidays, to allow sufficient time to complete the written test. If you are unsuccessful in writing the knowledge test, you may retake the test again, but you will have to pay the fee again for the written test.
6. Receive your Temporary Driver's License from DriveTest Centre.
The temporary M1 license will enable you to drive and is valid for 90 days. Because the M1 license is valid for 90 days, you will not receive a permanent license in the mail. Once you pass your M2 road test, you will be issued a permanent driver's license indicating the M2 license class.
7. Practice with your Class M1 License.
The M1 Class license is the first level you will need to complete prior to getting your full M license. This license class has a graduated licensing program associated with it. When you have an M1 license, the following restrictions apply:
You must maintain a zero-blood-alcohol level.
You must drive only during daylight hours, which is 1/2 hour before sunrise to 1/2 hour after sunset.
You must wear an approved helmet.
You must not drive on roads with speed limits over 80 km/hour — except highways 11, 17, 61, 69, 71, 101, 102, 144, and 655.
You must drive alone and may not carry passengers.
8. Take your M2 Class Road Test.
When you feel ready for the road test, you can book a road test appointment online, over the phone, or in person at DriveTest. When taking the M2 Class road test, a driving examiner from a DriveTest Centre will assess basic driving skills. To take your road test, you must have at least 60 days of experience with your M1 license. Upon the success of the road test, you will receive a temporary driver's license. You will also receive an updated license photo card by mail to replace your current license, signifying you have achieved the Class M2 Class. If you are unsuccessful with the road test, you can book a new M2 road test appointment as long as your temporary driver's license is still valid. If your temporary driver's license has expired, you may be able to have a one-day temporary driver's license. This license is for the purpose of retaking the road test if you schedule a road test before your temporary M1 license expires.
9. Practice with your Class M2 License.
With an M2 Class license, you must maintain a zero-blood-alcohol level and wear a helmet each time you drive. The change for this license level is you can now drive at night and on any road. Completing a government-approved motorcycle safety course means you can take your M Class road test after roughly 18 months, which is 550 days. If you do not finish this course, you must continue to practice with your M2 for a minimum of 22 months.
10. Take your M Class Road Test.
When you take the M Class road test, a driving examiner from DriveTest Centre will assess more advanced driving skills. If you are successful on this road test, you will be issued another temporary driver's license on that day and will receive a full Class M license photo card in the mail within the following weeks. If you are unsuccessful on that road test, you can retake the road test.
11. Enjoy your M-Class License. Drive safely.
Getting your M Class license is exciting! Finding the right driving school that will help you reach your goal is what Trubicars is all about. Visit our website and let's get started!
G License
Driving Instructors in London Ontario