(#1 in-car driving instructor course in Ontario)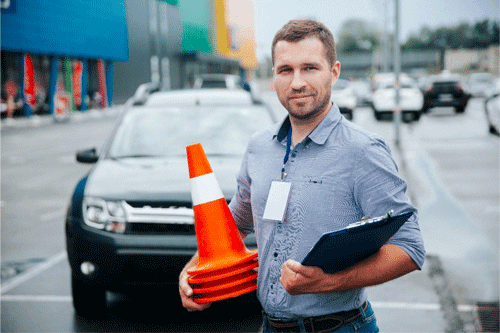 Thank you for considering the Trubicars Ministry of Transportation (MTO) Approved Basic Driving Instructor Course.
We have developed this program in consultation with individuals qualified in Adult Education and Driving Instructors with years of experience.
Our goal is to produce top quality Driving Instructors who will have a positive impact upon people's lives and overall road safety in Ontario.
Every year, people are needlessly injured or killed on Ontario roadways, and poor driving habits and attitudes are mainly to blame.
We want our graduates to be part of the solution. We want to take their interest in instructing and road safety and mold into a PASSION for producing the highest quality new drivers in Ontario.
If being the BEST is what you strive for then Trubicars is the right school for you!
Course Description
The Trubicars MTO Approved Basic Driving Instructor Program consists of 130 instructional hours (76 hours in-class, 50 hours in-car, 4 hours admin and tests). * In car hours may be modified depending of the number of students.
The course will take about 4 weeks to complete and both the in-class and in-car components must normally be completed within 30 days. One hundred percent attendance in required!
The classroom portion is delivered virtually by a highly experienced and qualified Driving Instructor Trainer (DIT), approved by MTO, while the in-car portion will be delivered near your home, by an experienced, qualified MTO Approved Driving Instructor Training Assistant (DITA), through our network of training partners.
Upon completion you will receive a certificate from Trubicars and will have fulfilled the requirements to become a Licensed Driving Instructor in the Province of Ontario. Once your paperwork is completed with MTO and they license you, you will be qualified to deliver the in-car portion of any MTO Approved Beginner's Driver Education Course (BDE).
Content
Respect and Responsibility
Risk Perception and Management
Defensive driving
Rules of the road
Communication techniques
Coaching techniques
How to design, plan, and instruct a lesson
How to maintain control of a vehicle as an instructor
How to deliver evaluations
Ethics
Learning Outcomes
After completing this course, you will have the training, experience and confidence to train new and experienced drivers in vehicle handling and defensive driving.
You will be able to identify skills gaps through observation and develop and plan lessons to overcome these gaps. You will be able to instruct these lessons in a safe and effective manner, all the while encouraging the student to grow their skills.
Course Format
The Trubicars Basic Driving Instructor Course will be delivered through a combination of interactive lectures, assignments, discussion and homework.
In-car will follow a tell – show – do model where the DITA will first teach the student and then the student will teach the instructor.
Certification
Once you have successfully completed the course (pass mark is 80 percent), filed the required paperwork (we will help) and meet all the MTO conditions, MTO will issue you a temporary instructor's license and you can then legally teach for a driving school.
Important info before you sign up!
MTO Requirements
Ontario Secondary School Diploma (Grade 12) or equivalent
4 years driving experience and currently hold a G class license with zero demerit points
Complete an Instructors Package obtainable and payable at Drive Test
Drivetest will require you to:
Pass a G1 written knowledge test (only 2 attempts allowed)
Pass a vision test
Book and pass a G2 Exit Road-test (only 2 attempts allowed)
Submit a clear Vulnerable Sector Check/Criminal Record Check obtainable from your local police for a fee.
Hours of Operation
TBD
Cost
TBD
G License
G1 Licence
G2 License Restrictions
Car Training
G2 Road Test Booking
Driving Instructors in London Ontario
Driving Schools in London Ontario