Getting a Motorcycle License
Getting a motorcycle driver's license in Ontario is separate from obtaining a license to drive any other vehicle. Let Trubicars break down the process you will need to follow to get your motorcycle license.
M Class Road Tests – Two Types
To help keep Ontario's roads one of the safest in North America, Ontario has adopted a graduated licensing system for motorcycles, scooters, and mopeds. The Motorcycle road tests in the graduated licensing system for motorcycles, scooters, and mopeds are referred to as M2 Class and M Class. Both Motorcycle Tests have professional driver examiners assessing how you would apply the rules of the road, how you handle your vehicle, and how you demonstrate driving safely.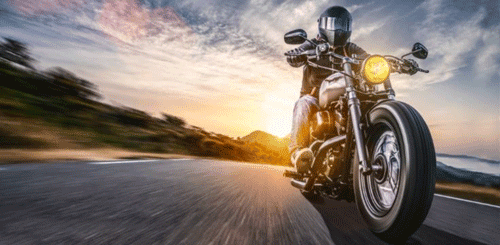 1. M2 Class Road Test
This Motorcycle test will assess basic driving skills and will take roughly 20 minutes to complete. If you are successful, you will get an M2 Class license.
Before you take the M2 Class road test, you must have a minimum of 60 days of M1 Class experience.
There is another way to earn your M2 Class license. If you complete a Ministry of Transportation (MTO) approved motorcycle safety course, the organization will confirm with the MTO electronically that you have completed this motorcycle training. A DriveTest customer service agent will be informed when you visit the DriveTest Centre for your M2 Class license. Not all training organizations will be using this electronic method. If you bring this referral envelope to a DriveTest Centre within six months of completing the motorcycle safety course, you do not need to take a road test at a DriveTest Centre to earn your M2 Class license.
2. M Class Road Test
The M Class road test will assess more advanced driving skills. It includes a highway component and will typically take roughly 30 minutes to complete. If you are successful, you will be issued an M Class license.
A vehicle with two DriveTest employees, including a driver and a driver examiner, will follow you during the M Class road test. The driver examiner will provide instructions for the test through earbuds.
If you complete an MTO-approved motorcycle safety course, you can take your M Class road test after roughly 18 months – or 550 days – instead of 22 months.
Booking the Motorcycle Tests
Provided you have undergone the mandatory wait periods and have driven long enough to gain the necessary experience, you are now eligible to book a motorcycle road test.
M2 Class and M Class Motorcycle Tests are available from mid-May to mid-October each year. Motorcycle Tests will be available to book starting May 1st. It would be advisable to plan and book according to your motorcycle license expiry date. If you have a combined license, such as a GM2 license, the date shown on the license card may be the date of the G Class license, instead of the motorcycle license.
To book your Motorcycle Test, you will need your driver's license number and a way to pay any fees. You may also need to indicate the type of bike you plan to use for your road test.
Preparing for the Motorcycle Test
To drive a motorcycle, you must follow the complete graduated licensing program, but you do not need a G Class license to take a motorcycle road test.
The driver education and safety courses listed on the Ministry of Transportation (MTO) website, are optional but recommended for anyone wishing to get their full M Class license. Before taking any road test, study the Official MTO Driver's Handbook and the Official Motorcycle Handbook.
To prepare for the Motorcycle road test, it is recommended you practice the skills listed below at a variety of locations, times of day as your license will allow, and in different driving conditions:
Starting, stopping, and turning.
Traffic signs and lights.
Driving in the correct position on the road.
Passing vehicles and bicycles and driving in passing lanes.
Traveling through controlled and uncontrolled intersections.
Parking and reversing.
Predicting hazardous conditions and being ready for them.
While preparing, ensure you make arrangements that you have the proper vehicle that you will use on the day of the test and that it is in the appropriate class, and good working order.
DriveTest Centres do not provide vehicles for road tests. You may borrow or rent a motorcycle, moped, or scooter for the road test. However, it is also your responsibility to ensure you have insurance.
Day of the Motorcycle Test
On road test day, ensure you arrive at least 30 minutes early. Road tests will take place rain or shine unless you are notified. If there is extreme weather on the day of the test, your road test may be postponed for safety. Check the DriveTest website on the day of your road test if the weather is severe.
When you arrive for your road test, park your bike and go inside the DriveTest Centre to check in. Most DriveTest Centres have a self-serve kiosk to check in before your road test. If your DriveTest Centre does not have that kiosk or if it is not working, find a customer service agent to check you in. After checking in, return to your bike and wait for the Driver Examiner. If your Driver Examiner does not arrive at your vehicle within 30 minutes of your road test appointment, return to the building and enquire.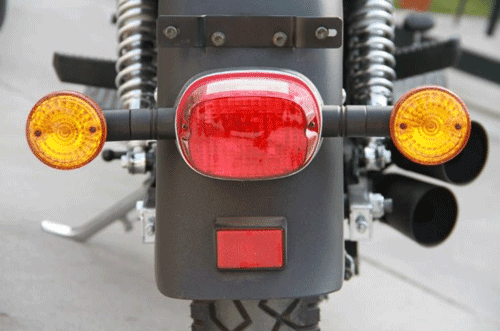 Some DriveTest Centres will provide motorcycle testing at an offsite testing location. These sites are within a few kilometers of a DriveTest Centre. These locations are often unsigned and have no amenities other than equipment and space to conduct the road test. A uniformed Driver Examiner will meet you at this location, but only at scheduled appointment times. When you check in at the DriveTest Centre, please listen carefully for specific instructions.
Bring the following items to the Motorcycle Test:
A vehicle in good working order.
Glasses or contact lenses if needed to drive.
Current driver's license.
Print-out out your road test confirmation email.
A helmet that complies with Regulation 610 of the Highway Traffic Act.
Before you begin the road test, the driver examiner will explain the Motorcycle test, provide instructions, and supply you with earbuds for the on-road test, as required. The driver examiner is not allowed to coach you during the road test, so if you do have any questions, ask them before you begin. The driver examiner may stop or refuse to start the test for the following reasons:
Your bike is not in proper working order.
You show any signs of impairment from alcohol or drugs.
Your driving skills are not good enough to safely finish the test.
You should wear a full-face or three-quarter helmet to enable you to hear the driver examiner's instructions. Compared to the half-helmets, the larger helmets will be better at keeping the earbuds secure and in place and reducing any outside noise.
While taking the road test, the Driver Examiner will evaluate your skills according to a set of criteria and will complete a scoresheet during the Motorcycle Test.
After the Motorcycle Test
After the Motorcycle Test, the driver examiner will provide you with a complete report of your riding skills. If you pass, you will receive a temporary driver's license. This license will be valid for 90 days or until your permanent driver's license photo card arrives in the mail. If you do not pass, the report will show where you need to improve. When you have had more practice improving your errors, you can book another road test. You can take the road tests as often as you need to pass, provided your motorcycle driver's license is still valid. You must wait for a minimum of three days between tests before taking another road test. Applicable test fees will apply.
It is your duty as an operator of a motorized vehicle to ensure that you remain safe and responsible on the road. Not only will this help keep you safe on the road, but it will also help other road users remain safe. If you are looking for more information, check out the Trubicars website!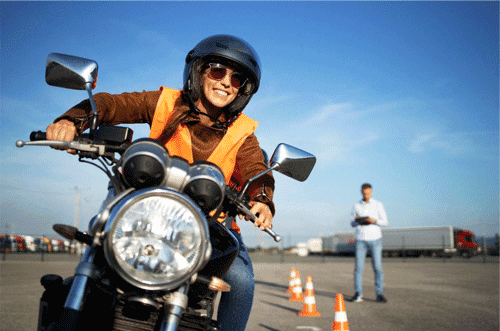 Car Training
G2 Road Test
G1 Licence
G2 Restrictions
G License
Driving Lessons in London Ontario
Driving Instructors in London Ontario
MTO-Approved Driving Schools in London Ontario