Find Truck Driver Training Winnipeg!
Commercial truck driving is an exciting and lucrative career. When you want to become a truck driver you must first obtain a commercial truck driver's license. You can get the skills you need by taking Truck Driver Training in Winnipeg. You will need to work towards obtaining a Class 1 license. The Class 1 license allows you to drive commercial trucks. In order to get a Class 1 license, you must first have a valid Class 5 license in place.
Truck Driver Basics
There is much that a truck driver needs to learn to be safe on the road. Driving a truck is more difficult than driving a passenger vehicle. It is also more dangerous. Because you are carrying a heavy load, if you cause an accident it could have devastating results. You need to take professional Truck Driver Training in Winnipeg to prepare for your driver's test.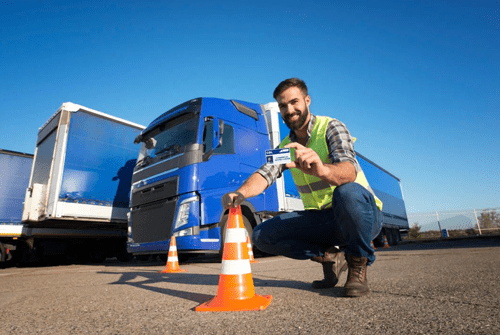 The full-time Class 1 Driver Training course is designed for those who are new to truck driving and who wish to prepare for their license. The curriculum includes more than 30 critical areas that are of great importance to the trucking industry.
Students will get 244 hours of Class 1 Driver Training including 80 hours of classroom education, 40 hours in the lab, 60 hours of observing and 60 hours of driving. This comprehensive course covers all of the essentials such as the laws that govern truck driving, crossing the border, coupling and uncoupling, planning trips, safely shifting, mountain driving, skid control and more.
We offer Class 1 Driver Training for students across Manitoba. Click here:
Class 1 Driving School Winnipeg
Class 1 Driver Training Winnipeg
Class 1 Training Winnipeg
Improve Truck Driving Skills
If you already have a truck driver's license and want to improve your skills, you can take specific truck driver training in Winnipeg for your needs. The Class 1 upgrade course is designed to prepare truck drivers to obtain their licenses. They must know how to operate a truck and perform all of the maneuvers of truck driving to qualify for this class. It will focus specifically on pre-trip inspections and air brake inspections and will include working to improve bad driving habits.
The Class 1 license training course is for drivers in the construction, gravel, or oil industries. It is not intended for drivers who plan to drive across the country or for long distances. Generally, this particular course is for those who will drive locally.
Regardless of your needs, you can prepare for the truck driving career of your choice with Truck Driver Training in Winnipeg. You will spend the time learning everything you need to prepare for the license test.
Most importantly, you will gain the knowledge and skills necessary to be a safe and competent truck driver while on the road. Whether you want to drive a local truck or are preparing to be a long-haul driver, you will benefit from proper training. You can rely on your skills and practice to help you achieve your driving goals and have an exciting career. Once you obtain your license you will be ready to drive for a large number of trucking companies across the country.
Driver Training Burlington ON
G1 Licence
G2 License
G Licence
Car Training
G2 Road Test Checklist