Choose the Right Driving Instructor in Winnipeg now!
When you are ready to obtain your driver's license you need to learn the rules of the road and the skills necessary for getting behind the wheel. Choose a Driving Instructor in Winnipeg with the experience and expertise to handle your needs and provide you with the practice you need to get your license. There are some important factors to consider when you choose a Driving Instructor in Winnipeg.
Tips for Choosing a Driving Instructor in Winnipeg
There are some tips you can use for choosing a top-quality Driving Instructor in Winnipeg. First and foremost, you want to choose a Driving School in Winnipeg with experience and a reputation for providing students with excellent training.
Everyone learns at a different pace so it is helpful to choose a driving school that has the training to meet your needs. Whether you are a beginner or want to brush up on your driving skills, you can get the guidance you need from a Driving Instructor in Winnipeg.
You will need to take a written exam to demonstrate that you know the laws that govern driving. A good driving instructor provides both classroom study as well as hands-on training. You can begin reading and studying the Manitoba driving handbook to learn the rules that apply. You may also be able to have access to a practice test so you can prepare for the exam.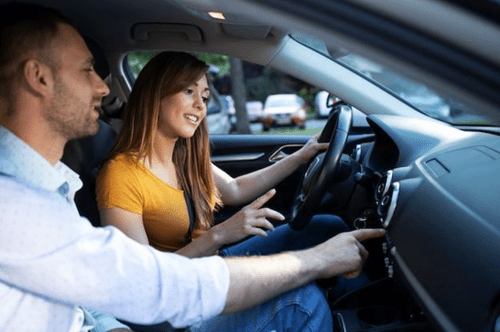 Choose a driving school that will provide you with the most time behind the wheel. It is helpful to spend as much time as possible with a driving instructor seated next to you so you can gain as much experience as possible. You also want a flexible schedule so you can take your lessons at a time that is convenient to your needs. You can take driving lessons after work, after school or on weekends.
Obtaining Your Driver's License
The goal of any good driving instructor is to prepare you completely for taking your driving test and obtaining your license. In Manitoba, there is a Graduated Driver Licence (GDL) Program. Beginning drivers start with a learner's license. This enables you to begin driving with a licensed driver seated next to you. This is a limited license that you must have in place for no less than 9 months.
Next, you will be able to obtain your intermediate license. This requires you to take a driver's test. If you pass the test and meet the requirements you will be allowed to drive with some limitations. Your intermediate license is in place for 15 months at which time you will receive a full-stage license. As long as you don't have any violations or be drinking while driving, you will be able to get a full license.
Driving is a skill that requires a lot of practice. You can get the practice you need from the experts at a local driving school near you. Choose an instructor that meets your needs and your budget. Soon you will be behind the wheel learning how to drive and preparing to get your own driver's license.
MANITOBA:
Class 4 License Manitoba
Book Class 5 Road Test Winnipeg
ONTARIO:
Driving Instructor Mississauga
Car Training
G2 Road Test Booking
G1 Licence
G2 License
G Licence