Car Driving Schools Mississauga – Experience, Trust, and Confidence on the Road with Trubicars!
Learning to drive a car is not as easy as it may seem. To obtain a driver's license, you must pass both written and practical driving tests. The driver's license program is graduated in Ontario. This means that you will need to go through a process to obtain full driving privileges. To prepare for your driving tests and to learn and practice driving, you will want to attend one of the local Car Driving Schools in Mississauga.
Tips for Learning to Drive
Learning to drive comes easier for some people than others. Although you can get some lessons from your parents, relatives, or friends, the best alternative is to take driving courses from leading Car Driving Schools in Mississauga. When you try to learn from others who are not trained instructors you will inevitably pick up some bad driving habits that can make driving unsafe.
Instead, a professional Driving Instructor in Mississauga will coach you with the rules and regulations of driving along with the best way to drive defensively in a variety of situations. This will be the best way to prepare to take the exam to obtain your driver's license.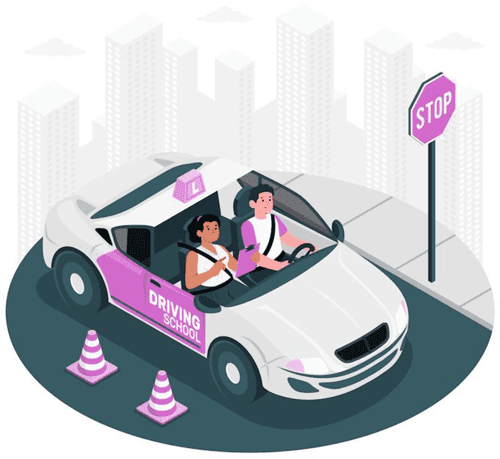 If you are afraid to drive, don't worry. A qualified Driving Instructor in Mississauga will help you get over your fear by instilling the confidence that comes with practice. You won't be forced to drive in situations that are scary for you until you are prepared to do so with help from your driving instructor.
Don't try to rush the process. The graduated system is in place to keep everyone safe on the roads and to ensure that drivers get plenty of practice behind the wheel before they are allowed to drive alone.
Take Driving Lessons in Mississauga hrough one of the best Car Driving Schools in Mississauga so you will be completely ready to pass both the written and driving portions of the exam for your license. Your driving instructor is there to help guide you and to give you pointers that will increase your safety on the road. When you develop good habits from the beginning you are more likely to be a safe driver for the rest of your life.
Finding the Best Car Driving Schools in Mississauga
Many different schools provide driver training in the area. You can easily compare them online so you can decide as to which school best fits your needs. Consider schools that have been in business for a long time and that have trained, professional drivers with plenty of expertise. It is important to get driver training in Mississauga from someone with experience dealing with all types of new drivers.
Other things to consider are the location of the school and the flexibility of classes. Some schools allow the instructor to pick you up from your home at a specified time. This can be extremely helpful when you have to fit the lessons into your schedule of school, work, and family. Finally, consider the cost of the lessons. The costs will generally depend on the length and number of lessons provided. You will be able to choose a reliable training company and will soon be on your way to getting your driver's license.
Car Driving Schools Kitchener
Car Training
G2 Road Test Ontario
G1 Licence
G2 Restrictions
G License Rules
London Ontario Driving Lessons
Driving Instructors in London Ontario
London Ontario Driving Schools
License Class Ontario