Choose the Best Driver Training in Mississauga Now!
If you're determined to purchase your first car, Trubicars is here to help you get your driver's license. Many people believe that getting a license is just a formality. In reality, becoming a professional, responsible driver is something you'll only achieve after years of driving. Experience, however, is not everything.
It takes more than that to turn an inexperienced, young adult into a top-notch driver. This brings us to our Driver Training in Mississauga, the program which we've designed to turn beginners into pros and pros into even better drivers. What our courses offer includes: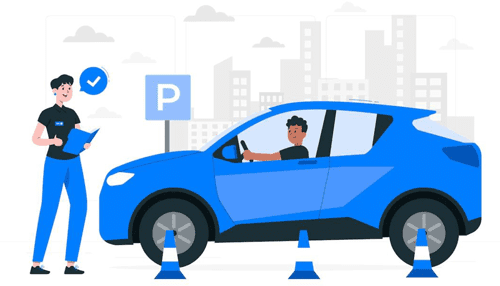 Basic Training and Guidance
We take young adults and turn them into knowledgeable, skillful drivers throughout a 244-hour program. This is the course you can opt for if you want the full experience, but you have other options at your disposal as well. Some drivers-to-be only get one lesson, just to get the taste of it, and then order some more, when they're ready to go.
The content of our driving courses is different than what you'll find in many other driving schools. Aside from teaching you the basics, we'll also make sure to support you:
Grow more aware of your surroundings
Quit being over-emotional and insecure
Develop more confidence in your abilities behind the wheel
Using your distributive attention more effectively
Feel more relaxed and comfortable when driving
Keep your focus exclusively on the road
Become able to predict the traffic's movements
Use prevention as your best tool against the unknown
As you can see, our Driver Training in Mississauga goes more in-depth than a lot of other driving courses. We're only able to do that thanks to our vast experience from working with so many different people over time.
Advanced Training and Expertise
Helping beginners get a hold of driving skills is one thing, but assisting pros in acquiring new skills is an entirely different one. Fortunately, we can do both. If you're a veteran driver, looking to improve your driving, or even acquire new skills along the way, we have you covered. You can pay for as few as one driving training courses or several if you think you need it.
At the same time, we offer extensive training for job requalification. Our partner driving schools offer advanced truck training and taxi training courses, in case you're pursuing a career in these fields. For more information on our classes, along with the options we're offering, please refer to our website or call us for a chat!
If you're aiming to become a professional driver as fast as possible, we welcome you to our Driver Training in Mississauga! At our school, you'll get to choose your preferred driving instructor, the type of vehicle transmission, the number of courses, and even the instructor's gender and language.
At Trubicars, we're offering a driving experience that you're unlike to find anywhere else. Make an appointment via the phone, and let's start turning you into a 5-star driver!
Car Training
G1 Licence
G2 License
G License
Driving Instructors in London Ontario
Driving Schools in London Ontario
Driving Lessons in London Ontario
G1 Test in Kitchener