Driving Instructor in Mississauga – Experience, Trust, and Confidence on the Road with Trubicars!
Having a car of your own is priceless in terms of independence, utility, and even bragging rights. But before getting there, you need to get your license first and that's where we, at Trubicars, come in. You can see the blatant differences between different people when it comes to driving skills and their attitudes on the road.
Although those aspects mostly fall on their personalities, their first Driving Instructors in Mississauga have played a significant role in defining them. Our Driving Instructors in Mississauga will help you relax, and you'll need them. Becoming a top driver is more difficult than most people realize. Sure, driving will become, in time, like second nature to you.
But, until then, you'll have to go through an extended period of accommodation and learning. It's not easy, but we're here to help. Our driving school instructors will help you: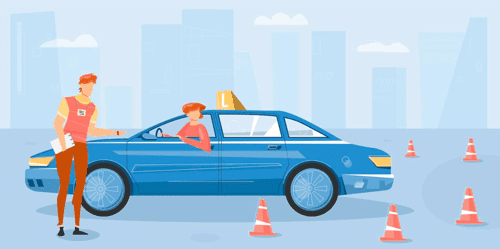 Trubicars Driving Instructors in Mississauga will Help You:
1. Develop your Distributive Attention
Coming behind the wheel for the first time can be an overwhelming experience for many people. You quickly get flooded with emotions and with the avalanche of information that you'll need to process. Every pro driver today has undergone the same trial-and-error marathon you'll be experiencing, and it pretty much goes the same for everybody.
The moment you take the driver's seat, you'll notice how demanding driving a car is, in the beginning. You'll need to pay attention to the information on the dashboard, the traffic lights and signs, pedestrians, intersections, checking the mirrors regularly, etc. With so much information flooding you every second, it's easy to lose your cool. Our Driving Instructors in Mississauga will help you relax, observe your surroundings, and learn how to focus better.
2. Become a Natural
Nobody is born with a driving talent. All your skills as a future driver are the result of learning, practicing, and having a competent, experienced professional by your side. It's difficult to focus and relax in an entirely new environment, where self-control is probably more important than anywhere else.
Our Driving Instructors in Mississauga have decades of experience behind the wheel and will teach you all you need to know about self-control. You need to keep your cool, overcome your emotions, and keep your attention on the road. We're your best choice if you can't handle stress too well, and need great support along the way.
3. Learn the Tips and Tricks of a Top Driver
Finding good drivers is like finding a gold nugget – an unexpected, but more-than-welcome surprise. We'll teach you how to become one. You can rely on our instructors' experience to find out the best tips and tricks that will make you a top driver. Our Driving Instructors in Mississauga are friendly, knowledgeable, and highly proficient in what they do.
Whether you're going to be a truck driver or just plan on sticking with a regular car, we'll be here to help you. Contact us, at Trubicars, today, and find out more about our services!
Driving Instructor London Ontario
Car Training
G2 Test Booking
G1 Licence
G2 Licence
Full G License
London Ontario Driving Lessons