Car Driving Schools in Kitchener – Experience, Trust, and Confidence on the Road with Trubicars!
If you are looking for the right Car Driving Schools in Kitchener to get you professional driving, you can have it inconvenient at Trubicars. We are an online broker whose purpose is to link you to our local partner driving schools by showing the services they offer and allowing you to schedule with them an appointment online.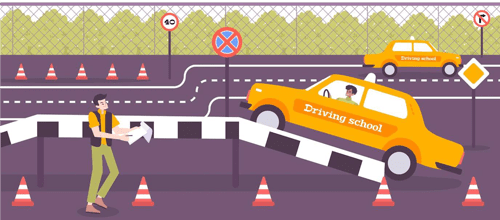 At Trubicars, students like you can have an extensive range of driving school choices from as many places in Canada as possible. For us to help you find the perfect Driving Instructor in Kitchener and driving school from Trubicars, you will have to search for the gender of the instructor, service price, instructor's availability, training car of the instructor, school rating, and many more.
Car Driving Schools Kitchener: Real Savings
The Training We Provide
Its Class 1 is an occupation that is highly in demand. In this training, the key aspects of complying with the regulations and laws of driving are gaining confidence in handling trucks and comprehending the rules of the road. Whether it is improving your skills in driving or learning to drive trucks for a long or local haul that you want, our partnered schools for truck training give various courses for Class 1 which includes an upgrade course, training for license course, and full-time driver training course.
Our professional Driving Instructors in Kitchener for driving will help you feel relaxed while you are learning the road rules and make you feel confident to pass the road test for Class 5.
For you to be able to drive in Manitoba with your taxi, you need to have a license in Class 4. At Trubicars, we have partnered with driving schools that can help you attain this kind of license.
Whether the driver is starting out or already a seasoned one, the driving schools that we partnered with offer a variety of options that include Training for Basic Motorcycles, Training for Motorcycle Gearing Up, and a Program for Experienced Riders.
Our Terms and Conditions
Our goal is to make sure that you attain the best quality of service possible. However, some factors like weather conditions and traffic situations may prevent us occasionally, or the Best Driving Schools in Kitchener that we partner with from attaining that goal in this regard.
Now, when you book an appointment with our partner school through us, the service contract is between you and the school, and that will only be finalized when we have sent you an email of confirmation. If in any case, you want your booking to be canceled, you have every right to do so provided that it is time-reasonable. You may contact our partner school to make such cancellations without any charges.
For Questions Regarding How We Price Our Service
Send us your message at info@trubicars.ca by including your name, phone number, and email address. We also want to know your comments and other concerns regarding the Car Driving Schools in Kitchener that we offer if there are any. For queries regarding our liability, waiver, how we require payment for our service and more, we will be waiting for your email to have it answered.
Car Driving Schools Oakville
G1 Licence
G2 License Restrictions
G License Restrictions
London Ontario Driving Lessons
Book G2 Road Test
Driving Instructors in London Ontario
London Ontario Driving Schools