Every day you see many hundreds of trucks on our major roadways. Trucks are a necessary part of our society and they are essential to our continued growth and development. You can get Class A Driver Training in Hamilton to prepare you to take the driver's tests for your license. Driving a truck is a good career option that offers a good-paying and interesting job. However, driving a truck takes driver training and experience. You need to learn how to drive a truck so you can obtain your license.
Class A Truck Driver's License – Experience, Trust, and Confidence on the Road with Trubicars!
There are various classifications of driver's licenses in Ontario. The most common classification is a Class G license that allows you to drive a regular passenger vehicle. A Class A license allows you to drive a truck or truck and tow combination where the towed vehicle weighs more than 4,600. You cannot drive or tow a passenger bus. You may also operate a Class D or Class G vehicle.
To obtain a Class A license, you must be at least 18 years of age and have a valid Class G license. Then, you must provide a medical exam and your vision must be properly corrected to meet the vision standards. You may then take the tests that are required to obtain a Class A license.
You must pass both a written test and a driving test to obtain your license. Class A Driver Training in Hamilton will sufficiently prepare you for both of these tests. You will need to spend time in the classroom learning the rules and regulations regarding driving a truck as well as the physics of load management. Then, you will need to spend time behind the wheel, learning and practicing with a qualified Driving Instructor in Hamilton.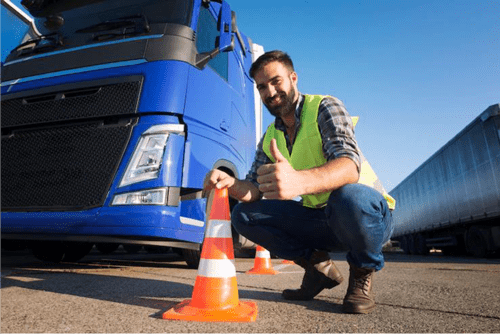 Class A Driver Training in Hamilton
To prepare for a career in truck driving and to obtain your license, you will need to participate in Class A Driver Training in Hamilton. There are a variety of companies that offer truck driver training courses. You can compare them and find one that best suits your needs.
Keep in mind that you will need to prepare for both a written and practical test so you will need to spend time learning both aspects of truck driving. You will also need access to a truck to learn and practice driving with an instructor.
Choose a company with experienced Driving Instructors in Hamilton who will be able to give you the attention and knowledge you need to safely drive a big rig. You will also want to compare training facility locations, programs, and costs. Learning to drive a large truck is a commitment and you want to make sure that you get truck training from the best possible company.
Class A Driver Training in Hamilton is the best way to get started in a career as a big-rig driver. You will soon be ready to take your license test and then start working for a commercial trucking company driving local or long-distance routes.
Driver Training Burlington ON
Car Training
G2 Road Test Booking
G2 License
London Ontario Driving Lessons
Driving Instructors in London Ontario
London Ontario Driving Schools