Driver Training in Burlington ON – Experience, Trust, and Confidence on the Road with Trubicars!
Have you ever noticed that salespeople with any product or service will try to convince you of the many benefits of their products while downplaying what the purchase will cost you? There is nothing wrong with this "tactic" and it probably dates to the caveman days when a caveman named Og sold another caveman named Nog a stone tool for some decorative beads. We will never know if Nog was satisfied with his purchase or if Og was an honest fellow.
A modern example is a salesperson who sells windows and brags about the energy savings his or her triple-paned insulation windows will provide. This might be true in a laboratory setting, but if you have kids or teenagers who have a habit of leaving windows and doors open those savings will fly out of those new $20,000 windows.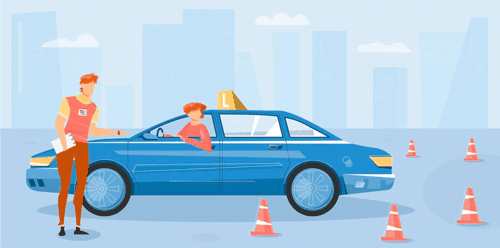 Real Savings
The difference between the sale of Stone Age tools or modern windows to the services offered by a reputable driver training school is that your savings in auto insurance premiums are real and not based on any laboratory findings or a salesperson's over-optimistic estimates.
Trubicars Ltd serves the Burlington, Ontario area and can connect you with a reputable driving school for you or any member of your family name on your insurance policy. The results will vary depending on your location, but you can expect to realize a 20% to 30% premium reduction after completing your driver training course.
More Important than Saving Money?
Drivers' training matters in a much more important way than premium reduction because the educated driver who has acquired good driving habits will cause fewer accidents and potentially save lives. This is especially important to young drivers who may not realize the danger of a two-ton vehicle traveling at high speed and have yet to learn proper driving habits.
Older drivers will benefit from driver training in that they will break any unsafe habits and learn safer habits such as using hand-over-hand turning techniques instead of a clumsy one-hand approach to making a turn. A good driving instructor from Trubicars will teach the student how to change out a flat tire and will even have an eye chart available to check the vision of any student before letting them sit in the driver's seat.
Trubicars can also connect you with driving instructors for motorcycle training in the Burlington area. As fuel prices rise, the motorcycle is a cheap and convenient way to commute to work or take that Sunday ride with reduced fuel usage. They are also easier to park. The drawback is that the motorcycle driver is protected only by a helmet, gloves, shoes, and perhaps a jacket so any cyclist must be well-trained to handle their two-wheeler.
A quick Google search for driving schools shows that there are about 20 schools with Driver Training in Burlington Ontario, area alone. If you need driver training your choice is to spend hours researching each one or simply use Trubicars to find a highly-rated school that will cater to your schedule and needs. And if you are the owner of one of those schools it will be a wise choice for you to partner with Trubicars and get that exposure you need to increase your business. To get Driver Training in Burlington Ontario, started just text or call 647-760-5505 to speak with a friendly representative and answer any questions you may have.
Driver Training Vaughan
Car Training
G2 Road Test Booking
G1 Licence
G2 Drivers License
G License
London Ontario Driving Lessons
Driving Instructors in London Ontario
London Ontario Driving Schools