Driving Instructor in Kitchener – Experience, Trust, and Confidence on the Road with Trubicars!
Learning how to drive a car is science, but it's also more than that; it's a life experience. At Trubicars, we offer you the chance to experience driving like few other people ever will. We don't want you to know the basics; we want you to go beyond them and become a true master of the roads.
For that, we have some of the best Driving Instructors in Kitchener by our side. They'll teach you things that few other driving schools know or care about. From our perspective, these things will not only help you progress faster but will also make you a better driver in time. Here we include: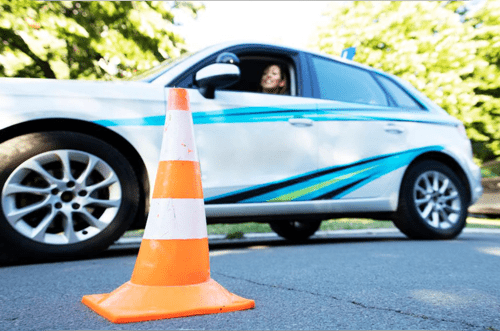 Trubicars Driving Instructor in Kitchener will Help You:
1. Extensive Knowledge
It's not just about the process of driving. You can learn that from the theory, even before getting behind the wheel. We're talking about something more than that. Whether you go for a manual or an automatic transmission, the goal is the same – "feel" the car's response. This is something no amount of theory will teach you.
Our Driving Instructor Kitchener will show you how the car behaves in different scenarios and how to interpret its reactions. It's what will help you prevent difficult situations where such knowledge will keep you, your passengers, and the other drivers safe.
2. The Secret to Calmness and Confidence
Many driving schools stress the importance of knowledge and making the right decisions in traffic. But they fail to explain the underlying mechanism that gets you there. It's easy to blame the student for the mistakes when the instructor fails to deliver the proper psychological support.
Our Driving Instructors in Kitchener will exceed all your expectations. We know how important it is to help you feel in control and maintain your calmness and focus. Emotions will only cause you to make mistakes. To fully overcome them is a matter of time, but having a calm, collected, and knowledgeable instructor beside you will help tremendously.
3. A Wide Range of Skills
One of our main goals is to help young adults to become competent, experienced drivers. But we don't stop there. We also offer multiple other services for those who want to pursue different careers in driving. We have truck training courses, for those interested in the trucking industry, as well as taxi training, which is pretty self-explanatory.
Other people just look to expand on their driving skills and only pay for a single driving session, or several, instead of the full 244-hour package. We can do that as well. It's not every day that you'll find such an advantageous approach, which is why we welcome you to our school today!
Our Driving Instructors in Kitchener are ready to help you become a pro driver in no time. You can find our contact details online, so feel free to call us for any clarifications you might need, or in case you want to make an appointment!
Trubicars is unique in terms of service quality, professionalism, and expertise. Call us, choose your driving instructor, state your preferred number and type of courses, and we're good to go!
Driving Instructor Burlington
Car Training
G2 Road Test Booking
G1 Licence
G2 Restrictions
G License
Driving Lessons in London Ontario
Driving Instructors in London Ontario
Driving Schools in London Ontario