Best Driving Schools and Lessons in Brampton
If you want to learn how to drive fast and effectively, you need to contact our team at Trubicars. You'll only learn how to drive once in your lifetime. After that, you'll never forget how to do it. You might lose some of your skills along the way if you don't drive, but you'll always remember the basics. For this reason, it's vital to learn how to do it correctly right from the start.
Our Driving Instructors in Brampton are experienced, understanding, friendly, and highly proficient at what they do. The driving courses we're offering meet the highest standards in the industry. Everybody can join in, start the program, and advance at their own pace. What we offer includes:
Driving Instructor in Brampton – Trubicars Offers: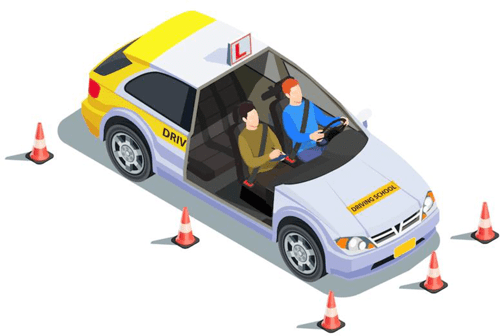 1. Comprehensive Learning:
Knowing the theory does nothing for you if you don't get to put it to work. At the same time, you need a good driving instructor, who's not only knowledgeable but also knows how to explain. Our Driving Instructors in Brampton rank among the best in the business, thanks to their vast expertise, amazing experience, and unmatched professionalism.
We approach the learning experience differently than other driving schools. The learning process is not only about mechanically memorizing the theory. It also involves aspects like:
Being able to clear your mind during driving
Focus on what you're doing at full capacity
Shed your emotions and maintain your cool
Develop your distributive attention
Make better decisions, etc.
All these represent the foundation that any pro driver should master. It's not easy to accomplish this level of learning, which is why we're here to help you.
2. Building the Character:
Everybody can learn how to drive. At its core, it's not a strenuous activity. What is difficult, however, is knowing how to become a professional driver. By professional we mean people who control behavior, care about the well-being of others and make the best decisions in difficult situations.
It takes plenty of knowledge, patience, and understanding to help a young aspiring driver reach this level of mastery, and our Driving Instructors in Brampton fit the requirements entirely. We don't just create great drivers, we create great people as well.
If you're interested in our driving school in Brampton, check our website for our driving courses or give us a call now! Regardless of whether you want to learn how to drive, or just looking to deepen your skills, we welcome you to Trubicars!
G1 Licence
G2 License Restrictions
G License
Car Training
Driving Instructor Oakville
G2 Test Booking
London Ontario Driving Lessons
Driving Instructors in London Ontario