Going for your driving test can be exciting and nerve-wracking at the same time. If you live in or near Brampton, here are a few things that will help you. First, the location of DriveTest in Brampton is at 59 First Gulf Blvd, Unit 9, and can be very busy. When you decide to go there to apply for your G1 license, it would be a good idea to give yourself a lot of time since you could be waiting a long time to get to the counter.
The good news is the Brampton DriveTest Centre is open from 7:00 to 7:00 Monday to Friday and 7:00 to 5:00 on both Saturday and Sunday. That should help you complete everything to pass your G1 written test. You may be wondering what you will need to do to get your G1 license, so let us get to it.
What is the G1 test?
To begin with, let us first understand what the G1 test is. The G1 test in Ontario is a written knowledge-based test that will test your knowledge of traffic signs and the rules of the roads. The G1 test is the first of three tests that every novice driver in Ontario will have to pass to complete Ontario's graduated licensing system. The only written test is the G1 test, with the other two tests done in-vehicle.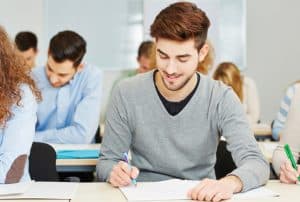 Begin with a review of the Official Driver's Handbook
The Ontario Driver's Handbook is the first step for anyone planning to apply for and write the G1 test in Brampton. It provides all the information you will need to learn to become a knowledgeable driver on the road.
By studying from the Handbook, you can review all the information you will come across during the G1 written test. The more times you read the Handbook, the better opportunity you will have of passing the G1 test the first time you write it.
Do the practice test first
Once you have studied the Driver's Handbook often enough and feel you have a good understanding of the rules of the road in Ontario, it is time to determine if you have studied enough to attempt your test. At Trubicars, we have practice tests for you to try, which include questions about Ontario traffic signs and road rules.
Our practice tests are a great simulation of the G1 written test you will find in Brampton, including images and multiple-choice questions you would face during the real G1 written test.
Our practice tests at Trubicars are challenging and will prepare you for every possible question you may face on the real Ontario G1 test you would take in Brampton. By doing this practice test, you will be able to experience some of the pressure you may face while writing the test itself, making the real test less overwhelming.
What does the G1 test involve?
Knowing what to expect before embarking on an activity does help us to remain calm. This is especially true when taking tests, and there is no exception while writing the G1 test. For the written test, you will need to answer forty multiple-choice questions. One part of the test will focus on traffic lights, signs, and traffic signals, while the other part will focus on your knowledge of the road rules for Ontario.
To pass this G1 test, you are only allowed to have up to four wrong answers for the rules of the road and up to four wrong answers for the signs. For example, if you scored perfect for the rules but have made five wrong answers for the signs portion of the test, you will be unsuccessful and will be required to retake the test again.
Before writing the G1 test
When you apply for a driver's license at the DriveTest Centre in Brampton, you must provide acceptable identification before you complete your application. One of the first things you will be required to do is pass a vision test. The vision test takes just a few minutes and is completed by a customer service agent. Ensure you bring your glasses with you if you require them. If you have any vision problems, they will give you a form to take to an optometrist to have completed before you can continue with the licensing process.
Once you have completed filling out the forms and passed the vision test, you will be required to pay the appropriate fees. License fees are determined by the Ministry of Transportation of Ontario (MTO) and are subject to change without notice. The fees can be paid by cash, debit card, or credit card (including VISA, MasterCard, or American Express).
If you are required to do any retests, there will be additional charges on top of your original fees paid.
Passing the G1 written knowledge test
The knowledge test will take approximately 30 minutes to complete, and there is no appointment required to write it. They use a first-come-first-served basis. Be sure you allow plenty of time to write the test, as the waiting times can become long.
Arriving at least one hour or more before when DriveTest will close for the day should help. This is especially true on weekends and during school holidays. If you do not pass the knowledge test on the first attempt, you may pay the fee and take the written test again. It is suggested you study the Handbook first before attempting a second test.
Obtaining your temporary license
Once you have passed the written test, you will receive your G1 license. This G1 license will enable you to begin driving on public roads, and you will be able to take driving lessons. This paper license is valid for 90 days maximum. If your permanent license photo card does not arrive before the expiry date on your temporary driver's license, visit a Service Ontario office and ask for an extension.
Conclusion
Trubicars wants to help you succeed in passing your G1 written test, which is why we have prepared the practice tests for you. By following these steps, we can help you reach your goals. Once you pass your G1 test in Brampton, contact Trubicars to get set up with a professional instructor to help you continue turning your newly found knowledge into skill.
G2 Road Test Checklist
License Class Ontario
G1 Test in Kitchener