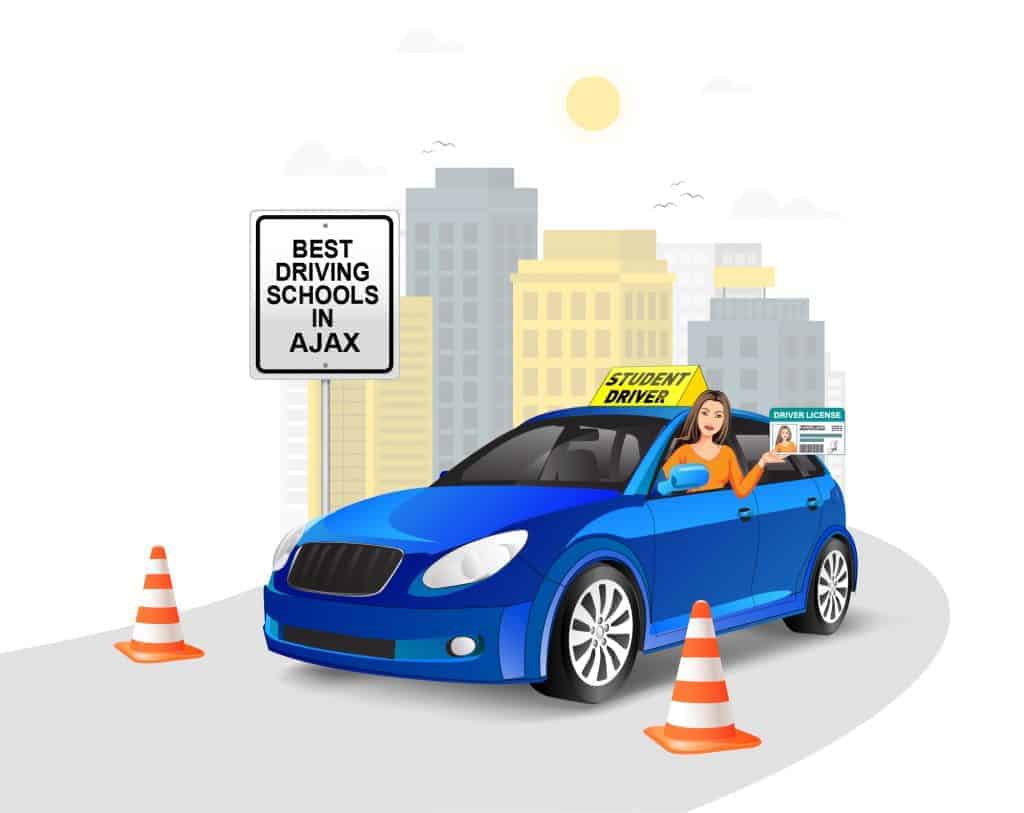 1

The 8 Best Driving Schools in Ajax, Ontario

Are you looking for Driving Schools in Ajax, Ontario? Look no further! We (Trubicars) have put together a list of the Best Driving Schools in Ajax, Ontario for you.
All the driving schools shown here are MTO-approved. We are going to help you pick the Best Driving School in Ajax according to your requirements. You will learn about their rates, reviews, and much more.
Are you excited? So, we are! Let's get started.
2

The Cost of Driving Schools in Ajax, Ontario

Before we talk about the Best Driving Schools in Ajax, let's talk about how much driving lessons cost in Ajax Ontario.
Fortunately, Driving Lessons in Ajax are not very expensive. Let's look at the table below for the average cost of Driving Lessons in Ajax, Ontario.
INDIVIDUAL LESSON / PACKAGE
AVERAGE COST
G2 Lesson
$45 per hour
G Lesson
$45 per hour
Basic Beginner Driver Education (BDE) Package.
⦁ This includes 30 hours of MTO-approved online driving course and 10 hours of in-car driving lessons.
$649 plus tax
3

The Best Driving Schools in Ajax Ontario

According to Trubicars, these are the Best Driving Schools in Ajax.
3.1
Best Choice Driving School
| | |
| --- | --- |
| DRIVING SCHOOL ADDRESS | 1- Rossland Road West, Suite 203, Ajax, ON L1Z 1Z2 |
| IN-VEHICLE DRIVING INSTRUCTIONS |   |
| INSTRUCTORS |   |
| LANGUAGES |   |
Best Choice Driving School, in Ajax, has taught students from ages 16 to 88 how to drive with an unsurpassed level of teaching. Their goal is to teach students how to drive well for the many years of driving they will have after they obtain their independent license (G2, or G). This means they go beyond just helping you obtain a driver's license, beyond just passing an MTO road test, beyond just avoiding collisions, beyond just feeling confident, and beyond a record of successful completion on your Driver's License History. 
They offer private in-car lessons for all your individual needs. Whether it be helping you prepare for your G2 Road test, G test, or simply brushing up on your driving skills, Best Choice Driving School is here to help you!
Customer Reviews
"First attempt for G2 n G driving test and I passed !! Credit to the best instructor Lai. I felt very comfortable with Lai the entire time. She helped me understand the driving tactics and useful tips that helped me pass the test in a very short time. I highly recommend Best Choice Driving School" 
"I passed the G2 on my first try and it is all thanks to my instructor. I took lessons with Ms. Lai, she was very patient and created a welcoming atmosphere where I was comfortable asking any questions. She kept classes light-hearted and amusing with jokes and stories, which helped me remember the rules of the road better. She genuinely cares about her students and wants them to succeed. Highly recommend!!" 
"My experience with Best Choice driving school was amazing. My instructor was incredibly helpful and professional. She provided a lot of instruction in preparation for my G test and I passed on the first try. I would highly recommend it!"
3.2
Standard Academy of Driving School
| | |
| --- | --- |
| DRIVING SCHOOL ADDRESS | 279 Kingston Road East Unit # 18A Ajax, Ontario L1Z 0K5 |
| IN-VEHICLE DRIVING INSTRUCTIONS |   |
| INSTRUCTORS |   |
| LANGUAGES |   |
At Standard Academy of Driving School, Ajax, it has always been their policy to provide the highest standard of informative driving instructions to their students. Their school is committed to molding better, safer and law-abiding drivers. They put emphasis on the importance of driver safety in order to make their roads and highways safer for all road users. 
Their personnel are meticulously screened and intensively trained to be able to provide excellent and informative instructions. They are all caring, polite, educated people with good moral characters and pleasant attitudes. Their driving instructors are professionals that are capable of keeping the highest standards of teaching while at the same time being patient and polite to all their students. They take teaching seriously and do not make false statements or make false promises to their students knowing that every person is unique and requires a different amount of time to learn while at the same time treating them with the patience and respect that they deserve.
To keep the best standards, their school is systematically inspected by The Ministry of Transportation Ontario (M.T.O). All student records, classroom and course curriculum are carefully checked for any errors and omissions. For student safety, each and every single vehicle in their school is fully commercially insured and systematically inspected by the Ministry of Transportation Ontario.
Customer Reviews 
"I would recommend this school to anyone in the area! I was very nervous to start driving at first but I surprisingly gained confidence quickly because of my awesome instructor Tariq. He has a very calm and patient approach to teaching which made me feel comfortable behind the wheel. He provided a space where I felt comfortable asking any question or the same question many many times. His driving strategies are very effective and are definitely the reason I passed my G2 road test on the first try!! Thank you so much Tariq and Sabir for your support in my getting my license!! Overall a very great experience with this driving school!" 
"Solid 5 Stars for Tariq and the school. I took a few lessons for my G road test and passed very smoothly. He is a very experienced and professional instructor that takes his work seriously. He also gives excellent tips that are helpful for passing the test, but more importantly, he encourages safe driving practices that are useful for the rest of your life. Highly Recommend!!" 
"The best experience ever. Tariq was an amazing driving teacher, he showed me everything I needed to know and made me prepared for my G2 road exit test. I passed on my first try with his help. Definitely recommend going to him!" 
3.3
Xxaminer Driving Consultant
| | |
| --- | --- |
| DRIVING SCHOOL ADDRESS | #216,50 Commercial Ave, Ajax ON L1S 2H5 |
| IN-VEHICLE DRIVING INSTRUCTIONS |   |
| INSTRUCTORS |   |
| LANGUAGES |   |
Xxaminer Driver Consultant Inc, in Ajax, is an MTO-approved BDE Course Provider. They are licensed in-class and in-car driver instructors. With an extensive background in MTO and Drive tests, XXaminer Driver Consultant Inc brings new and innovative teaching techniques to enforce road safety while preparing individuals for their road tests. Focusing on different spectrums of drivers from novice to experienced drivers needing refreshers to seniors needing to be retested by MTO requirements. XXaminer Driver Consultant Inc has the ability to extend consulting on an administrative level to newcomers in the country wanting to exchange or obtain an Ontario driver's license. Xxaminer Driver Consultant Inc is able to assist individuals faced with expiry, suspension and medical reasons for loss of privilege to drive. They assist individuals in building confidence and safe driving habits behind the wheel which will in turn lay the foundation for a successful road test and fewer driver errors on the road. 
Customer Reviews
"I would wholeheartedly recommend this school to anyone seeking to actually learn 101% of what's needed to pass the driving test. Jewlz was very professional and always had a great attitude. 
She went above and beyond to accommodate my busy schedule and gave me all the knowledge I needed. My examiner was really impressed with my performance and it was all thanks to the knowledge gained during the course." 
"Jewlz is an amazing instructor as she not only teaches, but takes the time to build a relationship and get to know you as a driver which makes the whole learning experience that much more enjoyable and informative. She personally goes the extra mile to make sure you succeed and will make sure you're 110% ready to take your road test. She makes sure you know everything you need to know and I could not have asked for a better instructor as she truly does go the extra mile to care and actually make the experience enjoyable and memorable. She truly exceeded my expectation ten fold." 
"We just got our G license on our first take!! We couldn't have done it without Jewlz' and Ali's patience and guidance. They're very professional, knowledgeable, and kind instructors! They definitely equipped us with safe driving skills that boosted our confidence on the road. 
Definitely a ⭐⭐⭐⭐⭐ driving school with the best instructors JELWZ & ALI! We wouldn't have any second thoughts about recommending it to others too! 😉" 
3.4
Eric's Driving Academy
| | |
| --- | --- |
| DRIVING SCHOOL ADDRESS | 40 Old Kingston Road, No.224 Ajax Ontario, L1T 2Z7 |
| IN-VEHICLE DRIVING INSTRUCTIONS |   |
| INSTRUCTORS |   |
| LANGUAGES |   |
Their instructors are Ontario-licensed, and they have been chosen not only for their teaching ability but also for their patience and understanding. Their cars are fully insured and they are dual-controlled for students' safety. 
All in-car lessons are conducted one-on-one to provide students with a comfortable learning environment free from peer pressure. Re: high level of satisfaction, they encourage their customers to inform us when something is not right so that they can correct that. 
The first in-car lesson is booked through the office, but the student may schedule subsequent lessons directly with the in–car instructor. The only requirement is – the student must have a valid driving license. 
Pick up/ drop off at a mutually agreed-on location (within a reasonable distance from the school or home). 
Customer Reviews
"I had an amazing experience of taking driving lessons from Mr. Eric. He is a very gentle, punctual, and professional person. He makes sure that his students learn from all perspectives. He trained me for G Road Test and I passed it on the first attempt. I strongly recommend him for driving lessons." 
"My driving instructor was Syeda. By far the best driving instructor I could've asked for. She was patient with me and taught me so much during my lessons. Unlike others, she actually cared for me and wanted me to succeed which helped build my confidence, and took her time while teaching me. She was also so kind and was an overall great teacher!" 
"I took behind-the-wheel lessons with Eric himself, and I am convinced that he is one of the highest caliber instructors in the area. He's super calm, friendly, and constructive in the criticism he offers – which is much more than can be said of many of the neighboring driving schools. After 5 hours of driving with Eric (though I had done a few elsewhere before), I felt very comfortable – to the point where he himself said that I was probably ready to pass the G2 test as-is, and didn't push me to take more lessons. He's honest, so if I decide to take more lessons for the G, I will without a doubt contact him. I highly recommend the behind-the-wheel lessons with Eric for anyone looking." 
3.5
Sunny Safeway Driving School
| | |
| --- | --- |
| DRIVING SCHOOL ADDRESS | 31 Hassard Short Lane, Ajax, Ontario L1S 0G4 |
| IN-VEHICLE DRIVING INSTRUCTIONS |   |
| INSTRUCTORS |   |
| LANGUAGES |   |
Sunny Safeway Driving School, in Ajax, offers quality driver training for G1, G2 and G drivers, and MTO-approved beginner driver education (BDE) courses. In adherence to Ministry guidelines, Sunny Safeway Driving School provides courses through online e-learning and 10 hours of in-vehicle training, plus 10 hours of flexible instruction (homelinks) that are required for certification. Once these three requirements are completed within one year, your Driver's License History (DLH) will be updated to provide proof of your successful completion of and graduation from the BDE course. 
Driving School Ajax, Oshawa is knowns as Sunny Safeway Driving School and is the #1 choice of high school students across the GTA and Durham Region. Their offer flexible, affordable, high-quality driver training and the highest road test passing ratio. For your convenience, our courses are offered online to keep you safe and healthy. Our team of driver training specialists is experienced, professional and friendly! They are all trained & certified by the MTO and re-evaluated by the company owner every year. Take one of our MTO Approved Beginner Driver Education Courses and become a safe, confident and defensive driver using our state-of-the-art techniques! 
Sunny Safeway Driving School equips students with not only the skills to drive on the road, but also the skills to survive on the road. The instructors are very experienced, friendly, and patient. Their schedules are flexible and accommodating to the schedules of their students. All in-vehicle appointments are held one-on-one between the student and instructor. Their respect their students and want the best for them. At Sunny Safeway Driving School, they see and treat their students as family. They are upfront and fair with their prices and do not have any hidden costs. The safety of their students is and always will be their #1 priority. 
Customer Reviews
"If you want to pass your G driving test with flying colors, look no further than Sunny! I wish I could give him 10/5 stars for his incredible attention to detail, patience, knowledge, tips and encouragement! He helped me clean up some bad driving habits and gave me the tools I needed to go into my test with the confidence to pass on the first try. He's super easy-going and calming and I would recommend him to any level of the driver. Thanks so much Sunny!!" 
"After reaching out to multiple driving schools in the area and getting no responses, I found Sunny Driving school and got a quick message back from Sunny himself. I was immediately able to set up a lesson. Sunny was really patient and gave some very helpful examination tips. I was able to pass my G a few weeks after my lesson with him. Highly recommend!" 
"Sunny is the best driving instructor. I strongly recommend him to anyone seeking driving lessons. He is such a motivator building confidence in you and molding you into a perfect driver. Thank you so much Sunny for giving such excellent driving lessons. He can get the fastest drive test slot based on your availability. "
3.6
Next Gen Driving School
| | |
| --- | --- |
| DRIVING SCHOOL ADDRESS | 3 Hardwood Avenue S, Ajax, L1S 2C1 |
| IN-VEHICLE DRIVING INSTRUCTIONS |   |
| INSTRUCTORS |   |
| LANGUAGES |   |
They are Ministry-approved, Beginner Driver Education (BDE) course providers. They offer in-class, online and in-car sessions as per the requirement. Upon completion, they provide the Driver's Licence History (DLH) which provides proof of successful completion and graduation from a BDE course. This will also help students to reduce waiting time from 12 months to 8 months for the G2 road test. 
They offer a flexible training schedule throughout the year, with weekend, evening and weekday classes. They don't have any hidden charges and they are affordable prices. 
All their instructors are MTO qualified with a higher level of students' satisfaction. 
Customer Reviews
"I had an excellent experience overall. My driving has improved immensely. I highly recommend this place! I got my G2 on my first try. They didnt just prepare me to complete only the road test, rather, they taught me how to drive really well outside of just doing the road test. Everyone compliments my driving and I feel confident on the road. I had a very professional, patient instructor who gave me useful tips and I could tell he is very experienced. Thank you, Choudhary" 
"My experience was great. All the points were thoroughly explained During practice sessions. They teach and repeat wherever you find issues with any experience in driving and also give training at the test location. I passed my G2 today and all kudos to Faisal Bhai! He helped me pass the tests. Thanks!" 
"I had Muhammad Adnan as my driving instructor and passed my G2 on my first try! He's such a great instructor he made me feel confident in my driving 100%! I wouldn't have been able to pass without his help, he's very responsive and flexible when it came to lesson times and anything! Very nice person and I am recommending him to everyone I know needs an instructor! If you are thinking about Next Gen ask for Muhammad Adnan!! Nothing but good things to say about him :)" 
3.7
Durham's Elite Driving School
| | |
| --- | --- |
| DRIVING SCHOOL ADDRESS | Suite 205, 30 Hunt Street Ajax, Ontario, Canada. L1S 3M2 |
| IN-VEHICLE DRIVING INSTRUCTIONS |   |
| INSTRUCTORS |   |
| LANGUAGES |   |
Durham's Elite Driving School is an MTO-approved driving school, located in the heart of Ajax Downtown.  They are a team of experienced & qualified in-class & in-car driving instructors who are on a mission to make responsible driving the only acceptable way of driving. 
Their students can expect the best quality of driving education from their knowledgeable, friendly and accommodating instructors.  Canadian weather requires the driver to have additional knowledge & driving skills in order to ensure the safety of himself, his passengers and also others on the road. 
They believe that education should be fun and interesting therefore they make every effort to make their students feel comfortable and at ease. Driving needs focus and only a comfortable and relaxed student can correctly demonstrate the right driving skills on roads and highways. 
Their Driving School has helped hundreds to successfully obtain their driving licenses and they take pride in being the top choice driving school in the Durham region.
Customer Reviews
"Amazing driving school, highly recommended for anyone learning to drive. I had a great experience, only took 5 lessons and passed my g2 test on the first try." 
"I got my G2 with this school on my first try, worth every penny. Best driving school in Durham region, informative instructors who advocate for being a safe driver." 
3.8
Growing Star Driving School
| | |
| --- | --- |
| DRIVING SCHOOL ADDRESS | 78 Dobson Drive, Ajax, ON L1S5E8 |
| IN-VEHICLE DRIVING INSTRUCTIONS |   |
| INSTRUCTORS |   |
| LANGUAGES |   |
Growing Star Driving School comes under the list of MTO-approved driving schools. From there on, their passion for becoming the Best Driving School in Durham Region kept growing exponentially bigger.  
Their goal is to teach students to become successful, safe and defensive drivers. Their qualified driving instructors will help you with every step required to achieve your goals and get a driver's license. It's their duty to offer you the highest quality in-class instruction, in-car driver training and excellent customer service in the Durham Region.  
Their MTO-qualified driving instructors and talented staff will ensure you gain all the required skillsets from their Best Driving School in Durham Region and get your license sooner than you are expecting. 
Customer Reviews
"My experience with the Growing Star Driving School was excellent. I had the pleasure of having Rizwan sir as my driving instructor and it was absolutely great. He is very professional, courteous, and friendly which made me very comfortable driving. His car is also very clean. I cleared my G exam on the first attempt. Would highly recommend him for driving lessons." 
"The classes were super helpful. I cleared my G2 exam on the first attempt. Rizwan is an excellent teacher with a lot of patience. We went over the basics, test route and some scenarios. He is quite courteous. He acknowledges the difference between the skill level of different drivers and tailors the class accordingly. He teaches students as his driving exam depends on it, which I appreciated. 
100% would recommend to young drivers, first-time drivers, and international drivers from countries with Right-hand drive. 
Thank you Rizwan!" 
"I highly recommend Growing Stars Driving School. Great instructors. My instructor Rizwan Khan went the extra mile to encourage and support me. He was patient, knowledgeable, and full of encouragement. He prepared me for everything that was on my test. The training I received at Growing Stars Driving School gave me the ability to successfully pass my G road test today at Oshawa Drive Test Center on the first attempt. 
🙏" 
4
FAQs about Driving Schools in Ajax Ontario
Turning 16 is an important milestone in life, with its promise of more freedom and independence. Getting a driver's license is a large part of that.
At age 16 in Ontario, you can write your G1 driving test and begin the process of earning a full driver's license. Preparing for the test involves learning the rules of the road and understanding the issues involved in operating a vehicle on the road in all kinds of conditions.
To obtain a driver's license in Ontario, you must be able to fulfill all three of these criteria, according to the Ontario.ca website:
⦁ be at least 16 years old
⦁ pass a vision test (with glasses or contact lenses if necessary)
⦁ pass the written test on rules of the road and traffic signs and signals
Applicants who are under 18 years old should be accompanied by a parent or guardian when going for the written G1 test.
Drivers need a wide array of knowledge to be able to handle the situations they encounter on the road. Here are some examples:
⦁ how to handle four-way stops
⦁ what to watch for in school zones
⦁ how to get out of a skid on an icy or wet road
⦁ how to handle fatigue on long trips
You can learn about the rules of the road and the challenges of driving through:
⦁ the official Ministry of Transportation Driver's Handbook is available at https://www.ontario.ca/document/official-mto-drivers-handbook.
⦁ an approved curriculum through an online driving school, such as Trubicars
Trubicars offers an interactive curriculum covering the different driving situations and scenarios that you are likely to encounter. Topics covered in this course include:
⦁ license classifications (G, M, etc.)
⦁ dashboard symbols and warning lights
⦁ signal lights, headlights, brakes, and other controls
⦁ basic rules of the road, such as speed limits, right-of-way rules, etc.
⦁ issues such as driver fatigue, hazardous road conditions, the needs of different road users (such as cyclists or pedestrians), etc.
Once you feel that you know the material well enough, you can book a test at a Service Ontario Centre or DriveTest Centre.
Information on locations and booking an appointment is available at the Service Ontario Service Finder website: https://www.services.gov.on.ca/sf/?_ga=2.234152093.2040431062.1611594312-1433769550.1609993166#/oneServiceDetail/137/ip/sr/t.
Testing sites are located in many towns and cities around the province of Ontario. Scroll down the page on the Service Finder site to search for information on testing sites in different cities and towns in the province. You can search for sites in your town or check in a larger center nearby.
Before going for your appointment, be sure that you have prepared for the test. If you need glasses or contact lenses to see properly, be sure to have them with you.
Also be sure to have money to pay the test fee and anything else that you might need, such as allergy medication or wrist braces. You want to have as few barriers as possible to passing the test.
Before you go for your test, check the website for the list of valid documents to be sure that you have the correct identification before going to write your test. Also, remember to take the original documents with you as copies will not be accepted.
As the Service Ontario website explains, you will need identification giving:
⦁ your legal name
⦁ your date of birth
⦁ your signature
You are allowed to retake the G1 test if you fail the first time. However, retaking the G1 test involves time and money, besides delaying your freedom to drive yourself wherever you want to go. With the right material helping you along, you can pass the test the first time you write it.
With no interactive features, the handbook relies on a plain recital of the facts. Most people have trouble learning that way.
The Trubicars system is different. We include:
⦁ videos and other audiovisual segments to help engage students
⦁ questions and points for further consideration to encourage students to engage personally with the issues
⦁ material that appeals to the whole person, rather than just the intellect
⦁ a wide range of topics, from beginner concepts to advanced material
⦁ a more effective way to study for the G1, G2, and G tests and to gain a lifelong understanding of driving
⦁ easy-to-remember tips for safe driving
⦁ a step-by-step approach that gives insights into the whole process of driving, rather than just a part of it
Driving Schools in Ajax Ontario
We hope the above list of Driving Schools in Ajax, Ontario has helped you make a good decision. If you have any questions, you can contact Trubicars.
Tags: Driving Schools in Ajax, Driving School Ajax Ontario Prices, Driving School Ajax Ontario, Government Approved Driving Schools, MTO approved Driving Schools in Ajax, Cheapest Driving School Ajax
Ontario