Driver Training Vaughan – Experience, Trust, and Confidence on the Road with Trubicars!
At Trubicars, we know how challenging it is to find professional drivers anymore. It's not just about the knowledge regarding the process of driving the vehicle. That's standard. We're talking about the bigger picture, involving self-control, confidence, attitude, behavior in traffic, the ability to improve, etc. It's hard to find these qualities in a single person, but that's precisely what we hope to help you achieve.
Our Driver Training in Vaughan is unlike any other driving course out there. What we offer will not only shape you into a better driver but a better person as well. Under the supervision of our expert Driving Instructor Vaughan, you will:
Learn Everything About the Car and The Traffic Pattern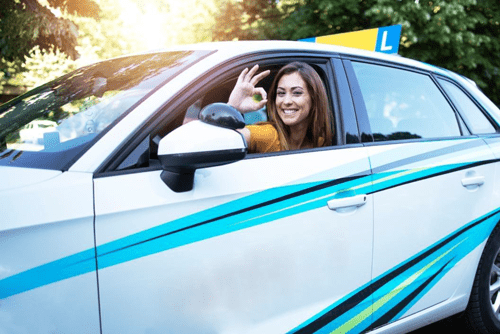 The theoretical courses you'll be taking will teach you all you need to know about the car. How it functions, how it performs under different weather and road conditions, how to control it in various scenarios, etc. What you won't find out is how to adapt to the traffic's fluidity. For that, you need an experienced instructor by your side, who'll walk you through the fire.
You can entirely rely on our professionals to find out everything you need to know about moving safely through dense urban traffic. It's difficult enough to handle the rush hours as an experienced driver. As a beginner, the situation will only become even more volatile. To help you become accustomed to the situation, Our Driving Instructors in Vaughan will teach you to:
Remain calm under stress
Assess the situation as you go
Use your distributive attention to prevent undesirable situations
Overcome your emotions and make better decisions
Learn the map of the city from a driver's perspective
Mastering these techniques will give you a significant advantage in the long run. You'll be able to learn faster and gain more confidence as you go.
Control Your Emotions Better
It's vital to have someone knowledgeable, calm, and collected beside you when learning how to drive. This will not only help you to remain focused during the driving courses but also improve your behavior in traffic. We have too many aggressive drivers around, who'll jeopardize the safety of everyone around them through their behavior.
We want to change that. Our Driving Instructors in Vaughan know how vital it is to remain calm under pressure, maintain your self-control, and see to your manners. It's what will eventually make you a better person.
Improve Constantly
It's not enough to learn the basics. If you're to become an excellent driver, with an impressive set of skills, knowledge, and a great attitude, you need to improve continually. You might need these skills to get a job in the trucking industry or as a taxi driver. For these reasons, we believe that our Driver Training in Vaughan is ideal for you.
Contact us today, and our team at Trubicars will provide you with some of the most comprehensive driving courses in the industry. If you're going to learn how to become an expert driver, do it the right way!
Driver Training Mississauga
Car Training
G1 Practice Tests
Book G2 Road Test
G1 Licence
G2 License
G License
Driving Lessons in London Ontario
Driving Instructors in London Ontario
Driving Schools in London Ontario