Driving Instructor in Vaughan – Experience, Trust, and Confidence on the Road with Trubicars!
Do you want to become a great driver in the shortest amount of time? Trubicars is here to help you get there. You might think it's easy to learn the basics and go from there but teaching people the art of becoming excellent drivers is more complex than that.
Our Driving Instructor in Vaughan has a deep insight into more than the basics of driving. They need to know how to accommodate you with the situation as well. This requires them to function as teachers and provide you with more than theoretical support. People are different, which means they adapt and progress at vastly different paces. Our approach differs from that of other driving schools. During our courses, you'll acquire: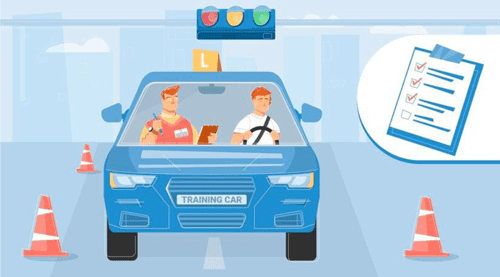 Trubicars Driving Instructor in Vaughan will Help You:
1. New Skills
We don't offer our services to beginners only. If you're already experienced in driving and looking to gain new skills along the way, we can help you with that as well. Our Driving Schools in Canada offer trucking and taxi courses for those interested in pursuing a career in these fields. At the same time, we also help drivers who need to expand their skills.
Maybe you didn't drive for a very long time, or you've completed your driving courses at another school, and you're dissatisfied with what you got. We'll take you in and provide you with top-notch driving courses. The program is flexible, which means you can choose your driving instructor, the number of hours you want to go through, and even the type of car.
2. Confidence and Expertise
Very few Driving Instructors in Vaughan offer this level of support. Not only will you get access to a lot of useful information, but you'll also learn how to become more confident and relaxed. This is a vital aspect for all drivers, whether they're beginners or experienced.
Having confidence in your skills is a must during the first several sessions, as well as throughout the entire driving course. Without it, you cannot progress beyond the basics, and you can't feel in control, as you should. We'll make sure to help you become comfortable and relaxed, and trust your abilities a bit more.
3. Plenty to Learn
Most other driving schools will stick to the conventional approach, which is teaching the students the foundation. We want to do more than that. Learning the basics alone won't suffice in the long run. You may have heard the idea that "You'll only learn how to properly drive after you'll take your license, and start driving on your own."
While that's true in part, we want to help you as much as possible during the driving courses as well. As a result, we'll go further than any other school, by teaching you:
How to predict the traffic
Remain calm in stressful situations
The car's behavior in different weather conditions
How to keep your composure and remain focused behind the wheel
Trubicars offers you some of the best Driving Instructors in Vaughan. Choose your preferred instructor, opt for your driving course of choice, and let's get started!
Driving Instructor Burlington
Car Training
G2 Road Test Booking
G1 Licence
G2 Licence
G License
London Ontario Driving Lessons
Driving Instructors in London Ontario
MTO-Approved Driving Schools in London Ontario