As a new driver, one of your main goals is to pass your driver's test and gain your freedom. Knowing what it takes to pass your driving test helps to better prepare you for anything that may happen. Many new drivers take their driving test too early, which leads to a failed test, extreme disappointment, additional testing costs, and a longer delay in getting on the road.
Why not let a professional driving instructor help you with that? They can determine when you're ready for that all-important driving test. That's where Trubicars comes in! We can help prepare you so you'll be ready when you book a driving test!
Book When You're Ready:
Preparing to book your driving test should be measured by how prepared you are, not just because your wait time is up. You should always be prepared to drive alone, which means you have the confidence to make your own driving decisions.
How would you know you're ready to book the driving test? Is it because you've waited long enough? Is it because you want your license for the summer? None of those reasons are strong enough to say go for it. You need the help of a professional driving instructor to let you know it's the right time.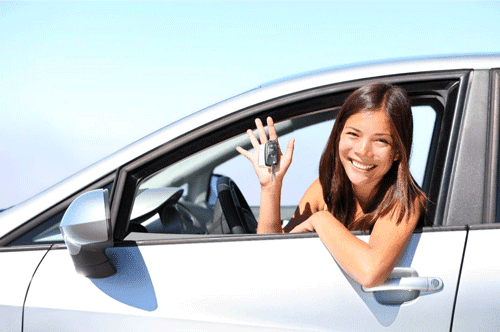 Driving in Different Conditions:
Part of preparing for the road test is being able to drive in different conditions. Practicing when traffic is light, on clear days with dry roads when you're mood is happy and focused isn't always the case when you're doing your driving test. Taking lessons from a professional driving instructor at a variety of times can really open your eyes to know if you are ready to attempt and pass the driving test.
Take a Simulated Driving Test:
Another advantage of taking lessons from a driving instructor is they will give you a simulated driving test. This test will serve a few advantages. First, it will provide you with the same feeling as what it would be like to take your driving test from a driving examiner. We get comfortable with our driving instructors since they give us many tips to help us drive smoothly and safely.
A driving instructor tends to talk less than an instructor. Having your driving instructor simulate this and speak as a driving examiner will often give you the same feeling as being on your driving test. The simulated driving test will also let you know how you would have done if that was your actual driving test. If you pass it, there could be a good chance you could pass the official driving test.
Booking Times:
Once you know you can handle the simulated driving test, it is time to book your government driving test. A few tips with the booking will help ease some of the stress that always seems to come up during the driving test. Choose a time of the day that avoids rush hour. The roads are busier during that time. Some drivers weave through traffic and speed and will often tailgate as they make their way to work. You don't need any of those things to add stress to your drive.
Avoid booking times before 9:00 am and after 3:00 pm if possible. The before 9:00 is the morning rush hour, and the times after 3:00 would be the afternoon rush hour. The times between 9:00 and 3:00 have less traffic in most areas and therefore provide less stress for you taking your driving test. Yes, you may be driving during rush hour after passing your driving test, but you would have less pressure on you at that time.
Knowing You're Test Ready:
You'll usually be ready to take your driving test when you do not need any prompting from your driving instructor. Since a driving instructor provides instructions on a regular basis, your goal is to keep them quiet as much as possible. If they don't have to give you the instructions, you know you're making all the driving choices without their help.
You avoid making serious or dangerous mistakes when you're driving. Having a close call with becoming involved in a collision happens, but they don't always need to happen, provided you're paying close attention to the driving task. Taking the safer option will mean you're ready to drive alone after passing your driving test.
Becoming nervous is a natural reaction to taking most tests and exams. In many cases, driving tests are no different. Although most driving examiners know this, they'll often do their best to help you relax. However, some stories seem to surface about driving tests that cause many people to become extra nervous. You can prepare for your driving test by practicing different ways of managing your nervousness and finding out what technique works best to help keep you calm.
Although we often rely on our family and friends and trust their opinions, they are not the experts for driving tests. This is where a professional driving instructor comes in. It can be normal to have the odd bad lesson where many things seem to go wrong. Don't let that bring down your confidence. Book another lesson or two to help your confidence climb back up, especially when approaching your driving test time. If your driving instructor agrees you are ready for your driving test, go for it!
Believe in Yourself:
Taking all of the professional advice is very important. Trust the experts to help you make the correct decision about when to book your driving test. Above that, believe in yourself and your driving abilities. Listen to that little voice in your head that tells you when you're ready to book the driving test and when you should wait a little longer and spend that time practicing or more lessons with your driving instructor.
Confidence in driving test candidates seems to vary significantly from becoming overconfident to not having much confidence at all. If you don't feel confident about whether you're ready to take the driving test, it's not something to worry about as that's completely normal.
Using a professional driving instructor from Trubicars is the best way to know you are road test ready. Let us help you reach your goal by contacting us today!
Book G2 Test
Driving Lessons in London Ontario
Driving Instructors in London Ontario
Driving Schools in London Ontario