One of the best ways to learn to drive and pass the road test is to take professional lessons from a professional driving instructor. In Ontario, an individual who wants to get paid as a G-Class driving instructor requires a special license.
How to Become a Licensed Driving Instructor?
A licensed driving instructor must always carry a regular Ontario license and openly display a driving instructor license in the vehicle each time they teach someone. Becoming a licensed driving instructor for G-Class drivers can take several months.
Guidelines for becoming a driving instructor can be found in Ontario Regulation 473/07. These guidelines specify the minimum standards of instruction in Beginner Driver Education programs and ensure only eligible instructors can teach beginner drivers.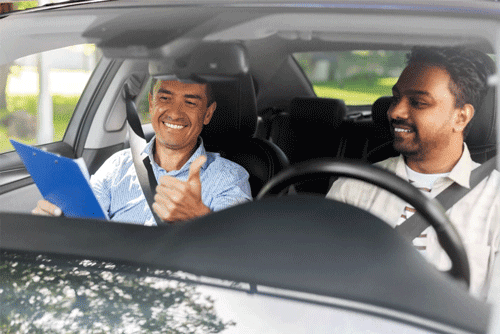 Unlike driver licenses, you can't do driving instructor license exchanges in Ontario. If you have recently moved to Ontario from another province or country or are a resident of Ontario, each of the steps listed below to obtain your driving instructor license must be completed.
Requirements for New Driving Instructors
Anyone who wants to teach anyone pursuing a G Class license must have the following:
Must have a valid Ontario driver's license other than G1 license, G2 license, M1 license, M2 license, or M(L) license.
Must be a minimum of 20 years of age.
You must have zero demerit points on your driving record.
Must pass a terminal check at DriveTest Centre to ensure licensing requirements.
Must meet the Ministry of Transportation (MTO) vision standards.
Must pass a G1 written knowledge test, but there is a one-year waiting period following two unsuccessful attempts at this test.
Must pass a G Class road (highway) test, but there is a one-year waiting period following two unsuccessful attempts to pass this test.
Must successfully pass a Criminal Record and Judicial Matters Check.
Must complete an MTO-approved driving instructor course.
The Process for Getting a Driving Instructor License
Chances are you will make multiple visits to a DriveTest Centre from the beginning of the licensing process to the end of it. Once your driving instructor license application has started, you have one full year to complete all requirements. If the steps are incomplete within one full year, you will need to start again and pay all the fees again. The process for getting a driving instructor license is as follows:
1. Study for the Knowledge Test.
Although you are a licensed driver in Ontario, there are a few laws and rules you may have forgotten. Since you are mentoring novice drivers pursuing their G Class license, you must be clear and concise with the Official MTO Driver's Handbook and the Highway Traffic Act (HTA). Reading over, from cover to cover, the Official MTO Driver's Handbook is a wise move. The handbooks can be purchased at a DriveTest Centre or another authorized retailer.
2. Visit a DriveTest Centre to Apply for a Driving Instructor License.
The paperwork you will receive includes a Highway Traffic Act sheet and the Criminal Record and Judicial Matters Check (CRJMC). At DriveTest, you must complete the Application for Ontario Driving Instructor Licence form (SR-LD-007) and present a valid Ontario driver's license other than G1, G2, M1, M2, or M(L). At that time, a DriveTest customer service agent will check your driving record to ensure you are eligible to become a driving instructor. You would need zero demerit points and no license suspension within the past two years.
3. Pay the Non-Refundable Application Fee at DriveTest.
Driving instructor fees are set by the MTO and are subject to change without notice. They are payable to any DriveTest Centre by cash, VISA, MasterCard, American Express, Interac, Canadian traveler's cheques, and money orders payable to Serco Canada Inc. Personal cheques are not accepted to pay for this process. If you receive your driving instructor license, there is an additional driving instructor licensing fee calculated automatically at DriveTest. The exact amount you need to pay will be provided when your temporary license is issued. Driving instructor licenses are renewed every three years before March 31st. This fee links the gap between the day you earn your driving instructor license and the renewal date.
4. Take a Vision Test at DriveTest.
Vision tests take a few minutes, so ensure you bring any corrective lenses if you need them.
5. Pass a G1 Written Knowledge Test at DriveTest.
The written knowledge test is the same test that your future students will take, which measures your knowledge of the rules of the road and the meaning of road signs. The test will take roughly 30 minutes and no appointment is required. Studying for this test is important because if you are unsuccessful with the written knowledge test or the G Class road test, you can pay the fee and retake the test. However, driving instructor applicants will be disqualified from applying for a driving instructor license for one full year upon failing their second attempt at the G1 written knowledge test or G Class road test. If you're still interested in becoming a licensed driving instructor, any disqualified applicants must retake all tests and repay the appropriate fees any time after the disqualification period has passed.
6. Attempt your G Class Road (Highway) Test at DriveTest.
When taking the G Class road test, a driving examiner will assess your more advanced driving skills. This is the same road test your students will take to get their full G Class license.
7. Initiate a Criminal Record and Judicial Matters Check (CRJMC).
CRJMCs assess if it is appropriate for you to work with or interact with children, the elderly, and any persons with disabilities. Most driving instructor applicants can visit a local police station to start this process. These checks can take several days or even weeks. You may decide to begin this process before taking your G Class road test if you want to speed up the process. If your postal code starts with the letter M, you need to complete a Consent to Disclosure Waiver form (SR-LD-008). You must have your identification and Consent to Disclosure Waiver form verified and signed by a DriveTest employee at one of the following authorized DriveTest Centres before applying for a CRJMC from the Toronto Police Services: Downsview, Etobicoke, Metro East, or Port Union. Once you have the Consent to Disclosure Waiver and identification verified and signed, mail the completed form and payment directly to the address on the top of the form. Once you receive the CRJMC results, take them to any DriveTest Centre. They will forward the information to the MTO for review. If your CRJMC has not been cleared or requires more reviewing, you will receive a notification letter from the MTO Driver Improvement Office.
8. After Passing the G Class Tests and the CRJMC is Cleared, Complete an MTO-approved Driving Instructor Course.
Several colleges, associations, and private companies offer driving instructor courses. These driving instructor courses may take several weeks or even months to complete, so ensure you can meet all of the licensing requirements within one year. These driving instructor courses may include in-class and in-vehicle topics such as avoiding and managing collisions, defensive driving, Highway Traffic Act, and first aid.
9. Complete the Reverse Side of the Driving Instructor Application Form.
Ensure the reverse side of the instructor application (form SR-LD-007) is completed by the course instructor, along with their signature, then take it to a DriveTest Centre. Once there, a DriveTest agent will check each section of your application to ensure it is properly completed.
10. Pay the Driving Instructor Licensing Fee.
The fee for your first driving instructor license will be automatically determined at DriveTest.
11. Obtain your Temporary Driving Instructor License.
After you receive your temporary driving instructor license, you should receive your official driving instructor license in the mail within 90 days. If you do not receive your official driving instructor license prior to the expiry date, go to a Service Ontario office and enquire.
12. Enjoy Becoming a Driving Instructor.
Being a licensed driving instructor and helping new drivers obtain their driver's licenses is quite rewarding. Let Trubicars help you reach your goal and begin helping to keep the roads safe for everyone.
MTO-Approved Driving Schools in London Ontario
Driving Lessons in London Ontario