Car Driving Schools in Vaughan – Experience, Trust, and Confidence on the Road with Trubicars!
If you are looking for the best Car Driving Schools in Vaughan but want to find them the easiest and most convenient way, you can do it with Trubicars. We are a website managed by Trubicars Ltd, registered and incorporated at 99 Golis Bay, Winnipeg Manitoba.
We are a Canadian online broker that connects people to our driving school partners, and professional driving instructors across Canada for lessons in driving, and road test services. We strive to perform as a school directory for universal driving. We do this by facilitating and organizing transactions between driving schools and students like you. We display differently priced services our Partner Schools offer and allow our student clients to book appointments with them online through us. The goal is to make you learn to drive.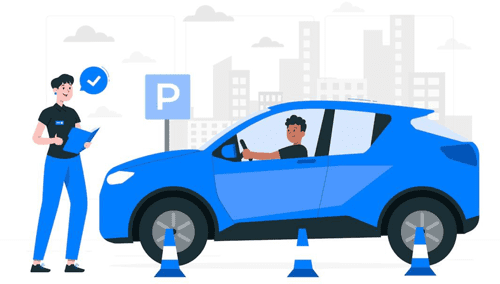 If you are interested in becoming an autonomously contracted specialist for school onboarding at Trubicars, apply with your personal information that includes your name, email address, phone number, driver's license, work eligibility proof, information of banking, and other materials related to you as an applying contractor. We will make use of your data to process and respond to your purpose and to administer any potential contractor relationship between you and Trubicars.
If a school partner relationship is what you want with us, you can also apply by providing us with your name, email address, phone number, and other materials that are considered important. In most cases, these data are not regarded as personal information. We utilize them to respond to and process your application as well as direct any potential ongoing relationship between us.
What Information is Collected Automatically?
Trubicars and our third-party providers of service which include Google Analytics, gather, process, save, and analyze data acquired from the browser you made use of when you took a visit to the Trubicars platform. Information includes your IP address, your spot when the application for Trubicars mobile is used, your device identifiers, characteristics of the browser, details of an operating system, preferences of language, referring URLs, your visits' length, and your viewed pages.
We also utilize "cookies" or tools of the same purpose which track, gauge, and examine your behavior and patterns of usage at Trubicars' platform. We make use of this information to aid us in comprehending how you connect with our platform so we can improve your experience with us.
Connect With Us
At info@trubicars.ca, you will learn more information than what we have shared with you now. If it interests you to know more about account creation, online booking with Car Driving Schools in Vaughan, booking cancellation, prices and payments, employment opportunities, personal information disclosure, how we safeguard and retain your information policy, your rights, and many more, send us your queries at the above-mentioned address.
If it is driving that you want to get on with, we'll be anticipating your appointment booking. We are a click away to get you licensed and have you driving on the road. Come, be surprised, and have fun learning with us.
Car Driving Schools Hamilton
Car Training
Book G2 Test
G1 Licence
G2 License
Ontario G License
Driving Lessons in London Ontario
Driving Instructors in London Ontario
MTO-Approved Driving Schools in London Ontario