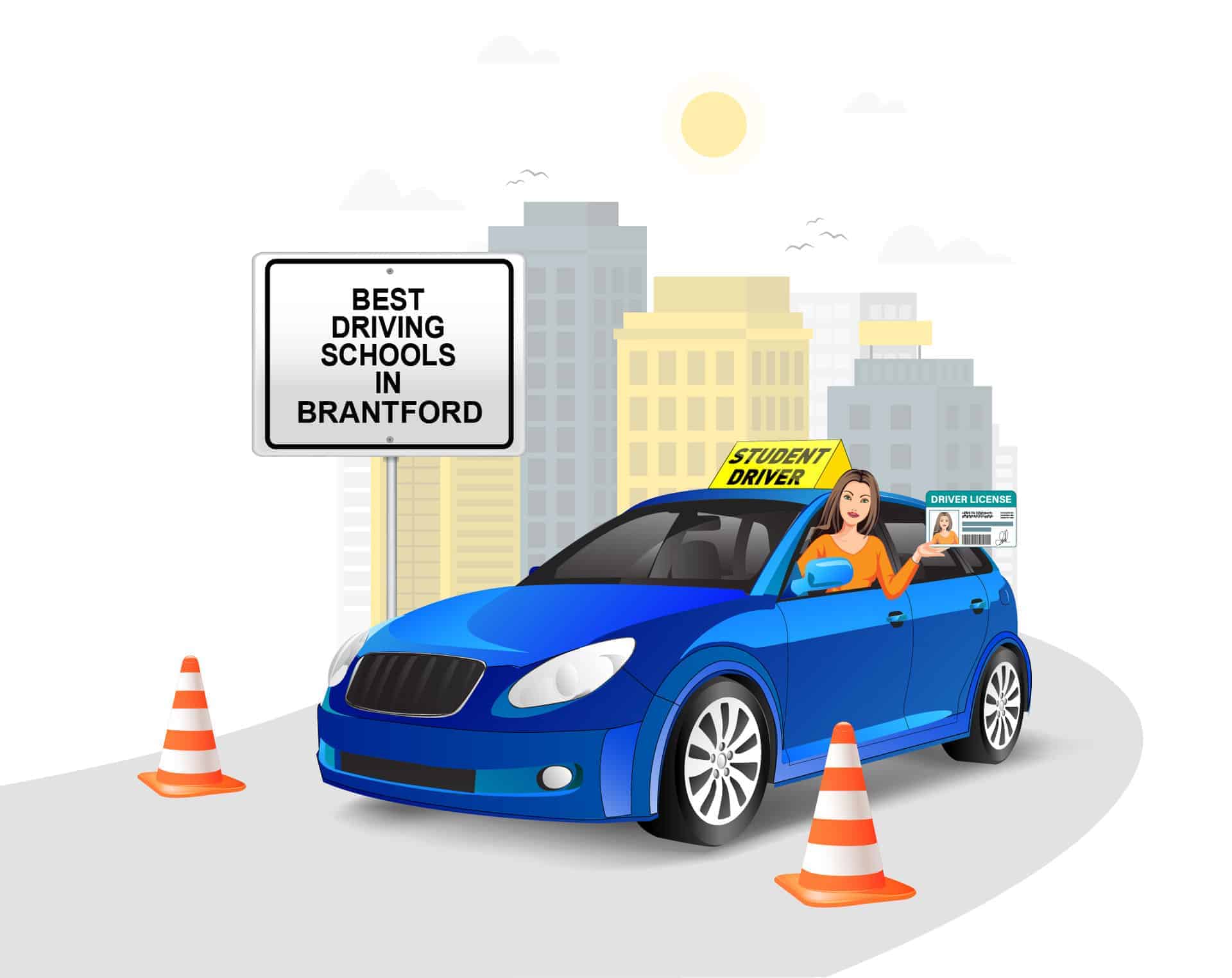 1

The Best Driving Schools in Brantford, Ontario

Are you looking for driving schools in Brantford, Ontario? Look no further! We (Trubicars) have put together a list of the best driving schools in Brantford Ontario for you.
All the driving schools shown here are MTO-approved. We are going to help you pick the best driving school in Brantford according to your requirements. You will learn about their rates, reviews, and much more.
Are you excited? So, we are! Let's get started.
2

The Cost of Driving Schools in Brantford, Ontario

Before we talk about the best driving schools in Brantford, let's talk about how much driving lessons cost in Brantford Ontario.
Fortunately, driving lessons in Brantford are not very expensive. Let's look at the table below for the average cost of driving lessons in Brantford Ontario.
INDIVIDUAL LESSON / PACKAGE
AVERAGE COST
G2 Lesson
$45 per hour
G Lesson
$45 per hour
Basic Beginner Driver Education (BDE) Package.
⦁ This includes 30 hours of MTO-approved online driving course and 10 hours of in-car driving lessons.
$649 plus tax
3

The Best Driving Schools in Brantford Ontario

According to Trubicars, these are the best driving schools in Brantford.
3.1
Brantford Driving School
| | |
| --- | --- |
| DRIVING SCHOOL ADDRESS | 306- 241 Dunsdon Street, Brantford Ontario N2R 7C3 |
| IN-VEHICLE DRIVING INSTRUCTIONS |   |
| INSTRUCTORS |   |
| LANGUAGES |   |
Brantford driving school, operating in the Brantford Brant County Region, includes 30 hours of MTO-approved online driving course and 10 hours of in-car driving lessons. They find importance in you successfully passing the obstacles that may arise. 
Customer Reviews
"I passed my G test this week. I have not driven for a few years, and I forgot everything. I practically had to re-learn how to drive. The instructor points out what you are doing wrong so you can pass the test and drive safely. When it comes to scheduling, the instructor is very accommodating. I would highly recommend this driving school." 
"Tahir is an amazing driving instructor! I had a G test coming up and he was able to get me ready in just a few lessons! He took his time in explaining, and he was always correcting my mistakes. His tips made driving much easier and he had me ready in no time and passed on the first try with ease. Thank you, Tahir, for being the best instructor out there!" 
"I had a good experience with this driving school! I had zero experience with driving and the moment I found this school, it was amazing! The teacher works around your schedule, is professional, and always puts the effort into you to learn driving and pass your driving exams. I just want to say thanks for helping me out and thanks for the incredible work that you do for the community in bringing the best drivers!" 
4
FAQs About Driving Schools In Brantford Ontario
Turning 16 is an important milestone in life, with its promise of more freedom and independence. Getting a driver's license is a large part of that.
At age 16 in Ontario, you can write your G1 driving test and begin the process of earning a full driver's license. Preparing for the test involves learning the rules of the road and understanding the issues involved in operating a vehicle on the road in all kinds of conditions.
To obtain a driver's license in Ontario, you must be able to fulfill all three of these criteria, according to the Ontario.ca website:
⦁ be at least 16 years old
⦁ pass a vision test (with glasses or contact lenses if necessary)
⦁ pass the written test on rules of the road and traffic signs and signals
Applicants who are under 18 years old should be accompanied by a parent or guardian when going for the written G1 test.
Drivers need a wide array of knowledge to be able to handle the situations they encounter on the road. Here are some examples:
⦁ how to handle four-way stops
⦁ what to watch for in school zones
⦁ how to get out of a skid on an icy or wet road
⦁ how to handle fatigue on long trips
You can learn about the rules of the road and the challenges of driving through:
⦁ the official Ministry of Transportation Driver's Handbook is available at https://www.ontario.ca/document/official-mto-drivers-handbook.
⦁ an approved curriculum through an online driving school, such as Trubicars
Trubicars offers an interactive curriculum covering the different driving situations and scenarios that you are likely to encounter. Topics covered in this course include:
⦁ license classifications (G, M, etc.)
⦁ dashboard symbols and warning lights
⦁ signal lights, headlights, brakes, and other controls
⦁ basic rules of the road, such as speed limits, right-of-way rules, etc.
⦁ issues such as driver fatigue, hazardous road conditions, the needs of different road users (such as cyclists or pedestrians), etc.
Once you feel that you know the material well enough, you can book a test at a Service Ontario Centre or DriveTest Centre.
Information on locations and booking an appointment is available at the Service Ontario Service Finder website: https://www.services.gov.on.ca/sf/?_ga=2.234152093.2040431062.1611594312-1433769550.1609993166#/oneServiceDetail/137/ip/sr/t.
Testing sites are located in many towns and cities around the province of Ontario. Scroll down the page on the Service Finder site to search for information on testing sites in different cities and towns in the province. You can search for sites in your town or check in a larger center nearby.
Before going for your appointment, be sure that you have prepared for the test. If you need glasses or contact lenses to see properly, be sure to have them with you.
Also be sure to have money to pay the test fee and anything else that you might need, such as allergy medication or wrist braces. You want to have as few barriers as possible to pass the test.
Before you go for your test, check the website for the list of valid documents to be sure that you have the correct identification before going to write your test. Also, remember to take the original documents with you as copies will not be accepted.
As the Service Ontario website explains, you will need identification giving:
⦁ your legal name
⦁ your date of birth
⦁ your signature
You are allowed to retake the G1 test if you fail the first time. However, retaking the G1 test involves time and money, besides delaying your freedom to drive yourself wherever you want to go. With the right material helping you along, you can pass the test the first time you write it.
With no interactive features, the handbook relies on a plain recital of the facts. Most people have trouble learning that way.
The Trubicars system is different. We include:
⦁ videos and other audiovisual segments to help engage students
⦁ questions and points for further consideration to encourage students to engage personally with the issues
⦁ material that appeals to the whole person, rather than just the intellect
⦁ a wide range of topics, from beginner concepts to advanced material
⦁ a more effective way to study for the G1, G2, and G tests and to gain a lifelong understanding of driving
⦁ easy-to-remember tips for safe driving
⦁ a step-by-step approach that gives insights into the whole process of driving, rather than just a part of it
Driving Schools in Brantford Ontario
We hope the above list of driving schools in Brantford Ontario has helped you make a good decision. If you have any questions, you can contact Trubicars.
Tags: Driving Schools in Brantford, Driving School Brantford Ontario Prices, Driving School Brantford Ontario, Government Approved Driving Schools, MTO approved Driving Schools in Brantford, Cheapest Driving School Brantford Ontario
Best Driving Schools in London Ontario