For some people, driving seems to have become a life skill for all the right reasons. It can give you the opportunity for you to carry the license throughout your life. Once you've gained experience and the thrill of driving your vehicle, there seems to be no going back!
When you consider the life goals you set for your future here in Oakville, learning to drive may impact the direction your life will take you. Considering that you can't learn to drive all by yourself, it is a good idea to take professional Driving Lessons in Oakville to help you get your driver's license and begin to drive your vehicle. That's where Trubicars comes in. We can help you on your journey.
Here are a few solid reasons you may not have thought about why you should learn to drive at the earliest possible time.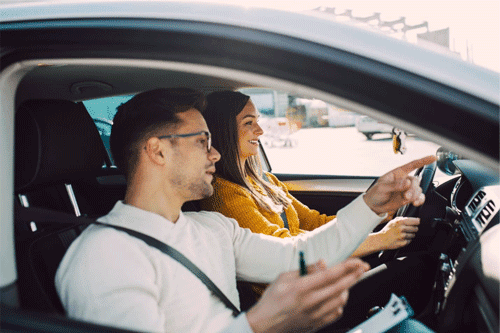 Driving Lessons in Oakville – 7 Reasons Learning to Drive:
1. Time is Money
It can be easy to spend much of your earnings on taxis, Uber, Lift, and other public vehicles to reach one place to another, especially if you are busy and go to places like school, work, the library, out with friends, etc. But it doesn't have to be this way anymore. All you need to do is enroll in the best Driving School in Oakville, learn how to drive, and save a lot of money. Besides helping you travel quicker from destination to destination, driving a vehicle can be a cost-effective way of transportation.
When you drive your vehicle or a vehicle from your family, you also reduce the frustration of traveling in crowded public vehicles such as a bus or the GO train. Investing in a driver's license is well worth it in all regards.
2. Driving Gives You More Freedom
Once you learn to drive, it can give you one of the means of ensuring yourself some freedom. Regardless of where you want to go, you can get to it and have fun getting there. Once you have a driver's license, you can pretty much drive anywhere you want.
You no longer have to ask for a ride from family or friends to help you get to your destination. You no longer will have to leave quite as early because you need to catch a bus or GO train. You may still need to deal with the traffic in Oakville, but that is far less of a wait than using the bus or GO train. When you master your driving skills, you become self-reliant. Now you do not have to ask anyone to help you commute.
3. Driving is a More Comfortable form of Transportation
A well-maintained vehicle has many conveniences. The seats are more comfortable. Most cars have a working air conditioner and your music system, and every seat has a good window view that adds comfort to your journey, no matter how long or short the ride is. You can drive to your favorite places at your pace with your friends while listening to your music while engaging in conversation. Traveling can become much more fun when you learn to drive!
4. You Can Get a Job More Easily
Like many people, you'll need to get a job, at least a summer job if you're a student in Oakville. Your chances of getting hired and getting to your job would increase if you had a driver's license. Instead of having to take one, two, or even three buses throughout Oakville to get to your job can be very time-consuming. Taking a ride-share can also be expensive, especially if you're doing that for five days a week. Being able to drive yourself saves you time and money.
Perhaps you may be thinking about driving a vehicle for a living. You'll need a driver's license for that to happen. Some places, such as food delivery will hire people with a driver's license to park or move cars around and to serve their customers. A driver's license will show any recruiter that you are willing to drive, and they may be eager to hire you without any hassle.
5. Driving Can Boost your Confidence
Driving skills can boost your confidence and give you a sense of independence. Learning to drive safely and obtaining your driver's license allows you to travel on all kinds of roads without fearing other vehicles, including heavy trucks, buses, motorcycles, and cyclists. Indecision from drivers is often related to having a lack of self-confidence and a tendency to worry about potential problems. So how can someone so indecisive while driving improve?
Receiving professional driving lessons through Trubicars is a great way to work out what may have been a potential problem into confidence behind the wheel. Working with a driving instructor with the experience to solve problems and provide proactive solutions is another reason to learn to drive. It takes the worry out of 'what could have been'.
6. Driving can Help to Ensure Safe Commuting
One of the most underrated benefits of driving a vehicle is that it can help to ensure safe traveling. Driving a car helps to keep you safe against the unpleasant weather and unwanted commuters you may face on public transit. Driving a well-maintained vehicle also gives you maximum protection against the events such as vehicle collisions. You can take your car without worrying about suffering through the heat, rain, or snow.
7. Savings on Car Insurance
Saving up for your first car can be a significant purchase in your life. However, when it comes to actually buying your car, you'll need to insure it, and that can be expensive. This expense can be a cost that you have not accounted for. Generally, the longer you have a driver's license, the cheaper your car insurance could be. It is worth passing your test sooner rather than later, even if you do not intend to get a car right after you pass.
And Finally
The benefits and opportunities of having your driver's license and driving a vehicle to bring with it are limitless. Having qualified driving instructors from Driving Schools in Oakville will guide you in learning how to drive, including understanding the driving laws. Learning to drive may impact your personal and professional growth tremendously. Why wait? Find the best driving instructor in your area and start your driving lessons by contacting Trubicars now!
G1 Licence
G2 Drivers License
G License
Car Training
G2 Test Booking
London Ontario Driving Lessons
Driving Instructors in London Ontario
Driving Schools in London Ontario