If you want to learn to drive, then you have plenty of incentives to look forward to getting behind the wheel. If you think about it, the freedom to visit your friends and family or to see new places throughout the Hamilton area and beyond is endless. There is an opportunity to make the trip to and from work less stressful. But if you still need some convincing, here are a few other benefits to consider if you want to learn to drive.
Driving Lessons in Hamilton – 6 Reasons Learning to Drive:
1. You Gain a Sense of Accomplishment
We often feel good about ourselves whenever we achieve a new goal, regardless of what that goal is. Learning to drive can boost your confidence, especially if you have been undecided for a long time if you should get behind the wheel. Therefore, if you need the incentive to set a new challenge for yourself, you might want to consider learning to drive. Trubicars can help you reach this goal.
Learning to drive to get your license is a big step in your life. It becomes a stepping stone to adulthood. It shows how you can take responsibility for the vehicle, your passengers, and yourself. Considering that driving is an adult task, regardless of how old you are, it helps us grow and mature a little more. It helps to give you some self-pride.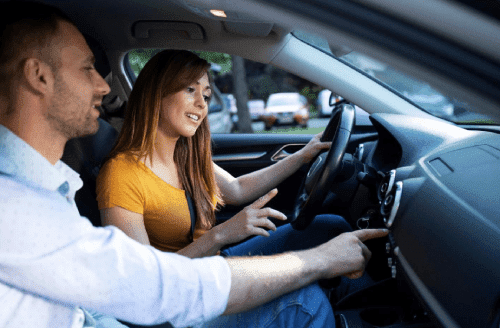 2. Driving can Reduce Travel Time
With the Hamilton area being such a large community, living in one area and going to school or working in another can mean a long commute. Driving can save you a lot of time by cutting down on the length of your commute. For example, a 45-minute bus ride with transfers could equal roughly 15 to 20 minutes of driving because you won't have to stop so often, plus you may be able to take a shorter route to reach your destination.
There is the possibility that if you are taking public transit and miss your bus, you have to wait for the next bus, which may extend your commute and make you late for work or school. Driving a vehicle means you can leave as soon as you are ready to leave. Just plan your route and off you go.
3. Learn from a Professional
One of the reasons why many people are somewhat nervous to operate a vehicle is since they are new drivers, they are doubtful of their driving skills. These are good reasons to take professional Driver Training in Hamilton. Once you have had driver training, you may find that you generally do not have the same fears you once did.
Some people put off learning to drive because of the cost of professional lessons. They may feel having their parents, older siblings, or friends take them to an empty parking lot and teach them how to drive is better for them. The reality is that it could cost you a lot more than the cost of driving lessons would.
A professional driving instructor will be able to teach you more than the driving laws and how to make a right and left turn. They use updated defensive driving methods that may help you avoid many vehicle collisions. The first collision you avoid based on the skills you were taught by your driving instructor will essentially pay for the cost of the driving school lessons. Since your life is worth it, it is worth investing in professional driver training lessons from Trubicars.
4. Save on Insurance
An added benefit of taking professional Driving Lessons in Hamilton is saving on vehicle insurance. Most insurance companies will offer discounts for the completion of an approved driver training program. Driver training also has a long-term effect on lowering your vehicle insurance. You will immediately save money, and save more on your future renewals.
Since you have received professional driver training, you will be less likely to be involved in a vehicle collision or have to make an insurance claim. All of this means less cost overall.
5. Driving Provides More Freedom
When learning to drive from Trubicars, you no longer have to rely on public transportation or other people to give you a ride from destination to destination. You'll be able to save on rideshares, such as Uber. You will have the opportunity to go wherever you want to go, at whatever time you want. Not only does this make it easier to grab your morning coffee, but it also means you can have more opportunities to travel. Whether it's a day trip or a week-long road trip, the opportunities are endless.
You can also head off for the weekend with greater ease. So, whether it's an escape to a resort. A hotel, or to the beach, everything feels all that much closer and easily accessible when you can drive.
6. Driving Can Be Good for Your Job
While some jobs need you to remain in an office setting, many other jobs also require you to move around by attending events and meetings outside the office. This may include seeing clients or transporting products around the Hamilton area. If you're looking for a job, they will typically specify if you need a license.
However, if you do not have that license and the job is perfect for you and you are qualified otherwise, you could lose out on the opportunity. Having a license and a vehicle is a great advantage to make you more employable.
Conclusion
How do you know if driving is the right choice for you, especially if you're nervous? Once you begin your Driving Lessons in Hamilton, keep a constant dialogue with your driving instructor. Ask them any and every question you may have. If you become confused about their instructions, ask them to clarify. They want to help you reach your goal, and so do Trubicars!
Learning to drive in Hamilton can be an exciting time for you! Trubicars wants to be with you as you take on this journey. Contact Trubicars today to find the best driving school and the driving instructor just for you!
Driving Lessons in London Ontario
Driving Instructors in London Ontario
Book G2 Road Test
MTO-Approved Driving Schools in London Ontario