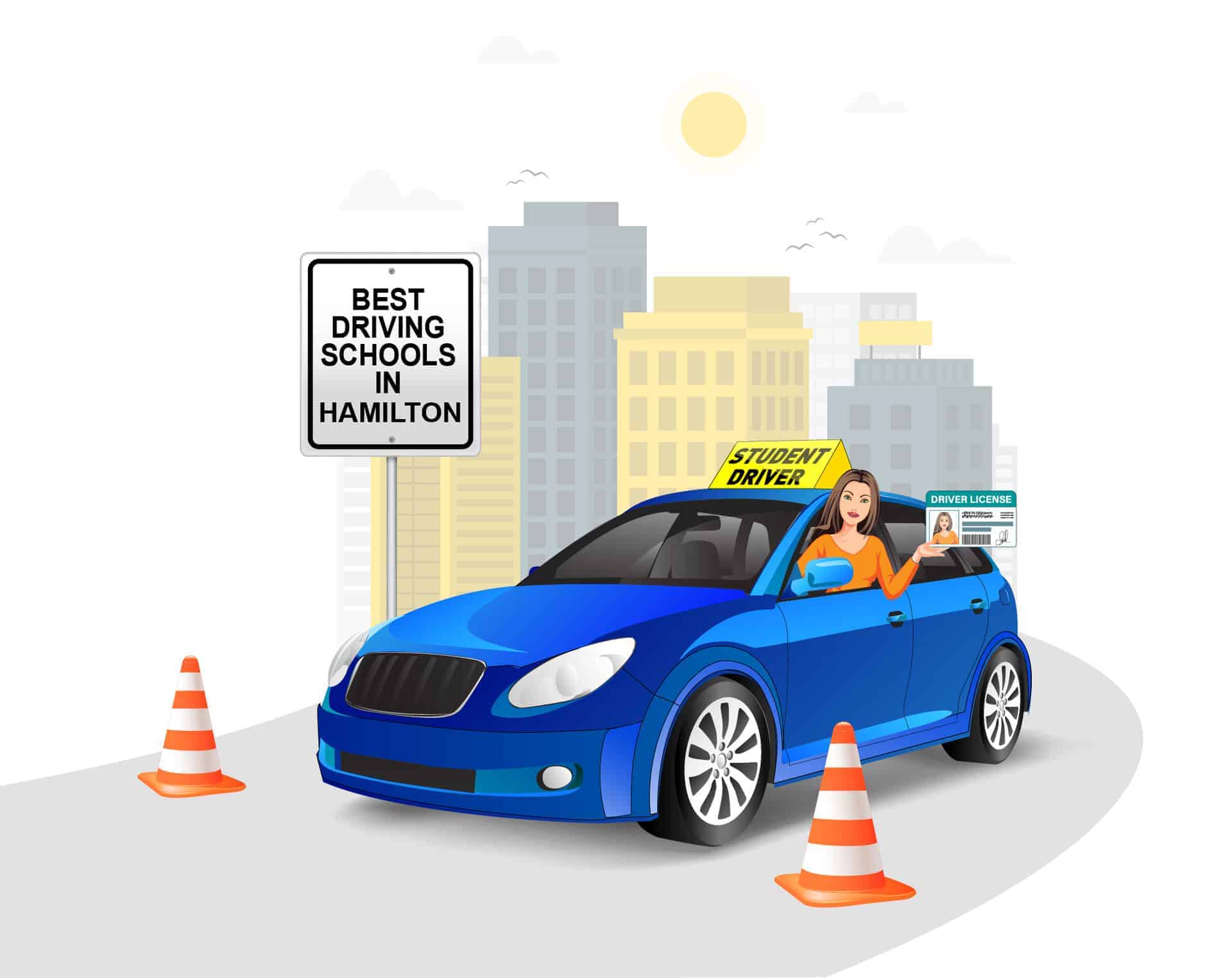 1

The 8 Best Driving Schools in Hamilton, Ontario

Are you looking for Driving Schools in Hamilton, Ontario? Look no further! We (Trubicars) have put together a list of the best Driving Schools in Hamilton, Ontario for you.
All the driving schools shown here are MTO-approved. We are going to help you pick the best Driving School in Hamilton according to your requirements. You will learn about their rates, reviews, and much more.
Are you excited? So, we are! Let's get started.
2

The Cost of Driving Schools in Hamilton, Ontario

Before we talk about the best Driving Schools in Hamilton, let's talk about how much driving lessons cost in Hamilton Ontario.
Fortunately, driving lessons in Hamilton are not very expensive. Let's look at the table below for the average cost of driving lessons in Hamilton Ontario.
INDIVIDUAL LESSON / PACKAGE
AVERAGE COST
G2 Lesson
$45 per hour
G Lesson
$45 per hour
Basic Beginner Driver Education (BDE) Package.
⦁ This includes 30 hours of MTO-approved online driving course and 10 hours of in-car driving lessons.
$649 plus tax
3

The Best Driving Schools in Hamilton Ontario

According to Trubicars, these are the best Driving Schools in Hamilton.
3.1
Academy of Driving Unipol Hamilton
| | |
| --- | --- |
| DRIVING SCHOOL ADDRESS | 636 Upper James Street, Hamilton, ON L9C 2Z2 |
| IN-VEHICLE DRIVING INSTRUCTIONS |   |
| INSTRUCTORS |   |
| LANGUAGES |   |
Their successful on-road training, along with our unique, easy-to-follow, interactive Canadian Driver's Edge in-class and TrubiCars self-directed online programs, has earned us a great reputation and widespread recognition with our customers, the Ministry of Transportation, and insurance companies all over the region.
Their school, as a leader in the driving education industry, now offers a fully digital online program that allows self-directed and self-paced learning. You can study from home and your computer at your own time and availability.
At the Academy of Driving Unipol, they believe that all driving schools are NOT created equal. In fact, we pride ourselves on knowing that we stand head and shoulders above other schools in the region. By taking pride in what we do we make sure that the driving skills we teach to our students will stay with them all their lives. Utilizing our programs, we emphasize:
⦁ Defensive driving
⦁ Strong observation habits
⦁ Safe motoring
⦁ Mature and responsible attitude as a road user
Their experienced instructors focus on teaching safe driving techniques, rather than just the skills "to pass a driving test".
Customer Reviews
Let's look at some of the customer reviews to learn why the Academy of Driving Unipol Hamilton is one of the Best Driving Schools in Hamilton, Ontario.

"Really enjoyed the time I spent on this course. Because of the pandemic, I had to do online learning, but it was enjoyable and I was able to get it all done within a short amount of time. The In-Person Driving Lessons were great and fun. Would recommend this course for those who are new to driving."
"In the short time I had with my instructor, I learned a lot about the rules of the road. Hossain was easy to communicate with and I had no issues with his teaching style. Apart from techniques I already knew, he taught me some new ones to help make me a better driver. Overall, Unipol is a great driving school to sharpen your driving skills."
"Driving course was detailed and instructor Hossain did a wonderful job teaching proper driving techniques. He really helped to dispel all confusion and boosted my confidence with his straightforward instruction. I successfully passed my driver's test with the help of Unipol."
3.2
Westdale Driving School
| | |
| --- | --- |
| DRIVING SCHOOL ADDRESS | 1057 Main Street West, Unit L-03 Hamilton, ON L8S 1B7 |
| IN-VEHICLE DRIVING INSTRUCTIONS |   |
| INSTRUCTORS |   |
| LANGUAGES |   |
Why Choose Our Driving School
An unmatched level of service is what makes us different.
⦁ Over 30 years of experience and commitment to serving the Greater Hamilton area, including Hamilton, Ancaster, Dundas, and Stoney Creek. ⦁ Provide MTO-Approved online digital e-Learning program, self-directed, self-paced with expert guidance, available 24/7.
⦁ Provide MTO-Approved superior, unique in-class driving instruction methods
⦁ Driving instructors are licenced, professionally trained, and highly experienced.
⦁ Professional attitude and unbiased evaluation of student driving skills.
⦁ Unbeatable road test passing rate, based on over 50,000 customer satisfaction.
⦁ Outstanding services at competitive rates.
⦁ Convenient In-Class schedules, weekday evenings, weekends, and 4 consecutive day courses.
⦁ Flexible in-car schedules, 7 days a week, pick up and drop off at a convenient location for you.
⦁ They help you not only pass the road test but become a safe and responsible driver for life.
Customer Reviews
Let's look at some of the customer reviews to learn why East Star Driving School is one of the Best Driving Schools in Hamilton, Ontario.
"10/10 would recommend I've always been a little bit wary of driving (bring extremely clumsy and all; my friends and I used to always joke about making sure everyone's off the road when I drive) but John (in-car instructor) and the school helped put my worries at ease. The in-class lessons were engaging, fun, and comfortable, and John was great at making sure I knew everything I'd need to know for the exam while also making lessons fun. Just passed my G2, and am excited to work towards my full g next year! :)))"
"I just passed my G2. WHAT A RELIEF!!. I had the most amazing experience with instructor M Hassan. Gives you all the important tips and tricks for passing your drive test. Thank you Hassan."
3.3
Hamilton Driving School
| | |
| --- | --- |
| DRIVING SCHOOL ADDRESS | 1050 Upper James St Hamilton, ON L9C 3A9 |
| IN-VEHICLE DRIVING INSTRUCTIONS |   |
| INSTRUCTORS |   |
| LANGUAGES |   |
Preparing for the driver's license? Hamilton Driving School is pioneering the field of driving education through its dedication and commitment to its students' driving needs. They offer a tailored in-class educational experience and on-the-road training to enhance driving skills to include a deep understanding of the regulations.
They provide students with a rich and diverse learning environment. Their unparalleled teaching methods help to transition students into the world of driving. Also, they always encourage safe and responsible driving both for themselves and other road users. Students are encouraged to continue learning and honing their driving skills each passing day.
⦁ Young, nervous, hard learning, new and immigrant driver? They cater to all.
⦁ Help experienced drivers who already possess a "G" driver's license and want to upgrade skills or learn how to drive on freeways, and highways in the winter, at night, and or downtown.
Customer Reviews
Let's look at the awesome stuff that students are saying about Hamilton Driving School in Hamilton, Ontario.
"I had the most amazing experience with Gokhan! He's a very relaxed calm instructor! I felt comfortable with my lessons, and only had 6 lessons and was able to pass my G2 first try! I would highly recommend him!!"
"Gokham Yaman is an amazing instructor, very patient and Waits until he knows you are ready for your test. Best experience, and very good communication. I felt comfortable with the lessons I had, which made me less anxious. I got my g2 the first try! I would recommend him."
"I was so glad I looked for another instructor. Jiss Thomas made sure my husband and I pass the G2 together. He taught us everything. Very flexible and patient. Hands up to this guy! Thanks a lot, Jiss!!! See you on our G test😊"
3.4
A1 Academy of Driving
| | |
| --- | --- |
| DRIVING SCHOOL ADDRESS | 700 Upper James St, Hamilton, ON L9C 2Z8, Canada |
| IN-VEHICLE DRIVING INSTRUCTIONS |   |
| INSTRUCTORS |   |
| LANGUAGES |   |
A1 Academy of driving, their mission is to provide professional and affordable driver training that exceeds industry standards and customer expectations. The primary purpose of their Driver Program is to save lives, reduce motor vehicle accidents and mentor their students to become safe, reliable drivers. Furthermore, A1 Academy of Driving treats its customers with respect, care and professionalism.
Customer Reviews
Let's look at the awesome stuff that students are saying about the A1 Academy of Driving in Hamilton, Ontario.
"Passed my G2 on the first try today. I have driven for many years but did not go behind wheels for a couple of years. Felt nervous. Signed up for lessons with San. He is a very good instructor."
"I'm never been driving since I came to Canada but after doing 30 hours online course and 10 hours in-car, I easily passed the G2 test on my first try. Thanks to San, one of the greatest instructors 🙏🙏🙏"
"My in-class and on-road instructors were both great. I was instructed at the location on concession but decided to review here after seeing how low the rating was (which does not reflect the quality of the school). My instructor was very informative and helped me improve on my weak points in driving. Very glad to have attended this school and would not have passed my driving test without it."
3.5
International Driving School
| | |
| --- | --- |
| DRIVING SCHOOL ADDRESS | 359 Queenston Road, Hamilton, ONTARIO L8K 1H8 |
| IN-VEHICLE DRIVING INSTRUCTIONS |   |
| INSTRUCTORS |   |
| LANGUAGES |   |
At International Driving School, Hamilton, they take driving seriously! All lessons are one on one with an extra emphasis on one! They want to ensure that your loved one is in safe hands.
They have a number of trained and experienced licensed professionals ready to not just help you pass your test, but learn to drive defensively for the long haul!
At the International Driving School, their mission is to provide each student with the necessary information and techniques to be a SAFE and RESPONSIBLE driver. They are here to help create a safer Hamilton on the road and leave you with confidence.
Customer Reviews
Let's look at the awesome stuff that students are saying about International Driving School in Hamilton, Ontario.
"Just got my full G license! International Driving School made this possible. Deepak was professional and courteous throughout the whole process. The classes are real value for money and I knew exactly what to do come test day. Thank you very much! I highly recommend their services."
"Very good instructors
Got my lessons done in less than a month
Flexible lesson hours
The online portion was very well put together
Deepak was a great instructor, flexible, helpful and gave great tips for my drivers test."
"Great instructor, made me confident and competent, got my license in 1 shot. Thank you deepak. All the best, highly recommended for everyone."
3.6
New-Drivers Education
| | |
| --- | --- |
| DRIVING SCHOOL ADDRESS | 163 Centennial Pkwy N., Suite 201 Hamilton, Ontario L8E 1H8 |
| IN-VEHICLE DRIVING INSTRUCTIONS |   |
| INSTRUCTORS |   |
| LANGUAGES |   |
New-Drivers, located in Hamilton, is an MTO-Approved BDE Course Provider offering professional driving training to our community. New-Drivers provides in-car lessons customized to fit your skill level and needs.
Customer Reviews
Let's look at some of the customer reviews to learn why New-Drivers Education of Hamilton is one of the Best Driving Schools in Hamilton, Ontario.
"I had an amazing experience with my driving instructor Daniel. His teaching method was straight forward and really easy to grasp and follow. The lessons were chill and casual which makes you feel relaxed and comfortable as a new driver as opposed to being in a tense/strict atmosphere. He accommodated my schedule and went above and beyond to ensure my success. I passed my G2 test on the 1st try and would undoubtedly recommend Daniel to any of my friends and family! I'll definitely be reaching out to him again when I go for my G license."
"Helped me pass my G2 on the first try! Daniel taught me so much and was very good at explaining the tactics in detail. Would recommend! He's a great instructor and made me a more confident driver!"
"New Drivers School earn my highest recommendation. I had classes with Daniel, an excellent instructor – professional, patient, and experienced, with a fantastic positive attitude and mindset. He has an extraordinary ability to alter his teaching style to fit your needs and motivate you, which is one of the key ingredients that makes us pass on the test.
I won't hesitate not even a second this school if you need driving classes, even though you're not from Hamilton or surroundings. It is more than worth it go a couple of miles further to have driving classes of excellence in the New Drivers school. Thank you!"
3.7
Gen-z Driving School
| | |
| --- | --- |
| DRIVING SCHOOL ADDRESS | Hamilton Ontario Canada 60-125 Bonaventure Dr L9C 5Y9 |
| IN-VEHICLE DRIVING INSTRUCTIONS |   |
| INSTRUCTORS |   |
| LANGUAGES |   |
At Gen-Z Driving school, they take pride in high education and training standards. Their driving courses are fully approved by the Ministry of Transportation and certified and recognized by insurance companies.
With two fully-equipped locations, and instructors with decades of driving experience, you cannot go wrong choosing them as you complete the requirements for fully graduated licensing or renewing.
Customer Reviews
Let's look at the awesome stuff that students are saying about Gen-Z Driving School in Hamilton, Ontario.
"I started driving with Merghani from Gen-Z Driving School at the end of the August 2021, and got my G2 in mid-October 2021. I did not have any experience and was really anxious about being a driver. However, Merghani helped me to overcome my fears and taught me how to drive safely. He was very patient and calm; he supported, encouraged and helped me to build driver's confidence. He is a great teacher and has the talent to explain the driving techniques in a very simple way. I am so grateful to Gen-Z Driving School and Merghani. The ability to drive changed my life. I would highly recommend the services of Gen-Z, and I believe that Merghani is the best instructor in Hamilton!"
"I would like to thank Morgan for all the efforts he gave me. I got my G2 licence today and it is because of him! It was not easy coming from a zero-experience driver like me and at some point, he told me I was a lazy driver when I started maybe because I did not want to drive after I was involved in a car accident more than 2 years ago but he taught me to rebuild my confidence back by patiently reminding me how to do it the right way until I perform it on my own. I am looking forward to working with him on my full G license. More power!"
"Very great, amazing instructor, He gives very clear instructions and great experience with driving and he is very friendly. I passed my test today and I appreciate his help all the time."
3.8
G1-G2 Driving School
| | |
| --- | --- |
| DRIVING SCHOOL ADDRESS | 1070 Main Street West 2F, Hamilton ON L8S1B4 |
| IN-VEHICLE DRIVING INSTRUCTIONS |   |
| INSTRUCTORS |   |
| LANGUAGES |   |
G1G2 Driving School (Hamilton) and every associate are committed to safe driving and safe driver training. Our roads will be safe only when there are safe drivers on them. As it is said, road safety starts with you and at G1G2 they believe that road safety starts right when you start working towards getting your driver's permit. They firmly believe in educating their students on the concept of safe driving. However, driver training only acts as a medium. Being responsible residents of Canadian cities, it is our responsibility to keep ourselves and all others that are on the road safe.
Their team consists of skilled instructors who are professionally capable of preparing you for the driving road test. They offer a range of driver training options to help you or your teen become a responsible driver.
Their driving courses concentrate on attitude and skill development to teach safe driving for life. Their students graduate with the defensive driving skills needed to navigate today's busy streets.
Customer Reviews
Let's look at some of the customer reviews to learn why G1-G2 Driving School of Hamilton is one of the Best Driving Schools in Hamilton, Ontario.
"Today I passed the G test for the first time. Jag is the best instructor he helped me to pass my G2 last year and today with G liscense in Toronto. To be honest he is very good instructor and professional. I would recommend any one looking to get the liscence very easily to get in touch with Jag."
"I loved driving with Jag! Wish I could give him 10 stars! He put me in a totally zen driving space and was very clear with his instructions and advice. Thanks to him, I'm the proud possessor of a G2 license and I look forward to prepping for my G with him!"
"Shantha, was my instructor and he was fantastic. I passed the first try because of his help. He made me feel more confident on the road and helped assist me when needed to correct behaviors that I may not have realized. Great school and a great instructor."
4
FAQs about Driving Schools in Hamilton Ontario
Turning 16 is an important milestone in life, with its promise of more freedom and independence. Getting a driver's license is a large part of that.
At age 16 in Ontario, you can write your G1 driving test and begin the process of earning a full driver's license. Preparing for the test involves learning the rules of the road and understanding the issues involved in operating a vehicle on the road in all kinds of conditions.
To obtain a driver's license in Ontario, you must be able to fulfill all three of these criteria, according to the Ontario.ca website:
⦁ be at least 16 years old
⦁ pass a vision test (with glasses or contact lenses if necessary)
⦁ pass the written test on rules of the road and traffic signs and signals
Applicants who are under 18 years old should be accompanied by a parent or guardian when going for the written G1 test.
Drivers need a wide array of knowledge to be able to handle the situations they encounter on the road. Here are some examples:
⦁ how to handle four-way stops
⦁ what to watch for in school zones
⦁ how to get out of a skid on an icy or wet road
⦁ how to handle fatigue on long trips
You can learn about the rules of the road and the challenges of driving through:
⦁ the official Ministry of Transportation Driver's Handbook is available at https://www.ontario.ca/document/official-mto-drivers-handbook.
⦁ an approved curriculum through an online driving school, such as Trubicars
Trubicars offers an interactive curriculum covering the different driving situations and scenarios that you are likely to encounter. Topics covered in this course include:
⦁ license classifications (G, M, etc.)
⦁ dashboard symbols and warning lights
⦁ signal lights, headlights, brakes, and other controls
⦁ basic rules of the road, such as speed limits, right-of-way rules, etc.
⦁ issues such as driver fatigue, hazardous road conditions, the needs of different road users (such as cyclists or pedestrians), etc.
Once you feel that you know the material well enough, you can book a test at a Service Ontario Centre or DriveTest Centre.
Information on locations and booking an appointment is available at the Service Ontario Service Finder website: https://www.services.gov.on.ca/sf/?_ga=2.234152093.2040431062.1611594312-1433769550.1609993166#/oneServiceDetail/137/ip/sr/t.
Testing sites are located in many towns and cities around the province of Ontario. Scroll down the page on the Service Finder site to search for information on testing sites in different cities and towns in the province. You can search for sites in your town or check in a larger center nearby.
Before going for your appointment, be sure that you have prepared for the test. If you need glasses or contact lenses to see properly, be sure to have them with you.
Also be sure to have money to pay the test fee and anything else that you might need, such as allergy medication or wrist braces. You want to have as few barriers as possible to passing the test.
Before you go for your test, check the website for the list of valid documents to be sure that you have the correct identification before going to write your test. Also, remember to take the original documents with you as copies will not be accepted.
As the Service Ontario website explains, you will need identification giving:
⦁ your legal name
⦁ your date of birth
⦁ your signature
You are allowed to retake the G1 test if you fail the first time. However, retaking the G1 test involves time and money, besides delaying your freedom to drive yourself wherever you want to go. With the right material helping you along, you can pass the test the first time you write it.
With no interactive features, the handbook relies on a plain recital of the facts. Most people have trouble learning that way.
The Trubicars system is different. We include:
⦁ videos and other audiovisual segments to help engage students
⦁ questions and points for further consideration to encourage students to engage personally with the issues
⦁ material that appeals to the whole person, rather than just the intellect
⦁ a wide range of topics, from beginner concepts to advanced material
⦁ a more effective way to study for the G1, G2, and G tests and to gain a lifelong understanding of driving
⦁ easy-to-remember tips for safe driving
⦁ a step-by-step approach that gives insights into the whole process of driving, rather than just a part of it
Driving Schools in Hamilton Ontario
We hope the above list of driving schools in Hamilton Ontario has helped you make a good decision. If you have any questions, you can contact Trubicars.
Tags: Driving Schools in Hamilton, Driving School Hamilton Ontario Prices, Driving School Hamilton Ontario, Government Approved Driving Schools, MTO approved Driving Schools in Hamilton, Cheapest Driving School Hamilton Ontario
Best Driving Schools in Brampton Ontario
Driving instructors in London Ontario
MTO-Approved Driving Schools in London Ontario
Driving Lessons in London Ontario
Drivers Licences Motorcycles