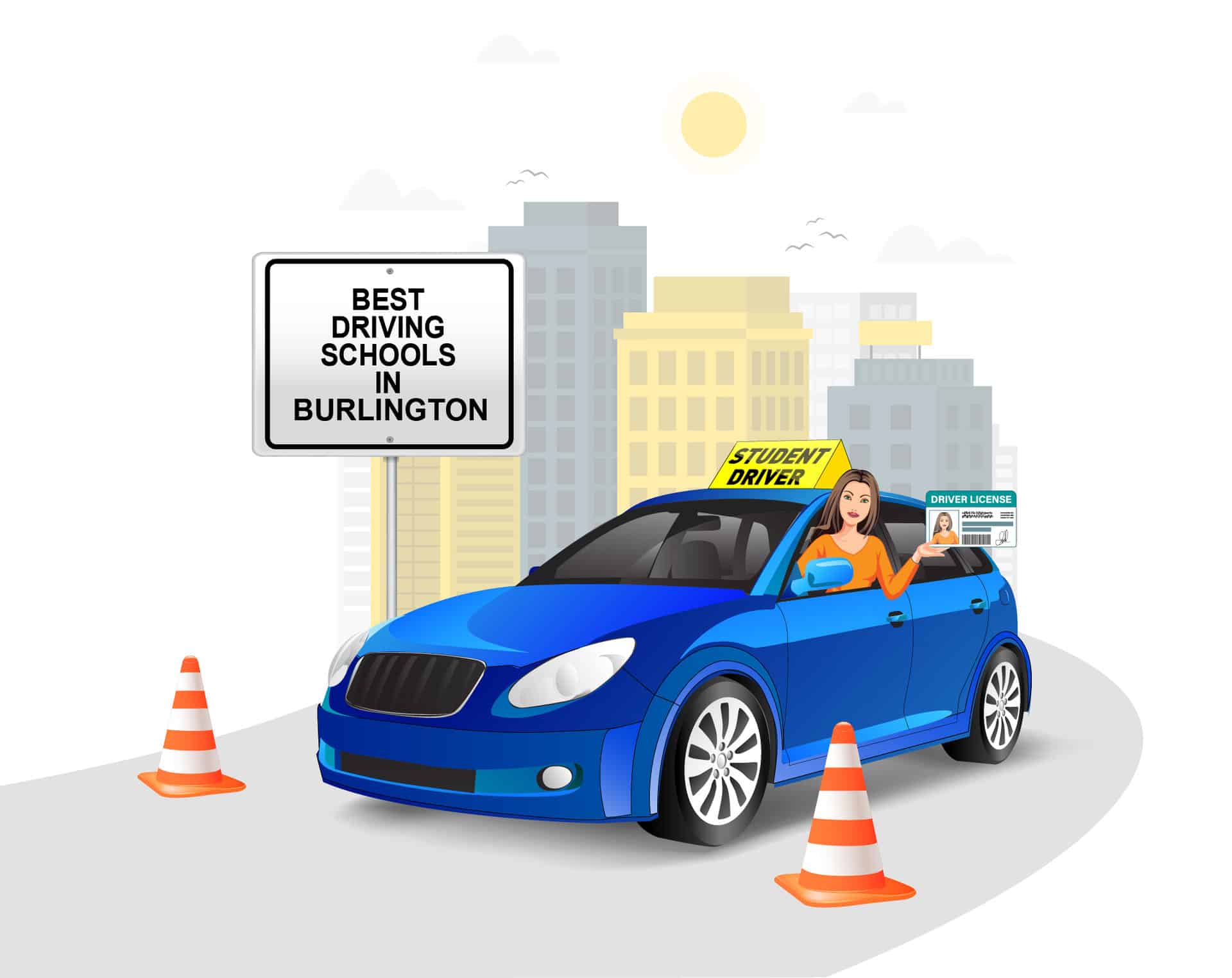 1

The Best Driving Schools in Burlington, Ontario

Are you looking for driving schools in Burlington, Ontario? Look no further! We (Trubicars) have put together a list of the best driving schools in Burlington Ontario for you.
All the driving schools shown here are MTO-approved. We are going to help you pick the best driving school in Burlington according to your requirements. You will learn about their rates, reviews, and much more.
Are you excited? So, we are! Let's get started.
2

The Cost of Driving Schools in Burlington, Ontario

Before we talk about the best driving schools in Burlington, let's talk about how much driving lessons cost in Burlington Ontario.
Fortunately, driving lessons in Burlington are not very expensive. Let's look at the table below for the average cost of driving lessons in Burlington Ontario.
INDIVIDUAL LESSON / PACKAGE
AVERAGE COST
G2 Lesson
$45 per hour
G Lesson
$45 per hour
Basic Beginner Driver Education (BDE) Package.
⦁ This includes 30 hours of MTO-approved online driving course and 10 hours of in-car driving lessons.
$649 plus tax
3

The Best Driving Schools in Burlington Ontario

According to Trubicars, these are the best driving schools in Burlington.
3.1
G1-G2 Driving School
| | |
| --- | --- |
| DRIVING SCHOOL ADDRESS | 195 Plains Road East Unit # 7, Burlington ON L7T 2C4 |
| IN-VEHICLE DRIVING INSTRUCTIONS | |
| INSTRUCTORS | |
| LANGUAGES | |
G1G2 Driving School and every associate is committed to safe driving and safe driver training. Our roads will be safe only when there are safe drivers on them. As it is said, road safety starts with you and at G1G2 they believe that road safety starts right when you start working towards getting your driver's permit. They firmly believe in educating their students on the concept of safe driving. However, driver training only acts as a medium. Being responsible residents of Canadian cities, it is their responsibility to keep ourselves and all others that are on the road safe.
Right now, they have six convenient driving school locations in Burlington, Oakville & Milton. In Burlington alone, they have 3 locations- Appleby, Plains, and Sutton. Their teams consist of skilled instructors who are professionally capable of preparing you for the road driving test. They offer a range of driver training options to help you or your teen become a responsible driver.
Their driving courses concentrate on attitude and skill development to teach safe driving for life. Their students graduate with the defensive driving skills needed to navigate today's busy streets.
Customer Reviews
"I highly recommend G1 G2 driving school, Burlington. My driving instructor Jag helped me improve my confidence in driving and merging onto the highway. Jag was always on time for their class and is very respectful. He explains things well in a calm/patient manner and gives great tips on how to drive, and park safely. With the training of Jag I was able to pass my G road test. Thanks Jag."
"I passed the G test under the guidance of Jag sir. He is one of the best and most knowledgeable trainers I have known. The way he teaches is excellent and he makes all comfortable everyone. One of the best trainers in Burlington and Hamilton. A better way of teaching and updated skills."
"Found out about G1 G2 Driving School Burlington from a friend and am very pleased with the instructor Jag. He did a great job with preparing me for the G test and patiently noting any of my errors. As a result, I was able to pass on my first attempt. Additionally, I was worried about finding a scheduled date for the test as all available dates were months out and I wanted one as soon as possible. Jag was able to get me a date very quickly." 
3.2
Burlington Driving School
| | |
| --- | --- |
| DRIVING SCHOOL ADDRESS | 1160 Blair Rd Burlington, ON L7M 1K9 |
| IN-VEHICLE DRIVING INSTRUCTIONS | |
| INSTRUCTORS | |
| LANGUAGES | |