Learning many complex skills throughout our lives, we often receive training. People have taken lessons to learn how to cook, dance, and to learn how to play certain sports. Learning how to drive, we often take learning how to perform those skills for granted.
However, getting proper training from professional Driving Instructors in Kitchener can positively impact the driving skills any new driver is learning. Learning how to drive from a professional can save you a lot of money and could save your life. Prior to this happening, you need to learn to operate a vehicle correctly and safely to pass your driving test. Who should teach you can be confusing, so let Trubicars help you get started!
Driving School Teaches Driving Laws
Although many drivers may know the laws that govern driving, they may not know all of them. Rules may have changed over the years since the average driver got their license. This is where a professional driving instructor comes in. Instructors are updated on the current laws and can explain them very well.
These laws change from time to time. Professional driving instructors are often up to date on all the current driving laws for their jurisdiction. Lessons from a driving instructor through Trubicars will help to prepare you for a lifetime of being a safe driver!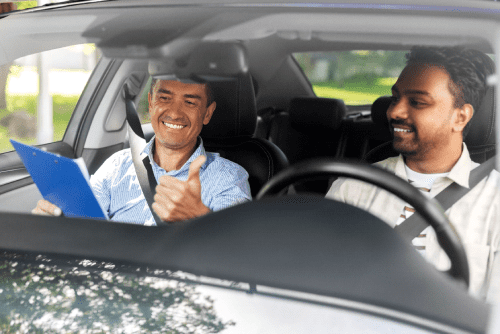 Driving School Teaches Driving Etiquette
There is more to driving a vehicle than simply following the driving laws. There are rules of driving etiquette that allow us to share the road with other road users, including drivers, cyclists, and pedestrians. Driving instructors can teach how driving etiquette plays a role in our driving society.
For example, road rage within our society can happen to anyone, including in Kitchener. In many cases, it may not be the fault of anyone involved. It often stems from someone having a tough day, which can mean minor things can set them off. Driving instructors can show new drivers how to reduce these chances and learn how to de-escalate the situation, skills that can help us drive safely and peacefully.
Getting Valuable Driving Experience
Although there may be many things you can learn about driving online, in books, and by watching videos, getting behind the wheel makes all the difference in the world by building your knowledge and skill. Experience with a driving school includes several hours behind the wheel, which helps to prepare any driver for the situations they may face on the road.
There may be situations such as temporarily losing traction in the rain or snow, which may cause drivers to panic and freeze up, even when they may understand what to do. Experience with a driving instructor helps new drivers remain calm in those situations.
Driving Lessons can Increase Confidence
As far as new drivers are concerned, one of the most common things that affect their ability to learn to drive is a lack of confidence. Lacking confidence can cause them to panic in unexpected situations, which may cause collisions. Driving lessons from a professional instructor can help strengthen their confidence as they learn what do to in a wide variety of traffic situations and, through experience, learn to trust their training.
This confidence in driving helps to grow in many other things. A fear of learning to drive a vehicle seems to have taken a backseat, which now opens the door to attempting other new and challenging things.
A Better Understanding of The Risks
Risk perception is a skill taught by professional driving instructors. Most drivers realize the risk after putting themselves in that situation. A driving instructor can teach new drivers the potential risks and how to reduce them.
It is difficult to eliminate risks, but reducing them can help avoid getting in a collision, which is worth the cost of driving lessons.
Driving Lessons Can Help to Identify and Correct Bad Habits
As we gain more driving experience, we also become more comfortable driving. This is generally a good thing but leads to a few bad habits. Driving instructors will monitor your current driving tendencies and discuss your driving habits with you and be able to identify and fix any habits you have developed which could lead to trouble down the road.
Driving Lessons Can Improve Specific Skills
Although you have been driving for a few months, learning to drive in different areas of Kitchener, you may begin to feel pretty comfortable behind the wheel in most situations. There may be situations that still make you feel uncomfortable behind the wheel. learning parallel parking, turning left at traffic lights, lane changes, or anything else, your driving instructor can help you become more comfortable with those specific skills
Driving Lessons Can Save you Money
One of the more common reasons why many people do not register for professional driving lessons is they do not want to spend the money. It may be surprising that driving lessons can save you money in the long run.
Many auto insurance companies will offer discounts to new drivers who have completed a driver training course. Drivers who have taken driving courses from driving schools are less likely to receive traffic tickets for traffic violations. This is because their driving instructor has trained them to follow the rules. It's more than just reading the rules in the handbook.
Conclusion
Most importantly, professional driving training will help you to become a safer and more experienced driver, helping to reduce your chance of getting into a collision.
There are many benefits to attending driving school to learn to drive. The skills you will learn will help you remain safe but will help keep everyone else on the road safer. It can be time-consuming with a busy schedule, but it is worth it. Having Driving Lessons in Kitchener can be an exciting time for you! Trubicars wants to be with you as you begin this exciting journey. Contact Trubicars today, and together we can find the best driving school and instructor for you!
G License
London Ontario Driving Lessons
Driving Instructors in London Ontario
G2 Road Test
London Ontario Driving Schools