Driving a vehicle has become a large part of our lives. Whether you live within or outside the city of Mississauga, you will need to leave the house for supplies once or twice a week. For those who are in school or work, commuting is typically a daily affair. Having a driving license can offer freedom – the freedom of driving.
Before reaping the benefits of driving a vehicle, you'll need to learn to drive correctly and safely to pass your driving test. But who should teach you? Let Trubicars help you get started!
Learn How to Drive from a Professional?
Learning to do things correctly from the beginning is the best approach for learning any new skill, especially while driving a vehicle. The days of having your parents, older siblings, or friends taking you to an empty parking lot and teaching you how to drive are almost a thing of the past.
Once you desire to learn to drive, learning how for the first time from a certified driving school and a licensed driving instructor is now more critical than ever. The roads throughout Mississauga are more populated each year, making rush hour longer, plus the increase in distracted driving, which can make driving difficult compared to 10 to 15 years ago.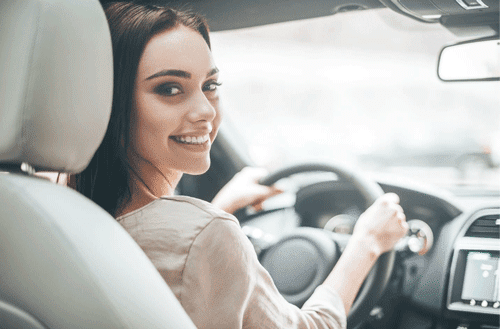 Vehicles with more technology and features seem to make having fundamental driving skills more essential than ever. These skills help all new drivers to become safe and effective drivers.
Enrolling in professional Driving Lessons in Mississauga from a licensed driving instructor through Trubicars can prepare you for a life of being a safe and effective driver. Professional driver training is beneficial for a lot of different reasons:
You learn the sources of defensive driving
You receive driving instruction approved by the provincial government
You may be able to cater your Driving Lessons Mississauga to the skills you need to develop
You get the opportunity to practice driving skills regularly
It helps you to eliminate poor driving habits before they happen
You learn about new driving situations with a professional instructor
Professional driving schools make you aware of driving issues you may not know about
Besides getting from point A to point B, there are other benefits to learning how to drive.
Insurance Savings
An added benefit of taking professional Driving Lessons in Mississauga is saving on vehicle insurance. Most insurance companies will offer discounts for the completion of an approved driver training program. Driver training also has a long-term effect on lowering your vehicle insurance. You will save money immediately, and then you'll save more on your future renewals.
Since you have received professional driver training, you will be less likely to be involved in a vehicle collision or have to make an insurance claim.
Driving Can Grow your Mind
According to experts, performing multiple tasks while driving can help to develop neuroplasticity. Learning to drive involves coordinating your hands and feet to work simultaneously to steer and work each of the pedals. Considering those are important for driving, if you add listening to music, watching other vehicles and their actions, following navigation instructions, or drinking coffee or water, your brain is getting trained to process a considerable amount of information all at once.
As you learn to drive, several things help to grow your brain. As you discover new routes, you'll be able to visualize how various roads connect and figure out the quickest routes to take. These will all help to improve your memory and your ability to interpret and retain the visual information you receive. As a bonus, it helps to grow your confidence in your skills.
More Mobility and Added Convenience
One of the main reasons most people want to learn to drive is that it can offer you more mobility. Instead of waiting for Mississauga public transport in the snow, rain, or cold weather, you can take your vehicle and be on the way home. Other than making daily commutes, driving a vehicle can make it more convenient for errands, such as heading to the store or doctor appointments.
Since your vehicle has a lot of cargo and passenger space, it can fit several people and shopping bags. There is no need to carry bulky grocery bags to the bus stop since you can load everyone and everything into the vehicle, thus making it even more convenient and time-saving.
The Independence and Security of Driving
Regardless of why you want to obtain a license, it does mean a lot to them. Driving promotes a sense of responsibility and independence from relying on people for a ride, such as busy parents or family members. Also, learning how to maintain a vehicle properly and manage your vehicle expenses can be good practice for the future responsibilities of adulthood.
For those who value their privacy away from public transportation, learning how to drive and getting a license can be a better option. Driving a vehicle can help provide a stronger sense of security for those who regularly travel at night or in remote areas around Mississauga.
You Could Save Money
Although this may seem strange, learning to drive and having a vehicle can save you money in the long run. With the current fuel prices, owning and maintaining a vehicle may seem costly. However, for those who live in an area with limited public transportation options on the outskirts of Mississauga, learning to drive and driving a vehicle can become much more affordable than hiring private taxis or rideshares. Sharing a family vehicle will help you build these responsibilities of adulthood without having to purchase a vehicle yourself.
A Driver's License Could Help you Get a Job
Once you have passed your driving test, you should have your license for life. Should. This license can become quite handy when you are looking for specific jobs. Depending on the job, many companies prefer to hire people with a license, just in case the company needs to make a quick delivery or if they suddenly need to meet a client. There may also be a job that requires a driver's license that you may be interested in over time.
Learning to drive in Mississauga can be an exciting time for you! Trubicars wants to be with you as you take your journey. Contact Trubicars today to find the best driving school and instructor for you!
G1 Licence
G2 License
G License
Car Training
MTO-Approved Driving Schools in London Ontario
Driving Lessons in London Ontario