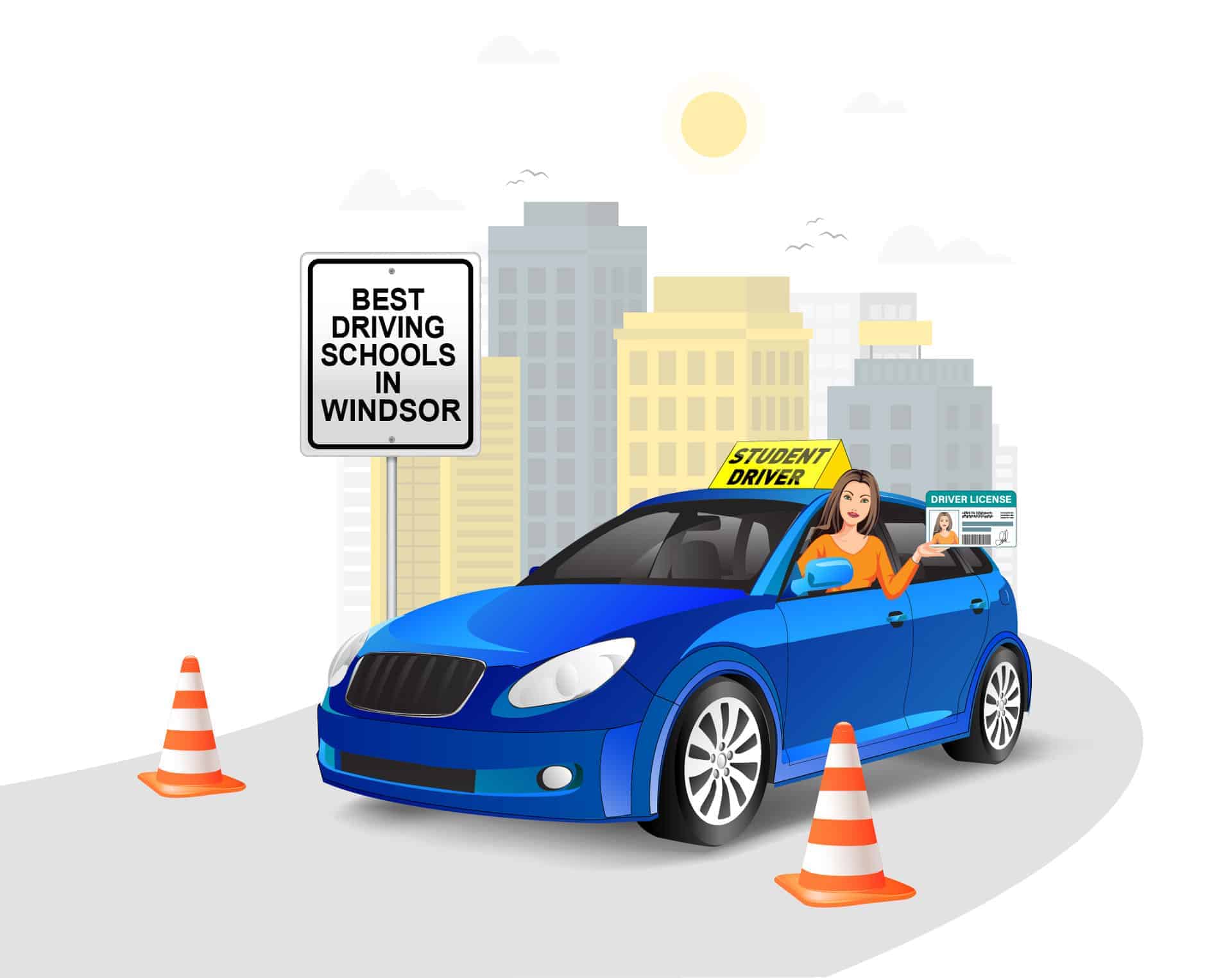 1

The 3 Best Driving Schools in Windsor, Ontario

Are you looking for Driving Schools in Windsor, Ontario? Look no further! We (Trubicars) have put together a list of the best Driving Schools in Windsor, Ontario for you.
All the driving schools shown here are MTO-approved. We are going to help you pick the best Driving School in Windsor according to your requirements. You will learn about their rates, reviews, and much more.
Are you excited? So, we are! Let's get started.
2

The Cost of Driving Schools in Windsor, Ontario

Before we talk about the best Driving Schools in Windsor, let's talk about how much driving lessons cost in Windsor Ontario.
Fortunately, driving lessons in Windsor are not very expensive. Let's look at the table below for the average cost of driving lessons in Windsor Ontario.
INDIVIDUAL LESSON / PACKAGE
AVERAGE COST
G2 Lesson
$45 per hour
G Lesson
$45 per hour
Basic Beginner Driver Education (BDE) Package.
⦁ This includes 30 hours MTO approved online
driving course, 10 hours in-car driving lessons.
$649 plus tax
3

The 3 Best Driving Schools in Windsor Ontario

According to Trubicars, these are the best Driving Schools in Windsor.
3.1
Delta Driving School
| | |
| --- | --- |
| DRIVING SCHOOL ADDRESS | 2521 Dougall Ave, Windsor, ON Postal Code: N8X 1T5 |
| IN-VEHICLE DRIVING INSTRUCTIONS |   |
| INSTRUCTORS |   |
| LANGUAGES |   |
Delta Driving School was Awarded As The Best Driving School In Windsor For The Years 2015, 2016, And 2018. With 40 Years of Experience Delta Driving School Is the Oldest Driving School in Windsor. Their main motive Is to Provide the Best Training and To Make Beginners Independent And Confident Drivers On The Road. They Provide High-Quality Training Which Helps You To Learn Car Driving Safely And Efficiently. 
Delta Driving School Team Is Made Up Of The Most Qualified And Experienced Facilitators, Trainers And Advanced Driving Instructors In The Industry. Each Team Member Is Practiced In All Facets Of The Advanced Driver Training Business, As Well As Emergency Services And Safety Training. Each Instructor Has Been Trained To Deliver Consistent And Safe Instruction, With The Ultimate Goal Always Focused On Helping Participants Meet Their Driving Potential. The Personal Attention Received From The Entire Team Combined With The Thrill You Will Experience On The Track Will Provide You With Skills And Memories That Will Last A Lifetime. We Have Our Branches In Windsor, LaSalle, Amherstburg, Tecumseh, BelleRiver, And Essex. We Also Cover The Harrow, Emeryville, Cottom, And Woodslee. The School Has A Clean Driving Record, No Major Crashes While Driving, And The Best Passing Rates. 
Customer Reviews
"Delta is honestly the best driving school. Thank you Jarnail! He helped me practice my G road test last minute! I had my G road test at 7 AM and we had a driving session at 5:45 AM the same day to get some extra practice in. He goes above and beyond for his students!!!!! Very grateful." 
"I just wanted to send out a huge thank you to Delta Driving School for helping my daughter get to a level of comfortable so that she could achieve her G2 license. She passed with flying colours and extremely grateful for all your help." 
"Delta Driving School instructors offer exceptional lessons, ensuring you are fully prepared to pass your road tests with flying colours. I have taken the driving school course a few years back, and have then since booked additional in-car lessons for both my road tests, and I successfully passed both my G2 and G test each on the first try. The staff are very friendly, which makes the experience that much more personable and enjoyable. Thank you once again, Delta! I'll be sure to recommend your services to family and friends." 
3.2
East Star Driving School
| | |
| --- | --- |
| DRIVING SCHOOL ADDRESS | 1632 University Ave W, Windsor, ON N9B 1C2 Windsor, Ontario, Canada |
| IN-VEHICLE DRIVING INSTRUCTIONS |   |
| INSTRUCTORS |   |
| LANGUAGES |   |
What to Expect from East Star Driving School (Windsor) 
Choosing East Star Driving School provides assurance that you're going to get expert instruction so driving comes naturally. Their goal is to provide you with a comfortable, inviting experience that gives you stories to tell years down the road. you can expect: 
High Quality Services 
They keep their legacy of being one of the top driving schools by offering the most cost effective and high-quality services. They have the best instructors in town. 
Friendly Environment 
They have highly trained and experienced instructors to provide you with the friendliest environment to learn to drive. 
One-On-One Training 
With East Star driving school's Instructors, you will have the best one-on-one training that you ever had.
Customer Reviews
"Ahmed is an excellent instructor. He is clear, calm and very patient. He explained me various important aspects of the road test very clearly and made sure that I am able to implement each of them with ease. I cleared G2 test on first attempt with his help. Thank you Ahmed and Eaststar driving school." 
"Very friendly and efficient. I got my G2 early and passed the exam with flying colours. It's great that you have the option of Windsor or Chatham. They help you book your test as fast as possible. Very fair pricing too. I highly recommend this school." 
"I have passed my g2 and g test. I had a great experience with instructors zeinab and ahmed. They both teach me the sharp skills that I need to perfect my driving skills and to pass drive test in first attempt. I have learned alot which helped me in the driving test as well as for the future. Thanks all the instructors for your dedication to students." 
3.3
I Drive Driving School
| | |
| --- | --- |
| DRIVING SCHOOL ADDRESS | 2985 Longfellow Ave. Windsor Ontario. N9E1E1 |
| IN-VEHICLE DRIVING INSTRUCTIONS |   |
| INSTRUCTORS |   |
| LANGUAGES |   |
At idrive Driving School (Windsor), they are committed to 100% customer satisfaction and the highest standards in driver education. They continually provide their instructors with professional development opportunities on the most advanced teaching methods and up-to-date driving laws and regulations. Their goal is to provide their students with a holistic understanding of driving in Ontario by emphasizing not only an awareness of the law but also an understanding of the fundamental reasons for their existence. As such, students will be exposed to various topics all of which emphasize the necessity of having responsible, educated and adaptive drivers as the fundamental ingredients for "MAKING EXCELLENCE A HABIT". 
Customer Reviews
"Best driving school in town! Great service and price, the staff is very respectful and accommodating. Jacob was very easy to reach and answered all my questions as well as helped me prepare for my g2 road test that I passed with flying colours." 
"Had a great experience with iDrive. Took a course back in March; the class room experience was very beneficial and motivational. My driving instructor was great, answered all my questions and concerns. iDrive definitely tend to go out of their way to help out. Highly recommend them and most important best prices in town!!!!" 
"Fatima was a very kind and approachable instructor. She helped me out with my G2 and G road tests. Amazing place to get drivers ed and lessons from!"
3.4
Achieve Driving School
3.4 Achieve Driving School
| | |
| --- | --- |
| DRIVING SCHOOL ADDRESS | 1015 university ave west Windsor, ON N9A5S6 Canada |
| IN-VEHICLE DRIVING INSTRUCTIONS |   |
| INSTRUCTORS |   |
| LANGUAGES |   |
Achieve Driving School is an MTO-approved school located in Windsor. They offer Digital Courses with a convenient schedule and can be done on your own time. They also offer Private Lessons with Driving instruction provided by dedicated and experienced professionals! 
Customer Reviews
"A wonderful driving school, nice coaches. Strong recommendation to a perspective driver!" 
"Coach Zhou is so nice. Nice learning experience with her!"
4
FAQs About Driving Schools In Windsor Ontario
Turning 16 is an important milestone in life, with its promise of more freedom and independence. Getting a driver's license is a large part of that.
At age 16 in Ontario, you can write your G1 driving test and begin the process of earning a full driver's license. Preparing for the test involves learning the rules of the road and understanding the issues involved in operating a vehicle on the road in all kinds of conditions.
To obtain a driver's license in Ontario, you must be able to fulfill all three of these criteria, according to the Ontario.ca website:
⦁ be at least 16 years old
⦁ pass a vision test (with glasses or contact lenses if necessary)
⦁ pass the written test on rules of the road and traffic signs and signals
Applicants who are under 18 years old should be accompanied by a parent or guardian when going for the written G1 test.
Drivers need a wide array of knowledge to be able to handle the situations they encounter on the road. Here are some examples:
⦁ how to handle four-way stops
⦁ what to watch for in school zones
⦁ how to get out of a skid on an icy or wet road
⦁ how to handle fatigue on long trips
You can learn about the rules of the road and the challenges of driving through:
⦁ the official Ministry of Transportation Driver's Handbook, available at https://www.ontario.ca/document/official-mto-drivers-handbook.
⦁ an approved curriculum through an online driving school, such as Trubicars
Trubicars offers an interactive curriculum covering the different driving situations and scenarios that you are likely to encounter. Topics covered in this course include:
⦁ license classifications (G, M, etc.)
⦁ dashboard symbols and warning lights
⦁ signal lights, headlights, brakes and other controls
⦁ basic rules of the road, such as speed limits, right-of-way rules, etc.
⦁ issues such as driver fatigue, hazardous road conditions, the needs of different road users (such as cyclists or pedestrians), etc.
Once you feel that you know the material well enough, you can book a test at a Service Ontario Centre or DriveTest Centre.
Information on locations and booking an appointment is available at the Service Ontario Service Finder website: https://www.services.gov.on.ca/sf/?_ga=2.234152093.2040431062.1611594312-1433769550.1609993166#/oneServiceDetail/137/ip/sr/t.
Testing sites are located in many towns and cities around the province of Ontario. Scroll down the page on the Service Finder site to search for information on testing sites in different cities and towns in the province. You can search for sites in your own town or check in a larger center nearby.
Before going for your appointment, be sure that you have prepared for the test. If you need glasses or contact lenses to see properly, be sure to have them with you.
Also be sure to have money to pay the test fee and anything else that you might need, such as allergy medication or wrist braces. You want to have as few barriers as possible to pass the test.
Before you go for your test, check the website for the list of valid documents to be sure that you have the correct identification before going to write your test. Also, remember to take the original documents with you as copies will not be accepted.
As the Service Ontario website explains, you will need identification giving:
⦁ your legal name
⦁ your date of birth
⦁ your signature
You are allowed to retake the G1 test if you fail the first time. However, retaking the G1 test involves time and money, besides delaying your freedom to drive yourself wherever you want to go. With the right material helping you along, you can pass the test the first time you write it.
With no interactive features, the handbook relies on a plain recital of the facts. Most people have trouble learning that way.
The Trubicars system is different. We include:
⦁ videos and other audiovisual segments to help engage students
⦁ questions and points for further consideration to encourage students to engage personally with the issues
⦁ material that appeals to the whole person, rather than just the intellect
⦁ a wide range of topics, from beginner concepts to advanced material
⦁ a more effective way to study for the G1, G2 and G tests and to gain a lifelong understanding of driving
⦁ easy-to-remember tips for safe driving
⦁ a step-by-step approach that gives insights into the whole process of driving, rather than just a part of it
Driving Schools in Windsor Ontario
We hope the above list of Driving Schools in Windsor Ontario has helped you make a good decision. If you have any questions, you can contact Trubicars.
Tags: Driving Schools in Windsor, Driving School Windsor Ontario Prices, Driving School Windsor Ontario, Government Approved Driving Schools, MTO approved Driving Schools in Windsor, Cheapest Driving School Windsor Ontario
Best Driving Schools in Brantford Ontario
Car Training
G2 Road Test Checklist
G1 Licence
G2 Drivers License
G Licence
Driving Lessons in London Ontario
Driving Instructors in London Ontario
Drivers Licences Motorcycles