There's no question that learning to drive can be a big step in one's life. Once you know you're ready to begin this journey, you should know how to get there. To ensure everyone who is capable of driving alone is well-prepared to pass the government tests, Ontario uses a graduated licensing process. Following their guidelines is required if they want to pass that driving test in Oakville.
At Trubicars, we want to help you succeed on your journey to becoming fully licensed, so here is a breakdown of everything you need to know to pass your driving test in Oakville!
Getting off to a good start
Once you have your G1 license, you want to get off to a good start with learning the proper driving techniques and skills, so it would be a good idea to book driving lessons from a professional instructor. Although learning to drive from family members or friends may be less expensive, it's not a decision to learn everything you would need to pass your driving test. A professional instructor can also help you become a safe driver.
One of the advantages that a professional instructor can do for you is to teach you more than the Rules of the road, how to make a right and left turn, and perform each of the low-speed skills required for your driving test. They will be able to teach you modern defensive driving techniques to help you avoid a vehicle collision. This is why it's worth investing in a driving school, and Trubicars is here to help by supplying you with the approved driving schools in Oakville to help you become prepared for your driving test.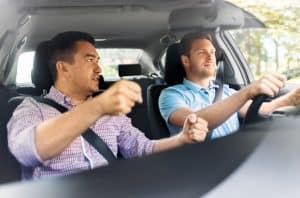 Preparing for the test
Preparing for each test by practicing each skill is helpful if you want to pass the test on the first attempt. Practicing these driving skills in different driving conditions is also a good idea. Each time you practice, it will help to improve your chances of passing the driving test.
Prioritize your practice time by practicing the skills taught from your driving instructor. What's more important is to practice your weaker skills as it will help them to improve and become more habitual. If you only practice the skills you are good at, you won't improve the weaker skills you will be required to perform during the driving test.
It's easier to drive using your habits than think of how to maneuver the vehicle and what to do. It's a lot smoother as well. The instructors know what it takes to pass the driving test in Oakville because they do this as part of their job. Your instructor will guide you on the skills you should practice. Take their advice since that's why you decided to take professional lessons.
After spending a lot of time with your driving instructor and practicing your newly acquired skills, you may need a refresher lesson from the instructor prior to taking your driving test in Oakville. The refresher lesson may help remove any bad habits you have developed since your driving lessons have finished.
Attempting your driving test is a big step in your life. This is why it is so important to spend quality hours learning to operate a vehicle smoothly and safely to help to ensure you will be ready. Although you may still feel nervous when you book a driving test in Oakville, that is normal. Trubicars is here to help you calm those nerves!
Booking your G2 test
You will become eligible to book your G2 driving test after having your G1 license for twelve months, although you can book the test after eight months if you have completed an approved driving school that you registered here at Trubicars. During these months, ensure you drive as much as possible and take the practice time seriously. Each time you drive, you are building new driving habits.
Although reducing the wait time to attempt your G2 driving test to eight months by completing a driving school course, you should only go for the test once you are properly prepared and ready to drive alone. Going for the driving test because your wait time is over, is not the ideal way to approach this. Going for the driving test too soon and failing it may lower your confidence prior to attempting your next test.
It's time to book your test when you no longer need regular driving reminders from your instructor and when you're practicing the skills you were taught, and your supervising driver is happy with your actions. That's a sure sign you are ready to book the driving test in Oakville!
During your driving test
During the driving test, the examiner will give you directions on where to turn and which low-speed skills to perform. All the other driving choices are yours to make. The G2 test will take place on city/town roads and will take roughly 20 minutes to complete, depending on the volume of traffic and weather conditions. The G test will take 30 minutes and is mainly highway driving.
During the G2 test, you will be tested on different categories that include; start, backing, driving along, intersections, turns, parking, and parking on a grade.
The examiner will be watching and making marks on their score sheet. If you notice them doing this, not to worry. Just stay focused on the driving task and keep going. They will let you know how the test went once it is over.
The test day
You should arrive at least 30 minutes before your scheduled test time. Giving yourself extra time to get there is a good idea because any possible traffic or road construction you may face may slow you down.
Give yourself at least 30 minutes to drive before arriving at the DriveTest Centre to help calm your nerves prior to going for the test. Ensure that you have your license with you before leaving home as you would not be able to take your test.
Conclusion
Using the information you received from a professional driving instructor can help make passing the driving test easier. Trubicars has what you need to know before you start your journey of learning to drive. Contact Trubicars today!
G2 Road Test Booking