Knowing how to drive at any age can be a great choice you make in your life. Whether you have just turned 16 and want to get your license as soon as your birthday comes, or perhaps you're a little older, the choice is yours. If you think you need to learn how to drive to make it easier to get around Brampton, now is a perfect time! Here are six solid reasons learning to drive now is the right move.
Driving Lessons In Brampton – 6 Reasons Learning to Drive:
1. Learning from a Professional
Learning to drive can sometimes seem overwhelming, especially in the very early stages of driving. Although some people may feel they're saving a lot of money by having their parents, older siblings, or friends take them to an empty parking lot and teach them how to drive, it could cost them a lot more than driving lessons would.
A professional driving instructor can teach you more than the laws of the road and how to make a right and left turn. They use updated defensive driving methods that may help you avoid vehicle collisions. The first collision you avoid based on the information taught to you by your professional driving instructor essentially pays for the cost of the course. It's worth investing in Trubicars because it's worth investing in your life.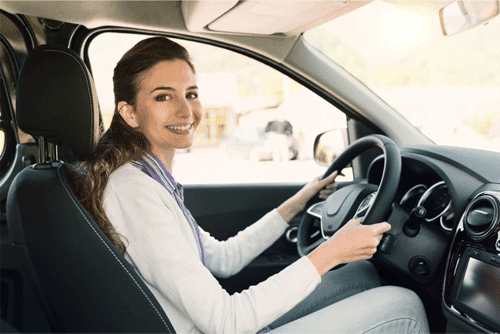 2. Driving is a Life Skill
If you aren't sure that learning to drive will benefit you right now, it is good to know that driving can be a life skill. There may be a time when you realize that you are required to drive in order to be able to accept your dream job or because you want to move somewhere other than Brampton, which does not have an effective public transport system.
If this is the case, it can be a great feeling knowing you already can drive anywhere, rather than having to go through the effort of learning to drive in a much shorter time frame or under some pressure because your promotion or housing is counting on that. Regardless of the age you intend to learn, Trubicars can help you reach your goal of becoming a licensed driver.
3. Freedom
I think most people want some form of freedom in their lives. There is little doubt that learning to drive is one step toward gaining that freedom. Once you have access to your own car or at least a shared vehicle, you can have the opportunity to travel wherever you want without having to follow a transportation timetable from public transport within Brampton or having to use any of the ride-shares available. Many drivers seem to agree that there is something about the feeling of driving by yourself that provides freedom. You get to come and go as you wish.
Getting behind the wheel and taking control of the car itself is worth experiencing. Once you taste that level of freedom, there's no going back!
4. Independence
Without a driver's license and a vehicle to drive, getting around Brampton will often mean you rely on other people to help you. It could be a parent, sibling, friend, or partner, or perhaps on public transport or a ride-share company.
Building up your independence through your ability to drive can be a fantastic experience and a rite of passage. Such an event that marks an exciting stage in your life is what driving can mean to you.
5. Flexible Travel
So, let's say you become interested in traveling and seeing the world outside of Brampton. Once you get there, you may not put too much thought into how you get around when you are there, but being able to drive a vehicle can benefit you as well.
Many parts of the world may not have public transport systems. Having a driver's license will mean you can drive legally almost anywhere you travel to, so all you need to do is rent a vehicle, and all is good.
6. Job Advantages
Although you may not currently need to drive to do your job or go to school in Brampton that you can continue to rely on public transport, ride-sharing, or walking. We know things can change quickly and without too much warning, and you may find yourself in a situation where you will need to drive if you intend to take your job or career to the next level.
If you think about it, you won't need to start using your car to get to work immediately just because you can. However, you may find that having a vehicle can open up more opportunities than you may have known about previously. Having that option available helps you to consider other options that were not previously possible.
Additional Opportunities
What if learning to drive could create a new career path for you? It could be more than using your driver's license as an alternative way to get to work. Whether you are considering working as a taxi driver, or Uber driver, or a professional driver in other capacities, your stepping stone is first getting your driver's license. Who knows, you may even want to become a driving instructor in the future!
In all cases, you need to have a driver's license to take additional training to drive buses, trucks, and more. Something else to consider is that having a good understanding of the road and how to use a vehicle will be an enormous advantage during your training, plus it can help you become a safer pedestrian because you'll better understand what drivers may be thinking.
Conclusion
How do you know if driving is the right choice for you? In the end, if you have the time and the motivation to learn to drive, this can be a brilliant thing to get out of the way before your life gets busier. It is a handy skill to have if you need it in the future. And besides, it can open up several possibilities for you in the immediate future. Contact Trubicars and let's get started!
G1 Licence
G2 license
G License
Car Training
G2 Driving Test Booking
Driving Lessons in London Ontario
Driving Instructors in London Ontario
London Ontario Driving Schools