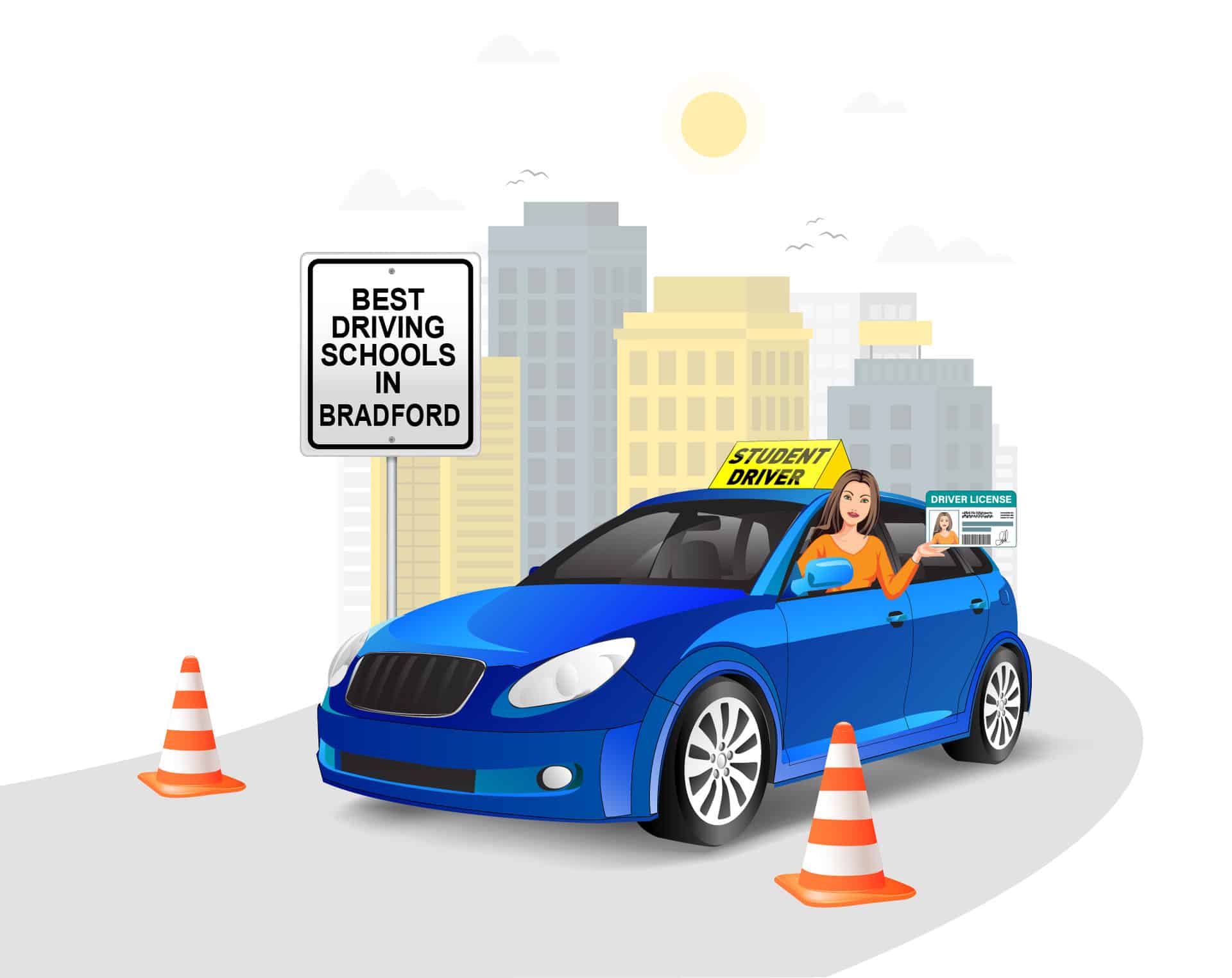 1

The Best Driving Schools in Bradford, Ontario

Are you looking for driving schools in Bradford, Ontario? Look no further! We (Trubicars) have put together a list of the best driving schools in Bradford Ontario for you.
All the driving schools shown here are MTO-approved. We are going to help you pick the best driving school in Bradford according to your requirements. You will learn about their rates, reviews, and much more.
Are you excited? So, we are! Let's get started.
2

The Cost of Driving Schools in Bradford, Ontario

Before we talk about the best driving schools in Bradford, let's talk about how much driving lessons cost in Bradford Ontario.
Fortunately, driving lessons in Bradford are not very expensive. Let's look at the table below for the average cost of driving lessons in Bradford Ontario.
INDIVIDUAL LESSON / PACKAGE
AVERAGE COST
G2 Lesson
$45 per hour
G Lesson
$45 per hour
Basic Beginner Driver Education (BDE) Package.
⦁ This includes 30 hours of MTO-approved online driving course and 10 hours of in-car driving lessons.
$649 plus tax
3

The Best Driving Schools in Bradford Ontario

According to Trubicars, these are the best driving schools in Bradford.
3.1
Top Star Driving School
| | |
| --- | --- |
| DRIVING SCHOOL ADDRESS | 107 Holland St E Unit G, Bradford, ON L3Z 2B9 |
| IN-VEHICLE DRIVING INSTRUCTIONS | |
| INSTRUCTORS | |
| LANGUAGES | |
Top Star Driving School, in Bradford, is an MTO-approved Beginner Driver Education course provider. Top Star Driving School offers 20 hours of In-class training in either a classroom or through their NEW online E-learning courses, 10 hours of In-Car training, and 10 hours of Homelink. Once all these three components of the BDE course are complete the Driver's Licence History (DLH) provides proof of successful completion of and graduation from a BDE course and is widely recognized by the insurance industry as proof of course completion. BDE Graduates with a Driver's Licence History May be eligible for an insurance discount and can be eligible to reduce the waiting period of their G2 road test from 1 year to 8 months.
Top Star Driving School's main goal is to help each individual out there to learn to drive with a positive attitude and become a smart driver!
Top Start Driving School believes that learning to drive shouldn't be at a high expense, that's why at Top Star they're helping out their clients by keeping prices as low as possible and providing industry-leading service with driving techniques and methods for everyone to understand. With over 15+ years of experience, their 98% pass rate is a true reflection of how dedicated they are to making their clients Top Star drivers out on the road.
At Top Star Driving School you'll experience the best instructors in Ontario, with over 15+ years of experience their instructors can help you become one of the Top Stars on the road. Their instructors not only help you understand the basics behind driving a vehicle but will also make you one of the most confident drivers on the road.
All of their instructors are MTO certified, have dual brakes in the car, have Provincial Police Clearance, a valid Ontario Driving Instructor license, and most of all a friendly welcoming attitude that will make you enjoy every single moment in the car! All of their In-Car lessons are one-on-one and tailored to the students' needs. Their instructors work 7 days a week and are flexible in scheduling lessons with all of their clients.
Customer Reviews
"I had an amazing experience with Top Star Driving School. I just passed my G2 test with my instructor Saqib. Saqib was extremely easy to communicate with and was always super patient and supportive with me during all my lessons. He was an incredible teacher and left me with a lot of great driving tips that I will use forever. Overall I had a great experience and would highly recommend Saqib and Top Star for anyone looking for a driving instructor!"
"I chose Top Star Driving School because of its high rating and positive reviews online. I specifically requested Saqib to be my instructor because he was highly recommended. Saqib will not only teach you how to pass the test but also how to have good driving habits. I am so happy with my overall"
"Great experience with Top Star Driving School! Saqib was my instructor and was very kind and knowledgeable when teaching. I was prepared very well for my G2 Road Test and knew exactly what to expect because of the lessons. Very good driving school overall, would recommend!" 
3.2
Romeiro Driving School
| | |
| --- | --- |
| DRIVING SCHOOL ADDRESS | 19 Holland St E, Bradford, ON L3Z 2B3 |
| IN-VEHICLE DRIVING INSTRUCTIONS | |
| INSTRUCTORS | |
| LANGUAGES | |