Class 5 Drivers License in Winnipeg
Learning to drive is one of the most important things you can do in your life. Driving gives you the freedom to go where you want when you want. Whether you are just learning to drive as a beginner or want to refresh your driving skills, there are lessons available for a Class 5 Driver's License in Winnipeg.
Driving in Winnipeg
When you want to obtain your Class 5 Driver's License in Winnipeg you will need both classroom and hands-on training. To start with, you will want to obtain a copy of the Manitoba Driver's Handbook, which you can purchase or access online. The handbook provides all of the rules of the road and everything you are expected to know to get your license.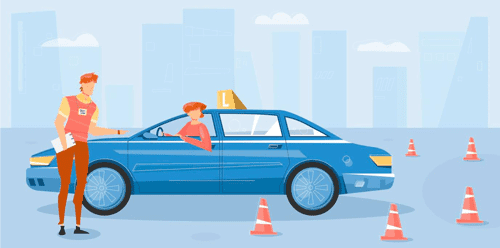 In order to qualify for a Class 5 Driver's License in Winnipeg you need to be at least 16 years of age, or 15 ½ if enrolled in a driver's education program through school. Drivers must all follow a graduated licensing program. The first stage is the learner's permit. You must have your permit for a minimum of 9 months before moving to an intermediate license.
The intermediate stage allows fewer restrictions than a beginner's permit. You must have your intermediate license for at least 15 months before obtaining a full-stage license. The full-stage license offers full driving privileges. It is helpful to seek professional training for your Class 5 Driver's License in Winnipeg.
Preparing for Your Driver's License
One of the first things you will need to do before you can begin to drive is to take a written driver's test. The written test covers a wide range of information about driving as well as the laws that you must follow as a driver.
A good driving school will provide some classroom training to go over the handbook. You will also need to study on your own and you can take a practice test to make sure you are adequately prepared.
The best way to learn to be a good driver is with training from a professional driving school. You will learn all of the best driving skills without learning any of the bad habits that you may find others doing behind the wheel.
When you are preparing for a Class 5 Driver's License in Winnipeg you will want to get as much practical experience as possible. The more you get behind the wheel with a driving instructor the better equipped you will be to confidently drive on your own. You can get plenty of practice at defensive driving when you sign up for complete lessons from a reliable driving school.
You will want to choose a driving school that meets all of your needs and at the same time is flexible and affordable. Pick from the leading driver training schools in Winnipeg to get the best and most professional training. With guidance from a high-quality driving school, you will soon be on your way to getting your own driver's license.
MANITOBA:
Class 1 Driver Training Winnipeg
ONTARIO:
Car Training
G2 Road Test Booking
G1 Licence
G Licence
Driving instructors in London Ontario
London Ontario Driving Schools
Driving Lessons in London Ontario